There's an inspirational documentary about a blind climber, Marty and Bernard head off to Kilrush, 8 Out of 10 Cats Does Countdown returns, and it's so long to A Very English Scandal...
Pick of the Day
Climbing Blind, 9.00pm, BBC Four
This jaw-dropping documentary is about Jesse Dufton and his attempt to take on the challenge of becoming the first blind person to lead a climb of the Old Man of Hoy in Orkney, Scotland.
At four years of age, Jesse was diagnosed with retinitis pigmentosa, a rare genetic disease that breaks down the retina's cells. When he was 20, Jesse could no longer read. By the time he was 30, he could only detect light.
As a lifelong climber, what Jesse has achieved flies in the face of adversity. His attempt on the Old Man of Hoy is testimony to his ambition to take on new and greater challenges, despite his condition.
Don't Miss
Marty and Bernard - On the Road Again, 9.35pm, RTÉ One
This week, Marty Morrissey and Bernard O'Shea head off to Kilrush in County Clare to meet up with the local RNLI and the brave volunteers that play a vital role in the safety of seafaring folk the local area.
They get to know the members of the RNLI before setting a fundraising challenge that raises a few eyebrows and a few voices.
Stumptown, 9.00pm, Alibi
After last week's episode, when Cobie Smulders' Dex teamed up with PI Artie Banks, only to find out he was a cynical operator who thought nothing of double-crossing clients, she declares war on him.
They face each other in an effort to take down wealthy real estate mogul Randall Tapper, while Detective Cosgrove leads an investigation to find a prisoner on the loose.
New or Returning Shows
Location, Location, Location, 8.00pm, Channel 4
The UK may be a different country, but lots of Irish folk lap up this show, back for yet another run.
Kirstie Allsopp helps couple Rachael and Mark in Woking search for a new home.
The pair are currently renting, but are desperate to put their money into their own home before the arrival of their second child.
Meanwhile, Phil heads to Guildford to assist a couple in their property search. They want a 'project', but not one that would require too much work.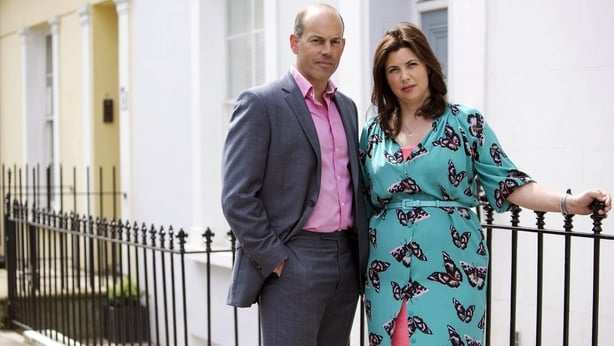 8 Out of 10 Cats Does Countdown, 10.00pm, Channel 4
Jimmy Carr hosts the comedy panel show's version of the words-and-numbers quiz, with team captain Sean Lock and Johnny Vegas taking on guest captain Alan Carr and Lou Sanders.
In this week's opener, lexicographer Susie Dent is joined by the Brett Domino Trio to adjudicate in Dictionary Corner, while Rachel Riley looks after the numbers and letters.
Shipwrecks Secrets, 8.00pm, Yesterday
In this new series, the discovery of a wreck off the coast of Florida sends a team of underwater explorers on a mission to discover the identity of a ship that simply shouldn't exist.
Old, Alone and Stuck at Home, 9.00pm, Channel 4
As the UK prepares for the easing of lockdown, this documentary tells the stories of the elderly and vulnerable people self-isolating during the coronavirus crisis, for whom lockdown may continue for many more months.
Filmed on location, their stories convey the immense challenge of being especially vulnerable in the midst of a pandemic.
Suzanne, for example, has terminal cancer but has come up with a novel approach to seeing her friends, while Desmond has been forced to move in with his daughter and granddaughter to avoid the virus, which has already taken at least four of his friends.
Polar Extremes, 8.35pm, PBS America
This series features palaeontologist Kirk Johnson, who examines the history of the Earth's poles, from miles-thick ice sheets to warm forests teeming with life.
Killed by Hate, 9.00pm, Sky Crime & NOW TV
Ten years after the Hate Crimes Prevention Act was signed, hate crimes in America are on the rise.
This special report explores some of the most brutal cases, including the murder of Matthew Shepard, Blaze Bernstein and James Byrd Jr, the Charlottesville riots, and the Portland train attack.
New to Download
Ben Platt Live From Radio City Music Hall, Netflix
Actor and singer Ben Platt performs in a sold-out show recorded at Radio City Music Hall in New York.
The performance, the final date of Platt's concert tour, featured songs from his debut solo recording, Sing to Me Instead, his new single Rain, and several covers.
Ending Today
A Very English Scandal, 10.35pm, RTÉ One
Hugh Grant and Ben Whishaw star in the conclusion of Russell T Davies' excellent drama based on the true story of the downfall of UK political leader Jeremy Thorpe.
Norman survives a bungled attempt on his life, and publicly accuses Jeremy of having hired the would-be killer to silence him - which brings their relationship into the public eye for the first time.
With the world watching, the ensuing court case drags years of acrimony between the two men into the light, as a man who would be prime minister stands trial for conspiracy to murder.
Daytime Film Choices
Vivacious Lady, 3.00pm, BBC Two
Romantic comedy, with James Stewart and Ginger Rogers as a professor who falls in love with a brash nightclub singer while on a trip to New York, and impulsively marries her.
He's afraid that his conservative family will not approve of his new wife, so he tries to keep the relationship a secret from them.
Gallipoli, 3.55pm, Film4
War drama, directed by Peter Weir, starring Mel Gibson, Mark Lee, Bill Kerr and David Argue.
Two patriotic Australians join the army to fight during the First World War, but their youthful idealism is quickly crushed by the harsh reality of conflict.
Their friendship is also tested to the very limits of endurance as they prepare for combat ahead of the pivotal battle of Gallipoli in Turkey.
The Man Who Shot Liberty Valance, 3.15pm, Sky Cinema Greats
Yet another classic John Ford Western, this one starring James Stewart, Lee Marvin, John Wayne, Woody Strode and Vera Miles.
A shy, naive lawyer falls foul of a gunslinger while on his way to the backwoods town of Shinbone. His life is saved by a local woman, and he in turn devotes himself to helping the townsfolk while searching for a way to bring the bandit to justice.
Gradually, he comes to realise that a more aggressive approach will be required.
Prime Time Movie Picks
The Recruit, 6.50pm, Sky Cinema Thriller
Here's a half-decent spy thriller, starring Al Pacino, Colin Farrell, Bridget Moynahan and Gabriel Macht.
A highly intelligent computer hacker is persuaded to join the CIA by a shady agent, who lets him think there is a link between the agency and his father's death.
He proves he has a natural-born talent for espionage work, but when he is given a top-secret assignment to root out a mole within the training programme, he begins to believe his recruiter's warning that nothing is what it seems.
Manhunter, 9.00pm, Sky Atlantic
Michael Mann's celebrated thriller, based on Thomas Harris's novel Red Dragon, with William Petersen, Dennis Farina, Tom Noonan, Brian Cox and Joan Allen.
A former FBI agent is coaxed out of retirement to track down a serial killer behind the slaughter of entire families.
The detective needs an angle on the murderer's psychology and the only way to get this insight is to face his nightmares and consult cannibalistic psychopath Dr Hannibal Lecktor in prison.
Saving Private Ryan, 9.00pm, Sky Cinema Greats
Steven Spielberg's Oscar-winning Second World War drama, starring Tom Hanks, Tom Sizemore, Edward Burns, Matt Damon, Barry Pepper and Vin Diesel.
In the aftermath of the Normandy landings, a group of American soldiers scours the battlefields of France in search of a missing infantryman, who has been given compassionate leave to return home because his brothers have been killed in the conflict.
Late Late Flick Picks
The Possibilities Are Endless, 1.35am, Film4
This life-affirming documentary follows singer-songwriter and former Orange Juice frontman Edwyn Collins' rehabilitation after he suffered two cerebral haemorrhages.
That left him with an affected memory, weakened his right side and left him able to say just four things - including the phrase `the possibilities are endless'.
Edward Lovelace and James Hall's film tracks Collins as he and his clearly devoted wife Grace Maxwell slowly put his life back together and come to terms with the dramatic consequences of the haemorrhages.
The Fast and the Furious: Tokyo Drift, 12.30am, Sky Cinema Select
Perfect late-night action adventure, starring Lucas Black, Nathalie Kelley and Bow Wow.
An American teenager is sent to live with his father in Tokyo after a brush with the law, but soon becomes involved in illegal street racing.
When he ends up owing money to gangsters after losing a race, he has to learn to master the Japanese style of driving to win and pay back his debts.
Basic Instinct, 11.00pm, Sky Cinema Thriller
Steamy thriller from director Paul Verhoeven, starring Sharon Stone, Michael Douglas, George Dzundza and Jeanne Tripplehorn.
A hard-drinking San Francisco cop investigates the case of a man murdered with an ice-pick, but his intuition starts letting him down as he falls for the sultry and manipulative chief suspect, the victim's former girlfriend.
Click here for full TV listings