Fair City's McCoy's was the venue on Monday night for a Claire Byrne Live sit-down about the future of pubs.
The presenter was joined by RTÉ Weather's Nuala Carey, Liveline's Joe Duffy and publican Billy Keane to discuss "what the pub of the future could look like while the Covid-19 restrictions are still in place".
A mask-wearing Billy Keane was behind the bar in the eerily empty hostelry - and pulled no punches about the reality of the situation he finds himself in as a publican.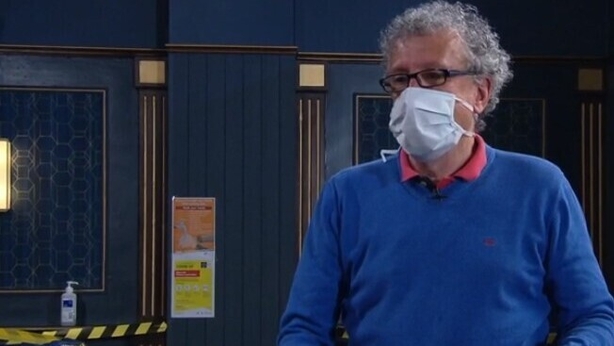 He told Claire Byrne: "We won't make much out of you today" when she asked for a sparkling water because she was working.
"I feel like a bank robber," he said of wearing the mask. "It's not easy; your glasses get steamed up as well as the customers!"
"You could have three staff serving one person," he explained of implementing social distancing in the wake of Covid-19.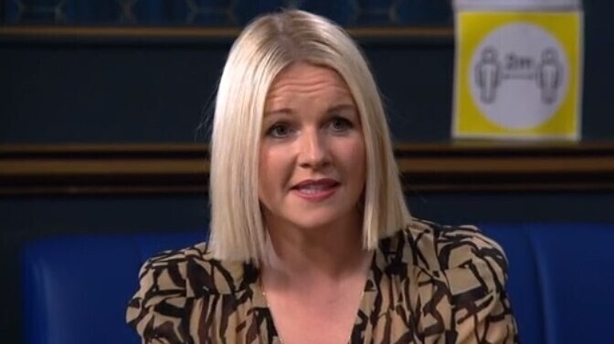 When asked how - or if - it's going to work, Billy Keane replied: "None of us know [sic]. Some people are saying now that we should have perspex up at the counter. And you could get two or three to sit up at the bar maybe a metre or two metres apart. It's wrecking most of our heads in the pub business.
"We're there 75 years, our family, and I don't know will I be the last one or will we be able to open or will it be a success. No one knows for sure... It's August, so that's three months' time [when pubs are scheduled to re-open]. So we're all hoping for a miracle. You know, the publicans were famous for the poor mouth, but this really is it. It's life; it could be the end of the line for a lot of us."
"It is completely different to what we're used to," said Nuala Carey. "But then, everything is different now - you know, we have to queue for a supermarket and we never did that before. So I suppose it's about finding a way around it, but it does feel different, and certainly you wouldn't want to be having a private conversation this far apart because everybody can listen to you."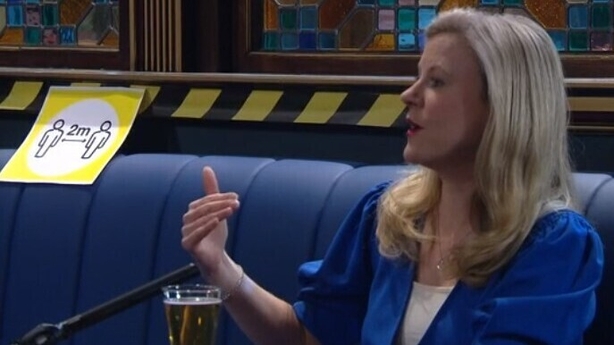 "And the craic is gone," she continued. "But then, why do you go to a pub? Is it just for the alcohol? Sure, you can buy that other places. It's the social aspect. And maybe it's even more than that; maybe it's the psychological thing of having a pub open and people who really miss it, who perhaps live on their own, who perhaps haven't seen anybody in months. This might be their saving grace."
"I think we are in Aslan country," said Joe Duffy. "This is a Crazy World. Unless you are coming with your crossword and your game of Boggle and all you want to do is sit in the corner on your own, so to speak, people won't come. This is worse than I thought it was going to be. I hadn't imagined it like this.
"I knew there was going to be distance, but I thought it would be more intimate and you could have a conversation, but you can't. You can't really have a conversation unless you bellow."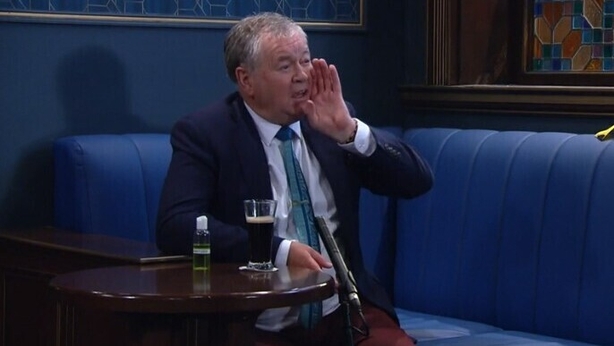 "I desperately want to be able to open," Billy Keane continued. "I want to be able to talk away. Maybe there will be a new norm, and maybe we'll talk out loud to each other. And if you wanted a secret conversation you'll have it on your mobile phone later on!"
Joe Duffy said his children told him that they were "going to hold off for a fairly long time" before returning to their local because they were concerned about bringing Covid-19 back home.
Nuala Carey said if she was to go back to a pub, she would make "a beeline" for the beer garden. "Because obviously social distancing is a little bit easier outside. And nobody has mentioned - which obviously if you're drinking - the one place I would be trying to avoid is the toilet. There's too many door handles, taps - it's a minefield."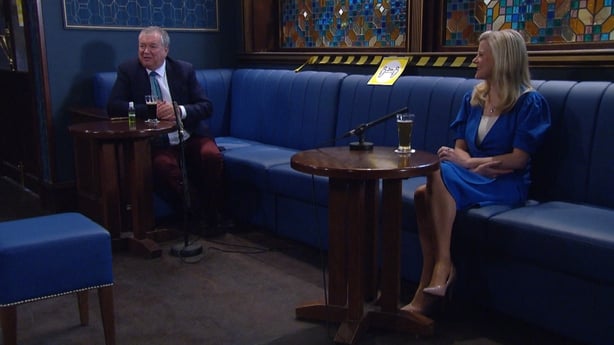 "None of us know [sic] for sure," said Billy Keane. "I just think, three months' time, I'm hoping for the best. I'm not going to open if I think it's dangerous, I just won't. I couldn't have it on my conscience. It's so hard to deal with, to be honest now.
"Maybe there's a chance for us; hopefully the vaccine will come. I hate to give up on it. I would just hate to give up on it. Let's hold tough. Let the last hour be the sorest."
Joe Duffy said we would "soon find out" if other countries' approach to easing restrictions was working.
"There has to be a way around everything," said Nuala Carey. "If you look at the banks and the supermarkets and the post offices - we've learned to keep them open and still do what we need to do. So maybe it's just a case of trial and error, really."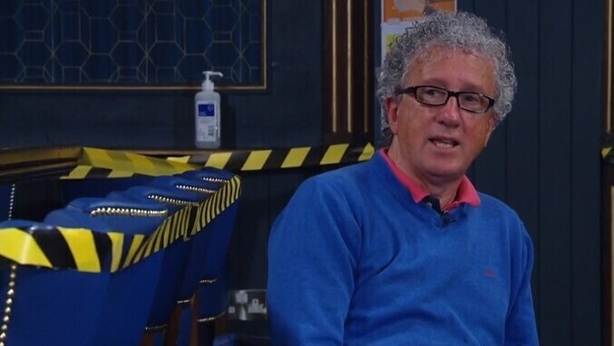 She added that the re-opening of pubs would "give us hope that we're on a stepping stone back to some kind of normality".
Billy Keane concluded with a message of hope:
"But we'll come back. It might be a year, it might take a while longer to get there, but we will come back. And we'll have great times again."