On tonight's Claire Byrne Live, Claire is joined in McCoy's pub on the set of Fair City by Joe Duffy, Nuala Carey and publican Billy Keane for a socially distant drink.
As the Covid-19 restrictions slowly start to lift, Claire Byrne Live will tonight take a look at what it will be like to visit a pub once they begin to reopen.
Claire is joined by Liveline host Joe Duffy, RTÉ Weather's Nuala Carey and publican Billy Keane in McCoy's pub on the set of Fair City to experience the new social distancing rules in action.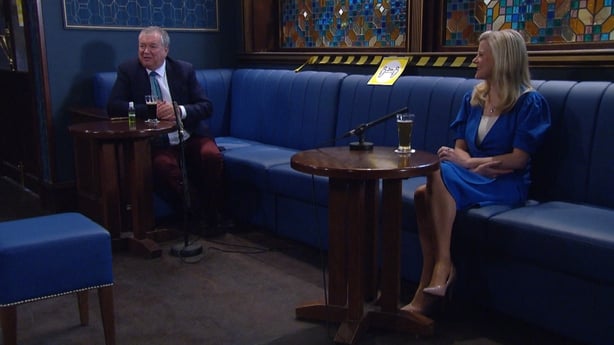 Speaking during the pre-recorded segment, Joe said: "I think we are in Aslan country, this is a Crazy World. Unless you are coming with your crossword and your game of Boggle and all you want to do is sit in the corner on your own, people won't come. This is worse than I thought it would be.
"I knew there was going to be distance, but I thought it would be more intimate and that you could have a conversation, but you can't. You can't really have a conversation unless you bellow."
Tonight on #cblive, Claire is going to McCoy's pub with Joe Duffy, Nuala Carey and Billy Keane. What will it be like to have a drink in a post-pandemic pub? Find out from 10.35pm on RTE One. pic.twitter.com/PjH5PCBN4u

— Claire Byrne Live (@ClaireByrneLive) May 18, 2020
Also in studio with Claire tonight are a dentist and a hairdresser who will walk viewers through the new measures including temperature screening.
Now that garden centres have reopened around the country, Diarmuid Gavin will have the smart gardener's guide to what people should be doing.
Plus, RTÉ Crime Correspondent Paul Reynolds is in the studio to discuss a mysterious video that has emerged online about the 2016 Regency Hotel shooting.
For all this and more, tune in to Claire Byrne Live at 10.35pm on RTÉ One.