New English band Sea Girls are gearing up to release of their debut album. Lead singer Henry Camamile talks to Alan Corr
It was a normal day in 2010 for Henry Camamile, lead singer of Sea Girls. He was strolling down a leafy lane in his native Leicestershire when a cricket ball, batted from a nearby crease, came hurtling through the air at 150km/h (probably) and hit him squarely on the jaw.
Howzat? As you can imagine, pretty bloody awful.
Henry, who is currently isolating with his parents in Lincolnshire, takes up the story and even though he's told it a million times, it is still wincing stuff.
"I was walking past a cricket match when I was 15 or something and I got hit by the ball full speed into my face, broke it pretty bad," he says. "I broke my jaw in three places. I was in hospital . . . that was pretty rubbish.
"It was a ball. If it was a bat it would have killed me," he adds, with dry understatement. "It took me six weeks of not eating before I recovered. I didn't eat anything for six weeks, just soup. A lot of soup. I ate all the soup I could eat. I'm not the biggest soup fan anymore."
What about cricket? "I've always hated cricket."
That very nasty freak accident may be the inspiration for the title of Sea Girls' debut album, Open Up Your Head, which is due out in August.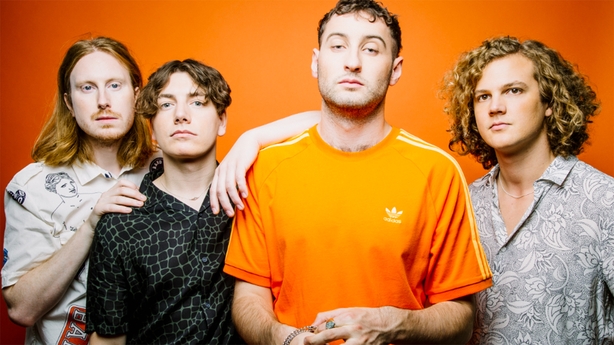 Owing a lot to The 1975's commercially attuned rock pop sound, the band's upbeat, euphoric songs with a dark heart have global stadia in its sights. In a throwback to the early to mid-noutghties upsurge in guitar bands, they also namecheck The Killers, The Strokes and Arctic Monkeys as key influences.
They certainly have a distinctive sound and even a cursory listen will reveal that the band's lead axeman (sorry) Rory Young (and what a perfect name for a guitarist that is) is very much inspired by The Edge.
"Rory has always been a stickler for making sure that he's not just doing the basics," Henry says. "U2 are a big thing for him, he loves Nick Cave and I know that Rory Gallagher is an influence. I hear a lot of U2 in his playing, making interesting things from something that might be a bit simple."
Like everyone else in music, and everywhere for that matter, this is an interesting time and challenging time for Sea Girls. They recently launched their new single, Do You Really Want to Know?, and as they gear up for the release of Open Up Your Head, they're keeping a positive attitude amid the pandemic.
"There's no reason why we shouldn't put music out," Henry says. "Let's put out a track that's super uplifting even though the lyrics might be a bit challenging. We'd be excited if a band we liked put out an album and we're super excited to put out this album so let's just do it."
Speaking about the single, he says, "The song is about hiding in plain sight. When you meet someone new and you're in the early part of a relationship, you've got bigger anxieties than you let on. You don't feel as good about yourself and you hope the other person doesn't know. Let's keep things light, let's keep it shallow so it's hiding in plain sight.
"I think that's what I'm like to be honest but with a lot of our songs," he adds. "There's joy in them but also a darker undercurrent, a sadder undercurrent. There's a lot of bravado in our music but some of the lyrics are a lot more vulnerable than the songs sound."
However, it wasn't all melodic guitar acts for Henry when he was growing up. His mum was a prog rock DJ in clubs in York in the UK so he was raised on a diet of gatefold sleeves and mystical concept albums. "I listened to a lot of Pink Floyd, bands like ELP, King Crimson . . . I guess that's a bit more surprising than our obvious influences. Amy Winehouse is also a big inspiration for me." he says.
They may be signed to major label Polydor but Sea Girls are under no illusions about the cutthroat nature of the music business. "To be honest, we were doing our own thing and putting songs on and when we signed to Polydor they agreed that we should keep doing things the same," Henry says.
"We picked all the songs we wanted to do for the album, we did them the way we wanted to do them So it's been a really good experience for us but, of course, there are legendary stories of labels trying to control bands but it's been a really good experience for us and it's been really good creatively."
At heart, Sea Girls remain the same gang of misfits who gravitated to each other in school. "We weren't the coolest kids in town but we went our own way," says the singer. "It's cool not to worry about being cool."
Alan Corr @CorrAlan2
Do You Really Want to Know? is out now. Open Up Your Head is out on August 14