It's a pretty chill Sunday on the box, so relax with some sun-soaked adventures on Sky, or maybe Matt Lucas and a gang of celebs, or you could revisit The Riordans, or maybe unwind with a great movie or two . . .
Pick of the Day
Hawaii Five-0, 9.00pm, Sky One & NOW TV
Can't believe this reboot of the Jack Lord show from half a century ago has lasted ten seasons (great theme tune excepted), but that's the value of a series that's an uncomplicated mix of a buddy cop show and Baywatch.
At times like this, especially on the eve of the first phase in the unlocking of restrictions in Ireland, it's hard not to knock something that puts smiles on millions of faces around this Earth of ours.
Now the legendary martial arts star Chuck Norris guest stars in Hawaii Five-0's penultimate episode.
Naturally nothing else really matters about this episode, but on the off-chance that you're interested, Steve McGarrett receives a posthumous letter from his mother that contains a cypher, and Danny is attacked by someone willing to kill to steal it.
Don't Miss
Primates, 8.15pm, BBC One
If there's one thing that Sundays are made for, it's quality nature TV shows on the BBC. Here's yet another in a very long line.
With more than half of the world's primates under threat of extinction, Chris Packham narrates a look at what is being done to protect them, with scientists making ground-breaking discoveries about this remarkable animal family.
Researcher Dr Cat Hobaiter has spent 13 years studying chimpanzees in the jungles of Uganda, while on Thailand's East coast, Dr Amanda Tan reveals how long-tailed macaques use tools to harvest shellfish.
Reasons to Be Cheerful with Matt Lucas, 7.30pm, Channel 4
Matt Lucas continues his lockdown comedy entertainment ensemble show with special guests TV presenter Keith Lemon, singer Heather Small (who's great craic), and athlete Mo Farah.
That's only for starters, though. Also involved are newsreader Krishnan Guru-Murthy, comedy duo Ellie and Tash, comedians Suzi Ruffell, London Hughes, Tim Vine and Harry Hill, RuPaul's Drag Race UK star Scaredy Kat and, of course, more members of the public.
Magnum PI, 8.00pm, Sky One & NOW TV
Another rebooted show that's both inexplicably popular and around for an entire decade. Reboots are made for walking, eh?
This week, Magnum and Higgins are each hired by a different spouse who are in the middle of a contentious divorce to dig up dirt on the other, and Thomas and Higgins soon find themselves competing over resources.
The Celebrity Chase, 8.00pm, Virgin Media One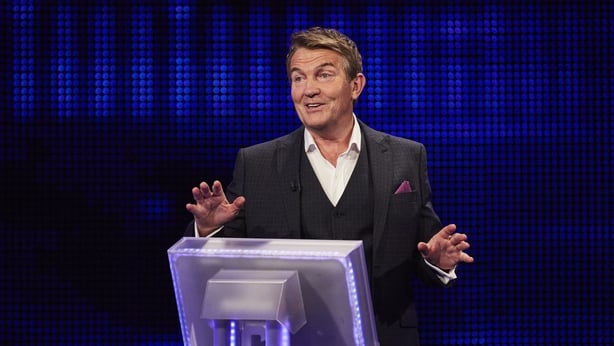 Bradley Walsh (above) presents a Good Morning Britain special of the slick quiz show, as Piers Morgan, Susanna Reid, Richard Arnold and Kate Garraway pit their wits against ruthless quiz genius the Chaser.
The GMB crew must work as a team and play strategically to answer general knowledge questions against the clock and race down the game board to the exit without being caught.
Ending Today
David Stratton's Stories of Australian Cinema, 9.00pm, BBC Four
Last up, the series looks at how variations on the theme of family are depicted in Australian movie-making.
There's The Castle's nuclear, if unorthodox family, a family of faith in The Devil's Playground, Romper Stomper's frightening Neo-Nazis (below), and crime families such as those depicted in Ned Kelly and Animal Kingdom.
Mediterranean with Simon Reeve, 7.15pm, BBC Two
The final leg of Simon Reeve's fascinating journey takes in Morocco, where he visits a land borders between Africa and the European Union, and the coast of Spain, taking in the scale of the country's fruit and vegetable industry.
He also discovers why tourists are actively discouraged from visiting Corsica, and goes diving in waters that have the highest fish population in the Mediterranean.
Repeats of the Day
The Riordans - Tea, Taboos & Tractors, 9.30pm, RTÉ One
This evocative and quite touching documentary sees Fair City actor Aisling O'Neill, daughter of The Riordans star Chris O'Neill, journey into her father's past to rediscover the much-loved series, which ran from 1965 to 1979.
Featuring interviews with the cast and crew of the soap, including Tom Hickey, Moira Deady, Biddy White Lennon and writer Wesley Burrowes.
Agatha Christie's Marple, 4.00pm, Virgin Media Two
Here's the season six opener, as Julia McKenzie returns as the sleuthing spinster in the first of three murder mysteries.
While staying at a hotel in the Caribbean, Miss Marple investigates the death of a fellow guest, refusing to believe he died of a heart attack.
Cats: The Musical, 8.00pm, Sky Arts
Not to everyone's taste - I'm certainly not a fan - but the Andrew Lloyd Webber devotees out there will lap up this spectacular stage show.
A production of Lloyd Webber's musical based on TS Eliot's much-loved Old Possum's Book of Practical Cats, filmed at the New London Theatre on Drury Lane, with a cast that includes Elaine Paige and John Mills.
Daytime Film Choices
The Remains of the Day, 3.10pm, RTÉ One
This is a pretty perfect Merchant-Ivory period drama, with Anthony Hopkins, Emma Thompson and James Fox all putting in a great shift.
A butler in a 1930s aristocratic household has dedicated himself to serving his master, putting duty above all else and repressing his affection for the housekeeper, who also happens to be in love with him.
On the outbreak of war, the nobleman's Nazi sympathies come to light, marking a change of heart in the old servant, who looks back with misgivings about the loyalty that may have cost him dearly.

Paint Your Wagon, 2.50pm, BBC Two
Oscar-nominated musical Western, starring Lee Marvin, Clint Eastwood, with Jean Seberg and Harve Presnell. Worth watching just to hear Marvin growl his way through Wand'rin' Star.
A gold prospector buys a wife from a Mormon and agrees to share her with his mining partner when she insists they all live together.
Beauty and the Beast, 4.40pm, Sky Cinema Disney
Disney animated fantasy, about a bookish woman who agrees to take her father's place as prisoner of a fearsome monster living in a castle deep in the forest.
She gradually grows to see a gentler, more human side to her hideous host, and comes to realise she may be able to break the curse that turned him into a beast in the first place.
Family Flick
Kung Fu Panda 2, 7.10pm, E4
Hugely enjoyable animated comedy sequel, with the voices of Jack Black and Gary Oldman.
Martial arts master panda Po continues to hone his skills when an evil peacock, who was banished from China for trying to build a deadly new weapon, returns to cause more chaos.
It falls to Po to defeat him, but he suffers strange flashbacks revealing a connection between his past and the sinister bird.
Prime Time Movie Picks
The Jerk, 9.00pm, Sky Comedy
Carl Reiner's celebrated-but-dated 1979 comedy, starring Steve Martin in his first lead role, Bernadette Peters, Catlin Adams and Maurice Evans. Guaranteed to horrify PC types.
A dim-witted white man brought up by a poor black couple is distraught when he discovers they are not his biological family.
He decides to leave home to embark on an adventure and seek his fortune, and in the process becomes an overnight success as an inventor.
Watchmen, 10.00pm, Sky Cinema Select
Enjoyable adaptation of Alan Moore and Dave Gibbons' seminal graphic novel, starring Patrick Wilson, Jackie Earle Haley, Malin Akerman and Billy Crudup.
At the height of the Cold War, former superheroes driven into retirement by public outcry are confronted with the murder of one of their contemporaries.
As they face the possibility of a conspiracy to eliminate them, they must contend with a world edging closer to the brink of nuclear war.
Incredibles 2, 8.00pm, Sky Cinema Disney
Animated sequel almost (I said almost) as good as the original, and featuring the voices of Holly Hunter, Craig T Nelson and Samuel L Jackson.
The family of superheroes and ally Frozone face a new enemy in the form of Screenslaver, while Mr Incredible copes with being a stay-at-home dad.
Late Late Flick Picks
Mercury Rising, 11.00pm, Channel 4
Plenty of action - but little else - in this thriller, starring Bruce Willis, Alec Baldwin and Miko Hughes. So it's ideal late-night viewing.
A top-secret government agency has developed a seemingly unbreakable code - only for an autistic boy to crack it in an instant.
Assassins succeed in gunning down his parents, but a maverick FBI agent investigating their deaths finds the child hiding in a closet, and resolves to shield him from the hitmen on his trail.
Muppet Treasure Island, 11.50pm, Sky Cinema Disney
If you fancy going to bed with the smile of a six-year-old on your face, try this musical comedy based on Robert Louis Stevenson's novel, starring Tim Curry, Billy Connolly, Jennifer Saunders and Kevin Bishop alongside the Muppet crew.
A youngster finds a treasure map and joins an expedition searching for a famous buccaneer's lost treasure on an unexplored island. But their mission falls foul of a band of pirates hiding out among the crew.
Rush, 11.05pm, Film 4
Exhilarating F1 fact-based human drama, starring Chris Hemsworth, Daniel Bruhl and Olivia Wilde. I'm not even into cars and I thought it was brilliant.
The 1976 Formula One Championship season is dominated by a fierce rivalry between two contrasting racers, as daredevil British driver James Hunt and methodical Austrian defending champion Niki Lauda put their lives on the line to outdo each other on the track.
Click here for full TV listings