Despite not being held this year, the Eurovision Song Contest dominates telly tonight, the night it was meant to be broadcast. Europhobes can look forward to the likes of Dara O Briain, Joanna Lumley, the Pet Shop Boys and some great movies . . .
Pick of the Day
The Eurovision
While there's no 'real' Eurovision this year due to the pandemic, TV is doing its best to celebrate The Eurovision Song Contest, which would have been on tonight in Rotterdam.
Here, in chronological order, are a fistful of shows to look out for to help recreate that Eurovision buzz . . .
Come Together, 6.25pm, BBC One
With Eurovision 2020 unable to go ahead as planned, Graham Norton (below) gives UK viewers the chance to vote for their all-time favourite Eurovision song from an eclectic shortlist.
We in Ireland can still watch, though.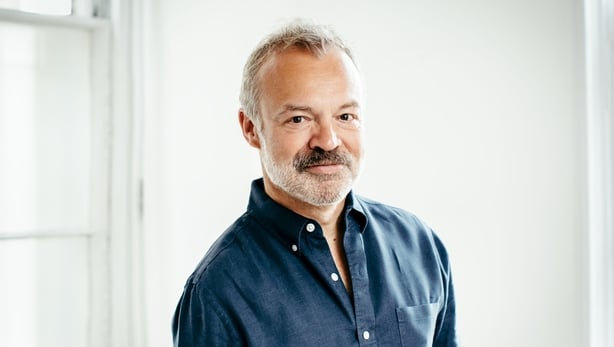 Marty's Magical Eurovision Moments, 6.55pm, RTÉ One
RTÉ Eurovision commentary stalwart Marty Whelan takes viewers through the highs and lows of Eurovisions past.
From Ireland's reigning title of most-wins in the competition to stand-out winners like Dana International, Marty revisits the competition's magic moments.
Here's Marty from five years ago talking to our Sarah McIntyre about the Eurovision:
Eurovision - Europe Shine a Light, 8.00pm, RTÉ One & BBC One
Following the cancellation of this year's contest, set for Rotterdam, Chantal Janzen, Edsilia Rombley and Jan Smit host a show honouring all 41 songs that were entered for the competition, including Ireland's Lesley Roy.
Well-known Eurovision artists from recent years also participate, while fans across the globe sing Johnny Logan's What's Another Year. As usual, Marty Whelan is on hand to provide commentary.
Eurovision Song Contest: the A-Z of Eurovision, 10.00pm, BBC Two
Rylan Clark-Neal narrates this compilation of all things Eurovision.
The alphabetical guide recalls some of the greatest moments in the show's 64-year history - as well as those perhaps best forgotten.
Highlights include the best interval acts, comic voting gaffes and the funniest commentary moments from Terry Wogan and Graham Norton - not to mention dancing gorillas, Polish butter churners, fainting backing singers and Celine Dion on a tractor.
TOTP2 Goes Eurovision, 11.00pm, BBC Two
Steve Wright presents a selection of archive hits from the contest in this repeat from 2007.
Featuring performances by Abba, Cliff Richard, Bucks Fizz, Katrina and the Waves, Lulu and Brotherhood of Man, plus an appearance by that year's UK entrants Scooch.
Don't Miss
Live at the Apollo, 9.15pm, BBC Two
We could all do with a laugh, right?
This show can be a bit hit and miss, depending on the talent involved, but tonight Mock the Week host Dara O Briain comperes an evening of stand-up at London's Hammersmith Apollo.
The Bray comedian will be treating the audience to his own brand of humour, before introducing routines by comedy circuit stars Zoe Lyons and Paul Chowdhry.
Here's him in action from a few years ago:
Joanna Lumley's Hidden Caribbean: Havana to Haiti, 7.30pm, RTÉ 2
The actress travels across two of the most enigmatic countries in the Caribbean - Cuba and Haiti - to explore, uncover and share the hidden gems they have to offer.
Joanna kicks off her adventure in a Havana boxing gym and then visits the stars of the cabaret at the National Hotel, and entertains the cigar workers while they roll cigars in their factory.
Pet Shop Boys: Inner Sanctum - The Super Tour, 8.00pm, Sky Arts
Performances by the duo recorded during their four-day residency at the Royal Opera House in London in July 2018, featuring hits from down the decades such as It's a Sin, Left to My Own Devices and Always on My Mind.
Ending Today
Secrets of Egypt's Valley of the Kings, 8.15pm, Channel 4
Archaeologists find new evidence about how the ancient Egyptians prepared for the afterlife, including a sacred text found in the tomb of the pharaoh Seti I, was believed to guarantee life after death.
An expedition unearths a sealed tomb that has lain untouched for 4000 years, and discovers disturbing evidence of the lengths grave robbers will go to in search of treasure. Last in the series.
Repeats of the Day
John Le Mesurier: It's All Been Rather Lovely, 7.15pm, BBC Two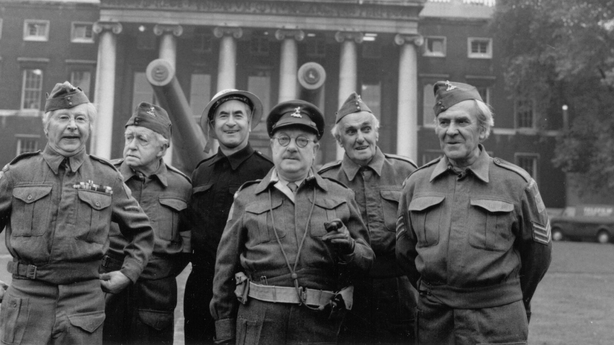 This is an illuminating portrait of the prolific actor's life and career, from his turbulent marriage to Hattie Jacques to his renowned role as Sgt Wilson in the TV sitcom Dad's Army and parts in more than 100 films.
Featuring contributions by Michael Palin, Clive Dunn, Ian Lavender, Jimmy Perry and Joan Le Mesurier. Narrated by Julian Rhind-Tutt.
Old People's Home for 4 Year Olds, 7.15pm, Channel 4
Fascinating pre-pandemic social experiment as, for six weeks, 10 four-year-olds share their classroom with 11 old age pensioners.
The operation is led by three geriatric specialists, with the young and older groups follow the same timetable in a new nursery set within a retirement village near Bristol.
The senior group will undergo tests to measure mood, memory and mobility during their daily interaction with the kids.
Daytime Film Choices
South Pacific, 3.35pm, BBC Two
It's no Sound of Music, but this is an enjoyable musical based on the Rodgers and Hammerstein Broadway show of the same name, with Mitzi Gaynor, Rossano Brazzi, John Kerr and Ray Walston.
A naval nurse falls in love with a French plantation owner on an American-held island during the Second World War. But dark secrets surface from his past and result in her having to leave the colony and embark on a perilous mission with the help of a US Navy officer.
Animal Farm, 12.55pm, Film4
Clasic animated drama based on George Orwell's novel, narrated by Gordon Heath and with Maurice Denham providing the voices for all the characters.
Animals rebel against their unscrupulous owner and take control of his farm, vowing to run things fairly, with equality for all. Well, until the pigs leading the revolt succumb to greed and corruption, culminating in violence and oppression.
Family Flick
Curious George: Royal Monkey, 6.15pm, Sky Cinema Premiere
Animated adventure in which George trades places with the king's monkey, Philippe.
While Philippe puzzles Ted with his flawless manners, George travels to the castle where his fun-loving antics raise eyebrows and bring shy Princess Isabel out of her shell.
Prime Time Movie Picks
Hope Springs, 10.05pm, TG4
Midlife romantic comedy, with an impressive cast that includes Meryl Streep, Tommy Lee Jones and Steve Carell.
A middle-aged married woman feels her long-standing relationship with her unadventurous husband is becoming stale.
When she hears of a marriage counsellor offering therapy sessions in his remote retreat, she persuades her reluctant spouse to join her for a week with the doctor rediscovering why they fell in love in the first place.
Alita: Battle Angel, 8.00pm, Sky Cinema Premiere
Director Robert Rodriguez's fantasy adventure based on the manga comic, starring Rosa Salazar, Christoph Waltz and Jennifer Connelly.
In the 26th century, dismantled cyborg Alita is repaired by Dr Dyson Ido, a kindly technician with a dark secret.
As she falls in love with local youth Hugo, the truth behind her mysterious past is eventually revealed.
Crazy Rich Asians, 8.00pm, Sky Cinema Comedy
Blockbusting comedy based on Kevin Kwan's novel of the same name, starring Constance Wu and Henry Golding.
When New York University professor Rachel Chu heads to Singapore with her boyfriend, Nick Young, she's surprised to learn he's from an extremely wealthy family.
The problem is they aren't so approving of her, so she attempts to win them over.
Strangers on a Train, 7.20pm, Talking Pictures Television
Alfred Hitchcock's superb thriller, based on the novel by Patricia Highsmith, starring Robert Walker, Farley Granger and Ruth Roman.
A charming psychopath meets a tennis professional on a train and suggests that they each commit a murder on the other's behalf.
The latter doesn't take it seriously, but when the deranged man goes through with his part of the 'deal', the sportsman faces a race against time to prove his innocence.
Late Late Flick Picks
Inglourious Basterds, 12.30am, Sky Cinema Greats
Quentin Tarantino's often hilarious and always engaging wartime adventure, with Brad Pitt, Melanie Laurent, Diane Kruger, Michael Fassbender and an Oscar-winning Christoph Waltz.
American officer Aldo Raine leads a squad of soldiers into occupied France on a mission to kill as many Nazis as possible and spread fear through the Third Reich.
They become involved in a Jewish resistance fighter's plan to blow up the premiere of a propaganda movie - due to be attended by Hitler himself.
Worth watching just for the outrageously tense opening scene.
Us, 1.55am, Sky Cinema Hits
Jordan Peele's horror thriller follow-up to the marvellous Get Out, starring Lupita Nyong'o, Winston Duke and Elisabeth Moss.
In 1986, young Adelaide goes on holiday with her parents to Santa Cruz. During a trip to the circus, she encounters a terrifying presence in a hall of mirrors.
Years later, with a family of her own, their world is turned upside when Adelaide's past comes back to haunt her.
Click here for full TV listings