This is not the time to take away our quizzes, says a quizzical Rick O'Shea, who has been marvelling at Normal People instead of brightly answering abnormal questions asked on very smart quiz shows
"Here's the thing - my work life hasn't gotten any quieter or closer to home, in fact, the exact opposite. At the moment, I'm live in studio five mornings a week on RTÉ Gold, and on Saturday afternoons on RTÉ Radio 1 and RTÉ Gold simulcasting.
"All of this has coincided with the start of a new series of The Book Show on RTÉ Radio One and we were determined to make sure that it went ahead if at all possible.
"So we've been recording all of the interviews and items remotely with authors and contributors while I'm here in Donnybrook.
"I spent some time thinking about Irish authors I knew whose books were coming out during lockdown and how their launches were being cancelled, so I started an online chat show called Shelf Analysis in my Facebook group, The Rick O'Shea Book Club. I talk live from my kitchen to an author in theirs three nights a week. We're 20 episodes in as I write this.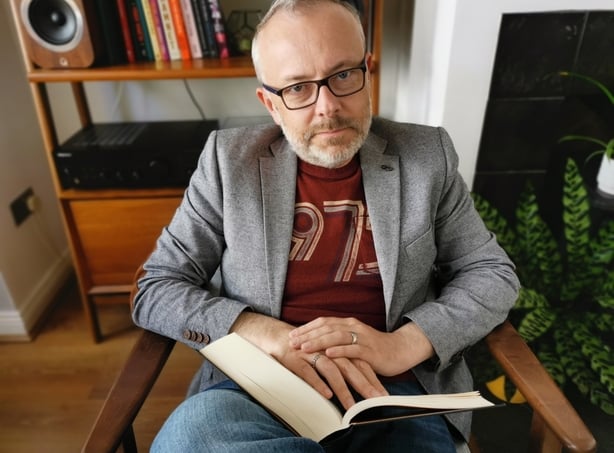 "My wife has been working flat out from the office (kitchen table) since this all began, and my eldest moved in with us as he works in a major supermarket. So, for all of us, it's been flat out.
"In downtime we've found ourselves missing theatre in particular, so we've been watching the Abbey Theatre Dear Ireland series, the Royal Court's streamed Cyprus Avenue, and the (English) National Theatre's One Man, Two Guvnors (by Richard Bean, based on The Servant of Two Masters by Carlo Goldoni, with songs by Grant Olding).
"Then there is Frankenstein, also from the National Theatre (featuring Olivier Award winners Benedict Cumberbatch and Jonny Lee Miller.)
"We're loving the TV adaptation of Normal People, and heartbroken at the end of the current series of Mastermind, University Challenge and Only Connect. This is not the time to take away our quizzes…
"I had been going through Reader's Block but it's loosening up since I read Cho Nam-Joo's Kim Jiyoung, Born 1982, and it's getting much, much looser with David Mitchell's upcoming novel, Utopia Avenue.
"I wish I'd had time to learn Italian, or the lute, or even watch all of the Hitchcock films in order, but not yet."