RTÉ Lyric FM presenter Lorcan Murray has been enjoying short walks on the banks of the Shannon and re-acquainting himself with the garden, but doesn't see himself entering the long puck any time soon. Now read on..
"The routines might all be different but wake up time is still the same for the kids, well, two of them anyway Now there is no hurrying, no uniforms - "have you finished your breakfast?" It's definitely a more sociable and relaxed household in the mornings.
"Despite still going into studio everyday to present Classic Drive live, I'm able to do my research and music preparation remotely from home, so I'm literally here until early afternoon. While I am doing the prep each morning, Ben who is eleven is online with Aladdin, doing his Fifth Class homework and Lucy- just thirteen - is doing online First Year classes.
"Louise, my better half, is working from home every second week, and can retire to the attic for the day during the week she is working at home. Meanwhile, Sam who is just fifteen is thinking about getting up! With the Junior Cert now cancelled he is in relaxed mode!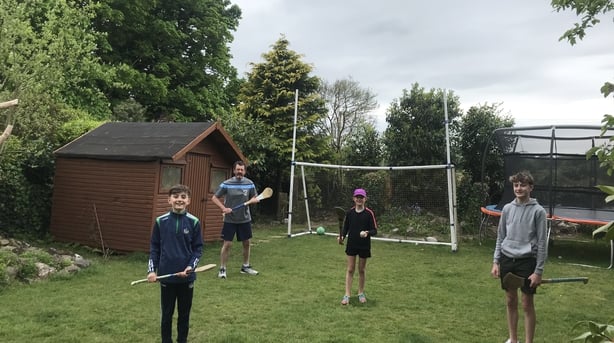 "With the weather been so unseasonably good, we've been able to go for short walks on the banks of the Shannon, it being so close. With all the free time, no school run, no homework, no matches, I've learned to hit a sliotar again (I won't be entering the long puck anytime soon.)
"So it's out the back for all kinds of games and challenges but I think I'll have to invest in a helmet as I usually end up in goals! I've also had a chance to re-acquaint myself with my neglected garden and greenhouse - they've never had so much attention with a good fruit crop for the autumn I hope. Currently growing grapes, kiwi fruit, lemons, apples and encouraging a recovering pear espalier.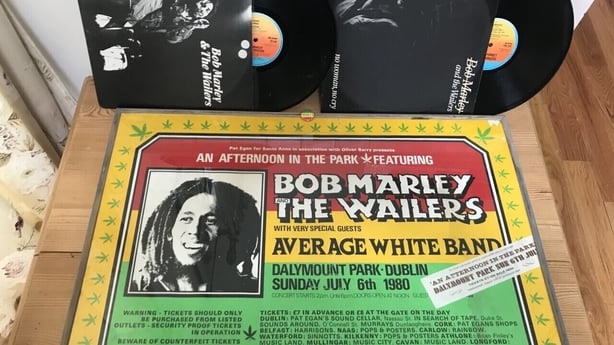 "What's been a revelation for me and the kids is the amount of hoarding I have been doing over the years. Everyday - and at the weekends too - I can now spend hours delving deep into the basement, rooting through the boxes and rediscovering my vinyl, particularly the singles of which I have about 8,000 remaining.
"I have discovered so many finds ranging from a Bob Marley poster of his open air gig at Dalymount Park in 1980 to U2's very first band photo from Hugo McGuinness which Bono autographed for me while in studio with Dave Fanning on the rock show all those years ago.
"The kids have been enjoying the rummage too, they can't get their heads around cassette tapes, whatever about vinyl 45s. When it comes to 2FM (Lorcan's former place of employment) I'm afraid to open the boxes, so far unopened, Beatbox and Gerry Ryan show t-shirts to Mrs Brown's Boys memorabilia, I'll have to stop. My wife is delighted with the clear-out.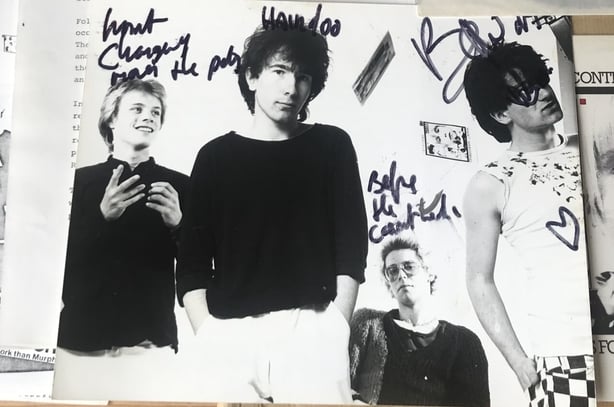 "Funny thing, I never thought I'd say it, but many of the games like Fortnight, FIFA etc. allow the kids to speak and interact with their friends with whom they have had no physical contact for months and this has proved to be a good thing.
"There has been a great surge in family time together with the weather so good. We've been able to BBQ (me mostly), relax, eat and chat with no one rushing off. Baking is at a premium, as with everyone else, especially Lucy's iced shortbread biscuits and Louise's brown bread which is delivered to granny's also.
"Since the restrictions, I've begun watching TV series, although up to now, I was never a great TV watcher except for sport, The Late Late or Graham you-know-who. But now I'm hooked watching Idris Alba in Luther - brilliant - Ozark, and The Stranger, all gripping TV.
"All in all, I would have to say it is life at a new pace in many ways. I am so much more appreciative of quality time, and when it comes to nature, by the way, all that quiet has led us to discover hatching nests of robins and blue tits in the back garden.
"I nearly forgot to mention a féasog has arrived over time - the Covid beard - I never grew one before, feels strange. Covid 19 for me has been unforgiving and yet giving in a strange sort of way."
Classic Drive, Monday to Friday, 4-7pm, RTÉ Lyric FM