Another busy day on the box, with MayDay: 24 Hours in Ireland's Lockdown, the new season of Brassic, the final episode of Devs, and the return of Pure Mule and Pride and Prejudice...
Pick of the Day
MayDay: 24 Hours in Ireland's Lockdown, 9.35pm, RTÉ One
This is a documentary examining the impact of the coronavirus on the country, as well as some of the occasionally surreal and poignant moments that make up life during the unprecedented lockdown.
Don't Miss
Have I Got News for You, 9.00pm, BBC One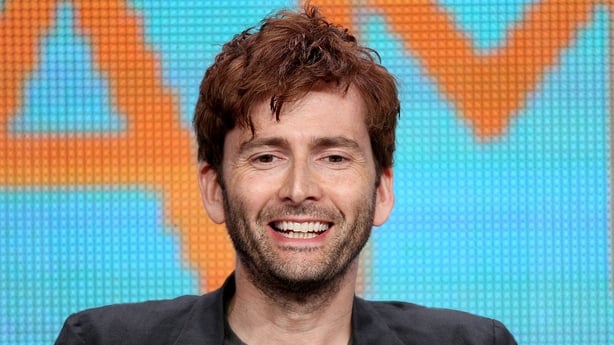 Pushed forward from its traditional Friday night slot because of Friday's VE 75th anniversary celebrations, the news quiz has David Tennant (above) back once again as host to perennial team leaders Paul Merton and Ian Hislop.
Rick and Morty, 10.00pm, E4
While season four continues (and it's an improvement on the previous two), with the duo encountering an animal with magic powers, It's followed at 11.00pm by a repeat of the superb second episode from its first and best season.
Rick helps Jerry out with the family dog Snuffles by creating a device to make him more intelligent, but things go awry.
Meanwhile, Rick and Morty also invade the dreams of Morty's maths teacher Mr Goldenfold in an effort to raise Morty's grades.
New or Returning Shows
Brassic, 10.00pm, Sky One
The gang are back as Sky's dramedy returns, and the action picks up with the friends a few months after the events that took place in the finale of season one.
In the first episode, Vinnie has been hiding out in his weed shed since faking his own death, but Tommo and Erin need his help as they plot to rob a travelling circus.
Harley Quinn, 10.30pm, E4
Animated action-comedy based on the wisecracking villainess from DC's Batman, who this time around realises that life would be better without The Joker.
Harley has a change of costume as well as a change of heart, and strikes out on her own, aiming to make her name as the criminal queen of Gotham City.
Voiced by Kaley Cuoco and Lake Bell, this is essential viewing for anyone into the DC universe. And not for kids.
Murders at America's Borders, 10.00pm, Vice
Here's an exploration of the rise and fall of prominent-Minutemen-leader, Shawna Forde, in a story about astonishing distortions of the American Dream.
Ending Today
Devs, 9.00pm, BBC Two
Gave up on this after a couple of episodes, thanks mainly to the sight of Nick Offerman looking like an extra from a local theatre group's staging of Godspell on Mogadon.
Anyway, with the future obscured and her life in peril, Lily faces a final showdown as she goes through events already witnessed by Katie and Forest - the latter of whom appears to have a Messiah complex.
Is Lily equal to defying him so she can prevent her predestined death?
Mark Kermode's Secrets of Cinema, 10.00pm, BBC Four
The always informative Mark Kermode reveals the cinematic tricks and techniques used to create classic horror films, from The Phantom of the Opera to The Exorcist, Psycho to Get Out.
Repeats of the Day
Pure Mule, 10.30pm, RTÉ 2
More memory lane stuff with this six-part drama set in a small Irish town.
Each episode follows the events of a weekend from the perspective of a different character, with the separate stories overlapping one another.
Florence Nightingale, 9.00pm, BBC Four
Laura Fraser and Roy Hudd star in this drama telling the story of one of Britain's greatest heroines, focusing on the aftermath of the Crimean War.
Disgusted at the needless suffering of servicemen, the nurse badgered the authorities into allowing her to investigate conditions in military hospitals.
Pride and Prejudice, 8.00pm, BBC Four
Yet another chance to see Andrew Davies' acclaimed adaptation of Jane Austen's classic novel, starring Colin Firth, Jennifer Ehle, Alison Steadman, Benjamin Whitrow and Julia Sawalha.
A wealthy eligible bachelor rents a property in Hertfordshire, causing a flurry of anticipation among the ladies of the district. He's also brought along a friend - the haughty and aloof Fitzwilliam Darcy.
Daytime Film Choices
The Wooden Horse, 2.50pm, BBC Two
As WWII nostalgia reaches a crescendo in the UK, here's another tale from the good old days of ration books, massive death tolls and unprecedented destruction.
British PoWs in a German camp try to escape their captors by taking up gymnastics and using a vaulting horse to conceal the tunnel they are digging.
Father of the Bride, 3.15pm, Sky Cinema Greats
A remake of the 1950s comedy, with Steve Martin, Diane Keaton, Kimberly Williams and Martin Short.
A doting dad is taken aback when his daughter announces she is getting married and is thrown into a whirlwind of increasingly complicated wedding plans and a struggle to meet expectations.
The Royal Tenenbaums, 3.05pm, Sky Cinema Comedy
Quirky, anyone? Wes Anderson's comedy, starring Gene Hackman, Anjelica Huston, Gwyneth Paltrow, Ben Stiller and Luke Wilson.
Three former child geniuses grow up to be emotionally dysfunctional adults. Meanwhile, their estranged father learns his ex-wife is planning to remarry, so he pretends to be dying to gain his family's sympathy - and stop the wedding.
Prime Time Movie Picks
Hunt for the Wilderpeople, 9.00pm, Film4
Offbeat comedy-adventure written and directed by Taika Waititi, starring Sam Neill and Julian Dennison. A right Thursday night treat.
A 12-year-old brought up in the city is sent to be fostered by the good-natured Bella and her grumpy husband Hec, who live on a farm in rural New Zealand.
When tragedy strikes. Ricky runs off into the wilderness, pursued by Hec - inadvertently sparking a national manhunt for the two of them.
The Cotton Club, 10.00pm, Talking Pictures TV
Francis Ford Coppola's crime drama set in 1930s Harlem, starring Richard Gere, Diane Lane, Gregory Hines, Bob Hoskins, Nicolas Cage, Laurence Fishburne, Jennifer Grey and Tom Waits.
A cornet player becomes embroiled in the criminal underworld after saving the life of a Mob boss but tries to escape the influence of his so-called benefactor by pursuing a movie career.
Duck Soup, 8.05pm, TCM
It's almost a century old but remains one of Hollywood's greatest comedies, starring the incomparable Marx Brothers and Margaret Dumont.
An eccentric dictator takes over the bankrupt nation of Freedonia and sets about trying to resolve the financial crisis by seducing a wealthy widow.
But when the ambassador of a neighbouring country also tries to woo her, war is inevitable. Meanwhile, two bumbling spies cause chaos as they try to steal top-secret information.
Late Late Flick Picks
Nerve, 11.05pm, Film4
Emma Roberts and Dave Franco star in this drama that should go way over the head of anyone over 30. Still worth a watch though.
A teenager finds herself immersed in an online game of truth or dare, where her every move starts to be manipulated by an anonymous community of watchers.
Halloween, 2.15am, Sky Cinema Sci-fi & Horror
John Carpenter's classic slice of horror, starring Jamie Lee Curtis, Donald Pleasence, Nick Castle and PJ Soles.
A homicidal madman Michael Myers escapes from a mental institution 15 years after murdering his sister and goes on a killing spree in his home town. No lockdowns back then, eh?
Sorcerer, 12.55am, Film4
William Friedkin's intense thriller, starring Roy Scheider, Bruno Cremer, Francisco Rabal and Amidou, is a little gem, and the director's favourite from his career, which includes The French Connection and The Exorcist.
Four men with shady pasts take a lucrative and potentially fatal delivery job driving two trucks full of dangerously unstable dynamite along equally unsound roads through the South American jungle.

Click here for full TV listings