Louis Theroux live tweets and meets Joe Exotic, Rory Cowan goes back to Ballyer on Keys to My Life, there's Bottler and Matthew Bourne, as well as loads of great movies . . .
Pick of the Day
Louis Theroux: America's Most Dangerous Pets, 9..50pm, BBC Two
This is actually a repeat - but fans of Netflix series Tiger King in particular should find it fascinating.
Louis Theroux travels stateside to meet people who give house space to animals normally found in Africa and Asia, including big cats and dangerous primates.
Among the owners he meets is Joe Exotic (yep, the one and the same), a policeman-turned-animal rescuer who has bred and collected more than 150 tigers, and Connie Casey, who shares her home with her `family' of 20 chimpanzees.
The programme includes a special introduction from Louis Theroux, who is live-tweeting tonight in tandem with the episode using #watchwithlouis.
Don't Miss
Keys to My Life, 8.320pm, RTÉ One
More life stories told to presenter Brendan Courtney in visits to previous homes.
For the first time in more than 50 years, actor Rory Cowan goes back to the Ballyfermot two-bedroom house that shaped his happy early childhood.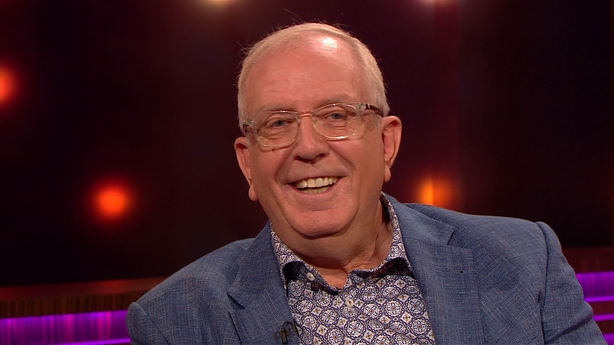 The Chase Celebrity Special, 9.00pm, Virgin Media One
Bradley Walsh presents as four celebrity contestants pit their wits against ruthless quiz genius the Chaser in the hope of winning a serious prize pot.
They must work as a team and play strategically to answer general knowledge questions against the clock and race down the game board to the exit without being caught.
New or Returning Shows
Serengeti, 8.00pm, RTÉ Two
Dramatised natural history show featuring a cast of real animals interacting on the African savannah, narrated by Star Wars actor John Boyega.
Lioness Kali has broken the golden rule of family life by having cubs with an outsider, and when she tries to bring the young ones home she is forced into exile.
Passionate baboon Bakari starts a deep and jealous rivalry after the female he was devoted to is stolen away by the new leader of the troop, and teenage elephant Tembo feels sidelines when his mother gives birth to a new baby.
Modus, 11.10pm, RTÉ Two
In this Swedish drama series, a family wedding at Christmas is disrupted for psychologist and criminal profiler Inger Johanne Vik when her eldest daughter Stina unwittingly becomes a witness to a murder.
With a killer out to get her, Stina's only hope of survival seems to lie with her mother, who is drawn into a police investigation into a serious of brutal killings.
David Stratton's Stories of Australian Cinema, 9.00pm, BBC Four
The English-Australian, award-winning film critic David Stratton tells the story of Australian movie-making, focusing on the films that capture this idiosyncratic nation with drama, emotion and humour.
Here's a personal favourite, Don's Party:
Ending Today
Race Across the World: Revealed, 8.00pm, BBC Two
Following last week's final, the five teams are reunited and look back on their journey, recalling the highs and lows, and sharing memories of the people who helped along the way.
They also reveal what their first impressions of each other were, and how those views were changed by the challenges they all had to face.
Repeats of the Day
Brendan Grace, Funny Man, 9.35pm, RTÉ One
Documentary looking back over the career of the Dublin-born comedian, actor and singer, who was in the entertainment business for more than 50 years, before his death in July 2019.
Flight of the Conchords, 8.30pm, Sky Comedy
The first-ever episode of the comedy about a New Zealand folk duo trying to make it big in New York.
The Conchords go to a party at a friend's house, where Jemaine meets the beautiful Sally - little realising she is Bret's ex-girlfriend.
Matthew Bourne's The Car Man, 8.00pm, Sky Arts
Zizi Strallen and Chris Trenfield star in a 2015 production from London's Sadler's Wells of Matthew Bourne's dance show set in 1960s America and loosely based on Bizet's Carmen.
The arrival of a handsome stranger sends the inhabitants of a small town into a frenzy of lust, greed, betrayal and revenge.
Daytime Film Choices
Sense and Sensibility, 3.10pm, RTÉ One
Ang Lee directs this Jane Austen adaptation, with a cast that includes Emma Thompson, Kate Winslet, Alan Rickman and Hugh Grant.
An impoverished family is taken in by a relative - and while sensible elder daughter Elinor's love for the sensitive Edward Ferrars meets with disapproval from his family, her more passionate younger sister Marianne engages in a disastrous romance with an infamous womaniser.
A Room with a View, 4.40pm, Film4
Period drama from James Ivory, based on EM Forster's novel and starring Helena Bonham Carter, Maggie Smith, Denholm Elliott, Daniel Day-Lewis, Julian Sands and Judi Dench.
A naive woman accompanies an older cousin on a trip to Florence, where she falls in love with a forward-thinking man.
She is forced to cut short the romance and return to a loveless engagement in England, where the object of her affection makes an unexpected appearance.
In Fabric, 2.05pm, Sky Cinema Sci-fi & Horror
Writer/director Peter Strickland's cult comedy horror, starring Sidse Babett Knudsen, Marianne Jean-Baptiste and Julian Barratt.
A lonely divorcee visits a London department store to find a dress. However, during a busy winter sales period her ideal, yet cursed red gown, passes from person to person, with devastating consequences.
Prime Time Movie Picks
The Outlaw Josey Wales, 9.30pm, TCM
Western, directed by and starring Clint Eastwood. With Chief Dan George and Sondra Locke.
A Confederate soldier refuses to surrender at the end of the Civil War, and is branded a dangerous outlaw.
Crossing America in search of sanctuary from the army and bounty hunters, he only wants solitude - but ends up with a strange assortment of travelling companions.
American Woman, 8.00pm, Sky Cinema Drama
Director Jake Scott's drama, starring Sienna Miller, Christina Hendricks, Sky Ferreira and Kentucker Audley.
In a small blue-collar town in Pennsylvania lives Debra Callahan, a 32-year-old woman's whose teenage daughter Bridget goes missing. Left to raise her infant grandson alone, Debra seeks the answers behind Bridget disappearance.
Sleepers, 9.00pm, Sky Cinema Thriller
Brad Pitt, Robert De Niro, Dustin Hoffman, Kevin Bacon, Jason Patric and Minnie Driver star in this drama about four teenagers sentenced to reform school after a prank results in the accidental death of an old man, and suffer sexual abuse at the hands of the guards.
Years later, when the boys have grown up and begun to follow very different professions, a chance encounter with one of their abusers inspires them to plot revenge.
Split, 9.00pm, RTÉ Two
M Night Shyamalan's thriller, starring James McAvoy, Anya Taylor-Joy and Betty Buckley.
After being abducted by a kidnapper with multiple personalities, three young women are soon engaged in a fight for survival.
Meanwhile, an oblivious psychiatrist tries to ease her patient's fractured mind as a 24th character with apparent superhuman abilities attempts to dominate his body.
Late Late Flick Picks
Get on Up, 11.10pm, Film Four
Biopic of James Brown, examining key moments in the soul singer's life, from his impoverished childhood in South Carolina to his rise to become one of the most influential figures in music history.
IUt also follows his intense friendship with fellow singer Bobby Byrd. Starring Chadwick Boseman, Viola Davis, Nelsan Ellis and Octavia Spencer.
The King's Speech, 10.30pm, BBC One
Oscar-winning fact-based drama, starring Colin Firth, Geoffrey Rush, Helena Bonham Carter and Guy Pearce.
The younger son of George V struggles to cope with an uncontrollable stammer, prompting his wife to enlist the aid of an eccentric Australian speech therapist.
The support and friendship of the doctor prove invaluable when a crisis places the repressed prince on the throne, just as the outbreak of World War II leaves the UK seeking a strong king.
Good Morning, Vietnam, 1.30am, Sky Cinema Comedy
Comedy drama that made a superstar out of Robin Williams, which also stars Forest Whitaker and Bruno Kirby.
A fast-talking US Army disc jockey is sent to entertain the GIs in 1960s Saigon, but he enrages the military top brass by blasting the airwaves with his irreverent and controversial view of the conflict in South-East Asia.
Click here for full TV listings