On another busy day on the box, there's Britain's Got Talent, the small screen premiere of IRA prison break drama Maze, a double dose of Gavin & Stacey, some fascinating documentaries, plenty of music and loads of movies . . .
Pick of the Day
Britain's Got Talent, 8.00pm, Virgin Media One
How much longer can TV provide spectacular crowd-pleasers such as this show during the pandemic? If you're a fan, enjoy BGT while it lasts.
Ant and Dec host the 14th series of the UK-wide talent search, as a wide variety of acts compete for the chance to win £250,000 and a coveted slot at the Royal Variety Performance.
Simon Cowell, Amanda Holden, Alesha Dixon and David Walliams will judge this week's wannabes, with the option to put their favourite contestant through to the live shows by awarding them the Golden Buzzer.
Don't Miss
Maze, 9.30pm, RTÉ One
This drama was inspired by the true events of the infamous 1983 prison breakout of 38 IRA prisoners from the Maze, which was to become the biggest prison escape in Europe since the Second World War.
Starring Tom Vaughan-Lawlor, Barry Ward and Martin McCann.
Gavin & Stacey, 8.30pm, BBC One
Back-to-back episodes to complete this welcome repeat of the first season of this hugely enjoyable comedy.
The bride-to-be goes on a hen party, while Gavin embarks on two stag nights, the second of which reveals shocking secrets about his fiancee that could jeopardise the wedding.
Later, the day of the wedding arrives and Bryn is still behaving oddly around Stacey's brother, Nessa debates whether to share her big secret and Smithy resolves to give a superb best man's speech.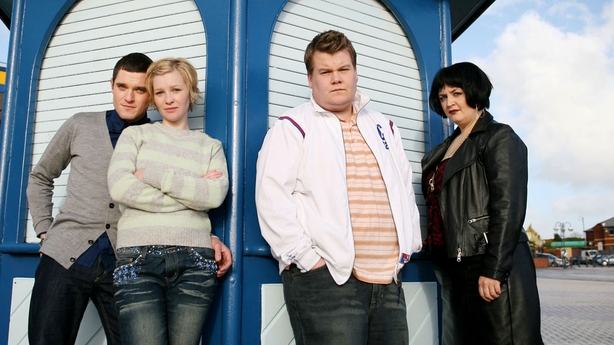 New or Returning Shows
State of Happiness, 9.00pm, BBC Four
The long-running subtitled Saturdays continue on the Beeb's fourth channel.
In this Norwegian drama, it's December 1969 and international oil companies are pulling out of Stavanger in Norway after years of test drilling without success.
Christian Nyman works as a diver on one of the rigs, while Toril Torstensen's American boyfriend works for Shell, but what happens next affects everyone in town.
Lee Miller - A Life on the Front Line, 10.30pm, BBC Two
Lee Miller is one of the most remarkable female icons of the 20th century. A fashion model-turned-photographer, then later a war reporter, Miller chose to live life by her own rules.
This documentary drama celebrates a subject who defied anyone who tried to pin her down, put her on a pedestal or pigeonhole her in any way.
Often at odds with the morality of the day, she refused to be subjugated by the dominant male figures around her.
Manson: Music from an Unsound Mind, 9.00pm, Sky Arts & NOW TV
This promises to be the 'previously untold' story of Charles Manson, the hippie leader who led his followers to one of Hollywood's m most notorious acts of murder.
It covers his obsession to become a rock star, his rise in the LA music scene, the celebrities who championed his music, his tragic friendship with Beach Boys Dennis Wilson, and his descent into violence.
Repeats of the Day
Discovering: Janet Leigh, 5.00pm, Sky Arts
A profile of the American actress, who starred in Orson Welles' 1958 film Touch of Evil before achieving worldwide fame in 1960 for her role in Alfred Hitchcock's Psycho.
Tonight at the Palladium, 8.00pm, Virgin Media One
Variety entertainment from the stage of the famous West End theatre, showcasing some of the UK's best-loved comedians and entertainers.
This edition features singer-songwriter Emeli Sande, a performance from Phantom of the Opera, magician Peter Firman and pop band Steps. Hosted by Bradley Walsh.
How the Wild West Was Won with Ray Mears, 8.00pm, BBC Four
The adventurer explores how the American wilderness shaped the Wild West.
He begins by looking at the landscapes of three great mountain ranges - the Appalachians, the Rockies and the Sierra Nevada - and how they challenged the westward push of early pioneers.
TOTP2: Boy Bands, 10.30pm, BBC Four
Music compilation show celebrating some of the most popular boy bands to have graced TV screens since the 1960s.
The programme highlights performances by acts defined by vocal harmonies, synchronised dance-steps and character appeal, including JLS, the Four Tops, the Monkees, and Westlife.
Beach Boys: Good Vibrations Tour, 8.00pm, Sky Arts
A recording from Anaheim Stadium in 1976, in which the five original Beach Boys perform hits including Surfin' USA and Good Vibrations.
Daytime Film Choices
633 Squadron, 3.00pm, RTÉ One
Second World War drama, starring Cliff Robertson, George Chakiris, Donald Houston and Harry Andrews.
British airmen embark on a daring mission to destroy a heavily fortified German rocket-fuel plant in Norway, and to ensure success the RAF pilots have to bomb an overhanging cliff to collapse it onto the building.
The Producers, 2.10pm, TCM
'Don't be stupid, be a smarty - come and join the nazi party!' Fantastic Mel Brooks' comedy, starring Zero Mostel, Gene Wilder and Kenneth Mars.
A crooked Broadway producer and his neurotic accountant discover they can make a fortune by putting on a play that closes on opening night, then pocketing the unspent budget.
The duo set out to put on the worst show of all time - a tasteless little number called Springtime for Hitler written by a deranged former Nazi.
Charming, 5.00pm, Sky Cinema Premiere
Three fairytale princesses - Snow White, Cinderella and Sleeping Beauty - discover they're all engaged to the same guy - Prince Charming.
Cursed as a child under a magic spell, the prince compulsively proposes to every woman he encounters, leaving a trail of lovesick ladies and scorned lovers to wreak vengeful havoc on the kingdom.
Prime Time Movie Picks
Jason Bourne, 9.00pm, Film4
Premium-level action thriller, starring Matt Damon, Tommy Lee Jones, Alicia Vikander and Julia Stiles.
Former government operative Jason Bourne has been in hiding for 12 years after exposing a sinister CIA operation.
But once again he finds himself being hunted down when a former CIA operative gone rogue acquires top secret information - including details of Bourne's own father's involvement in a clandestine scheme.
About Time, 8.00pm, Sky Cinema Drama
Romcom/fantasy, with Domhnall Gleeson, Rachel McAdams and Bill Nighy.
A single man gets the chance to turn his unhappy life around when his father reveals that they both have the ability to travel through time and change their personal history.
He uses his newfound talent to try to improve his love life and win the heart of an American woman.
The Bourne Supremacy, 9.00pm, Sky Cinema Greats
More Bourne action, starring Matt Damon, Brian Cox, Joan Allen and Julia Stiles.
The amnesiac assassin is living quietly in hiding, until his former employers come after him again and murder his girlfriend.
A CIA operation has ended in disaster, and those responsible intend to clear their names by implicating Bourne.
Late Late Flick Picks
The Dead Pool, 11.25pm, TCM
Action thriller sequel, starring Clint Eastwood, Patricia Clarkson, Liam Neeson and an early appearance by Jim Carrey.
Uncompromising detective `Dirty' Harry Callahan hunts the ringleaders behind a bizarre death lottery which is seemingly being used to murder well-known figures. The case becomes personal when he discovers his own name is on the list of prospective victims.
Ali G indahouse, 11.50pm, Sky Comedy
Comedy, starring Sacha Baron Cohen, Michael Gambon, Charles Dance, Kellie Bright, Martin Freeman and Rhona Mitra.
Scheming politicians try to manipulate the unwitting Ali G into bringing about the downfall of the prime minister - but fail to appreciate that his streetwise attitude could give the government much-needed street cred.
20,000 Days on Earth, 2.00am, Film4
Documentary about musician Nick Cave, exploring his creative process by following him over the course of one day.
The film explores his personal archives and features recordings of his sessions with a psychoanalyst, and includes contributions from friends, family and collaborators, including Kylie Minogue and Ray Winstone.
Click here for full TV listings