There was plenty of kitchen sink drama on ITV's This Morning on Tuesday when MasterChef judge John Torode's breakfast preparations went up in flames.
Torode was cooking a breakfast muffin at home when host Holly Willoughby said from the studio: "John, your tea towel's on fire!"
"John, John, your cooker's on fire!" shouted co-host Phillip Schofield to an oblivious Torode, who had his back to the cooker. "Your tea towel's on fire, John! Behind you! Cooker! Behind you, John! You're on fire! Fire, John!"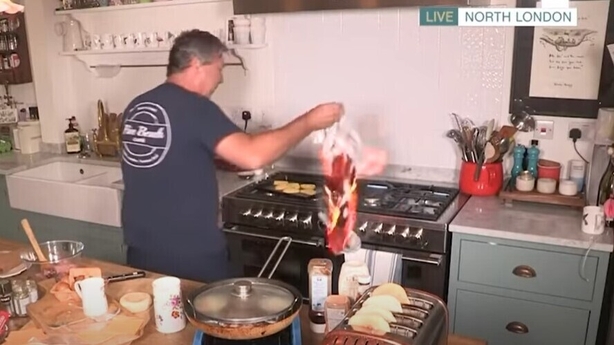 "Thank you!" said a very grateful Torode as he threw the tea towel in the sink. "Thank you! Thank you! Thank you! I'm just going to open the back door..."
When Willoughby and Schofield had stopped laughing for a second, she asked: "Oh my God, are you ok? You were so calm and cool about that."
"Well he didn't know!" boomed Schofield.
Then Torode's smoke alarm went off - watch the fun above.
At the end of the item, Willoughby had this advice for Torode: "Go and have a lie down now in a dark room!"