There's a documentary about broadcasting legend Gerry Ryan, a new show starring Matt Lucas and written by Harry Hill, a cracking version of King Lear with an all-star cast, and Stacey Dooley hits the Costa del Narcos . . .
Pick of the Day
Gerry Ryan: A Legacy, 9.30pm, RTÉ One
This is a documentary giving an insight into the late broadcaster Gerry Ryan's life, 10 years since his sudden death at the age of 53.
Featuring archive footage and contributions from those closest to him.
He presented The Gerry Ryan Show on RTÉ 2fm from 1988, and won a Jacob's Award for the show in 1990.
Ryan also hosted several series of television shows, including Secrets, Gerry Ryan Tonight, Ryantown, Gerry Ryan's Hitlist, Ryan Confidential and the first three seasons of Operation Transformation.
Don't Miss
Reasons to be Cheerful with Matt Lucas, 7.30pm, Channel 4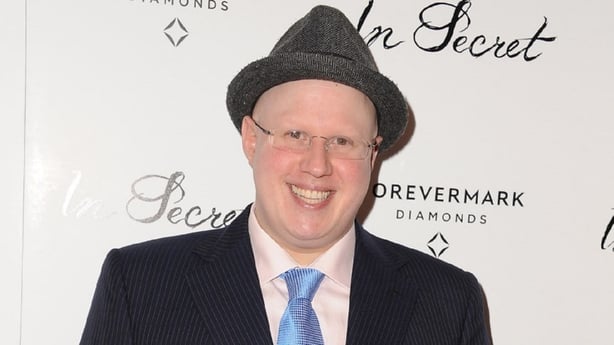 Comedy entertainment show written by Harry Hill, with Matt Lucas celebrating everything that is keeping the public, and some celebrity chums, entertained at home.
The Little Britain star showcases the ability of men, women, children, celebrities and possibly even some pets to amuse themselves during this self-enforced downtime.
Special guests appearing on the first episode include singer Ronan Keating, comedian Suzi Ruffell, newsreader Krishnan Guru-Murthy, and the legendary Basil Brush.
King Lear, 9.00pm, BBC Four
Originally broadcast two years ago, Richard Eyre's adaptation of Shakespeare's tragedy is a treat.
It stars Anthony Hopkins as the ageing monarch who decides to divide his kingdom between his three daughters, only to turn against the youngest and banish her when she refuses to flatter his ego.
The remaining sisters are corrupted by their newfound power and drive him into the wastelands, at a terrible cost to his sanity, while the land is plunged into chaos and civil war.
The outstanding cast includes Emma Thompson, Emily Watson, Jim Broadbent, Andrew Scott and Florence Pugh.
Stacey Dooley: Costa del Narcos, 9.00pm, BBC Two
This week the intrepid Dooley reports on how southern Spain has become the main gateway for drugs into Europe, leading to violent turf wars and a government crackdown.
She goes on aerial patrol with police officers guarding the strip of water between Morocco and Spain, and discovers the extraordinary lengths smugglers will take to evade them.
New or Returning Shows
When Will Lockdown End? 8.00pm, Channel 4
Dr Xand van Tulleken explores why the coronavirus lockdown is continuing, as he seeks answers to the questions many people have about when lockdown will end and what the world will look like then.
Xand looks at both sides of the debate, meeting scientists, experts and members of the government, and shares helpful advice on how to cope best with the challenges of the situation we face.
Slí na mBeaglaoich, 9.30pm, TG4
Renowned West Kerry traditional musicians, father and son Breanndán and Cormac Ó Beaglaoich travel up the West coast of Ireland from Kerry to Donegal in their 40-year-old camper van, Beauty, on a journey of musical discovery.
Primate, 8.15pm, BBC One
Chris Packham narrates a new series looking at the family of mammals, beginning by revealing the extraordinary strategies monkeys, apes and lemurs must use to survive.
In South Africa, rarely seen bush babies go in search of food in the lean times of winter, while times are also hard for a troop of bearded capuchins in Brazil's scorched badlands.
Matthew Bourne's Romeo & Juliet, 8.00pm, Sky Arts
A New Adventures production of the ballet, starring Cordelia Braithwaite and Paris Fitzpatrick in the title roles and direction and choreography by Matthew Bourne.
New to Download
The Last Kingdom: Season 4, Netflix
As Edward and Aethelflaed spar over the future of Mercia and their father's dream of a united England, Uhtred tries to recover his lost birthright.
Ending Today
Trigonometry, 10.00pm, BBC Two
Gemma, Ray and Kieran's unity is challenged by a sudden tragedy, and a misunderstanding also leads to a showdown.
Gemma rushes back to her childhood home in the wake of the shocking turn of events, Kieran suffers a panic attack which calls his future as a paramedic into question, and Ray finds herself faced with a hard decision.
Race Across the World, 8.00pm, BBC Two
The teams embark on the final leg of their journey, heading off on the 4,800 kilometre trek to the finish line in Ushuaia, Argentina, the most southerly city in the world.
As they prepare to leave the last checkpoint, one of the teams reveals that they have run out of money and will not be completing the challenge.
Repeats of the Day
Funny Girl: The Musical, 5.30pm, Sky Arts
A production of the musical recorded at the Manchester Palace Theatre in 2017, starring Sheridan Smith in the role of comedienne Fanny Brice, whose vocal talents and comedic ability see her rise from Brooklyn music hall singer to Broadway star.
The Royle Family: Behind the Sofa, 9.00pm, Gold
The story behind the landmark British comedy, featuring outtakes and exclusive interviews with the sitcom's cast and crew, plus the views of famous fans of the show.
Presented by producer, actor and writer Craig Cash, and comedian, writer and actress Caroline Aherne, who passed away in July 2016.
Daytime Film Choices
Mrs Doubtfire, 3.05pm, RTÉ One
Robin Williams stars as a struggling actor whose ambitious, no-nonsense wife throws him out and demands a divorce.
Desperate to spend time with his children, he puts his talents to good use by donning drag and posing as a Scottish housekeeper to get a job looking after them.
Teen Wolf, 2.20pm, Channel 4
Michael J Fox plays a teenage misfit who's initially dismayed to learn he is a werewolf as a result of a hereditary curse.
He realises there are advantages as he becomes a local celebrity, while his enhanced agility makes him the star player of his school's basketball team - but fame quickly goes to his head.
Men in Black, 2.40pm, Sky Cinema Greats
Will Smith, Tommy Lee Jones, Linda Fiorentino, Rip Torn and Vincent D'Onofrio star in the original MIB movie.
A streetwise cop is enlisted by a top-secret government force dedicated to policing alien visitors to Earth, teaming up with a veteran agent just as a body-swapping giant insect begins a reign of terror in New York.
Here's Will Smith's Men in Black track:
Happy Feet, 2.10pm, RTÉ Two
A young penguin disappoints his fellow seabirds with his inability to sing - but instead he displays a remarkable talent for tap dancing.
But his elders refuse to accept this outlandish behaviour and send the youngster into exile, marking the start of a wonderful journey.
Prime Time Movie Picks
Cast Away, 10.15pm, Sky Cinema Drama
Tom Hanks stars as a manager of an American courier service who has to fend for himself when a plane crash leaves him stranded alone on a desert island.
Initially panic-stricken, he overcomes his terror to survive for four years on his own before building a raft and setting off on an epic journey back home.
Fury, 8.00pm, Sky Cinema Greats
Top-notch WWII drama starring Brad Pitt and Shia LaBeouf.
A veteran American sergeant leads a tank crew on one final dangerous mission in the last months of the Second World War.
The assignment takes the soldiers behind enemy lines and into battle with overwhelming enemy forces, while the presence of an inexperienced new recruit in the team raises tension.
Extremely Wicked, Shockingly Evil and Vile, 9.00pm, Sky Atlantic
Zac Efron, Lily Collins, Kaya Scodelario, John Malkovich and Angela Sarafyan star in Joe Berlinger's biopic.
The life of aspiring lawyer Ted Bundy is examined from the perspective of his longtime girlfriend, Elizabeth Kloepfer, who refused to believe that her partner was one of America's most prolific serial killers.
Late Late Flick Picks
Inglourious Basterds, 10.20pm, Sky Cinema Action
Quentin Tarantino's often hilarious wartime adventure, with Brad Pitt, Melanie Laurent, Diane Kruger, Michael Fassbender and an Oscar-winning Christoph Waltz.
American officer Aldo Raine leads a squad of soldiers into occupied France on a mission to kill as many Nazis as possible and spread fear through the Third Reich.
They become involved in a Jewish resistance fighter's plan to blow up the premiere of a propaganda movie - due to be attended by Adolf Hitler himself.
Argo, 10.45pm, Sky Cinema Thriller
Oscar-winning fact-based drama, directed by and starring Ben Affleck. With Alan Arkin, Bryan Cranston and John Goodman.
Six Americans escape the seizure of the embassy in Tehran as the 1979 Iranian revolution erupts, but remain fugitives within the country.
A CIA operative hatches an audacious plan to arrange for a fake movie to be filmed in the country, using the shoot as cover for a rescue mission.
The Imitation Game, 11.00pm, Channel 4
Biopic of mathematician Alan Turing, whose work during the Second World War translated seemingly unbreakable Nazi codes as well as pioneering the development of computer technology. In the years following the war, his life would be destroyed as his homosexuality was discovered, leaving him facing criminal charges.
A Man of No Importance, 11.00pm, TG4
Albert Finney heads the cast as a theatre-loving bus conductor in 1960s' Dublin who is forced to re-evaluate his feelings for both his handsome driver and an attractive passenger as he gets involved in a production of Oscar Wilde's Salomé at the local church.
Things to Come, 1.10am, Channel 4
A high-school philosophy teacher is forced to re-examine her life when her husband leaves her for another woman. Drama, starring Isabelle Huppert, Andre Marcon and Roman Kolinka. In French, German and English.
Click here for full TV listings