Taylor Swift has accused Big Machine Records of "shameless greed in the time of coronavirus" over its plan to release a live album she has not authorised.
Swift has been locked in a very public row with the label and prominent industry figure Scooter Braun ever since he bought the label for over €300 million in June 2019. The deal also included the rights to the master recordings of Swift's first six albums.
At the time, the Grammy-winning artist accused him of bullying her, writing on Instagram: "All I could think about was the incessant, manipulative bullying I've received at his hands for years."
On Thursday, Swift's fans noticed that a release called Live From Clear Channel Stripped 2008 appeared on streaming services without any mention of it from the star herself.
"I want to thank my fans for making me aware that my former record label is putting out an 'album' of live performances of mine tonight," Swift wrote on Instagram.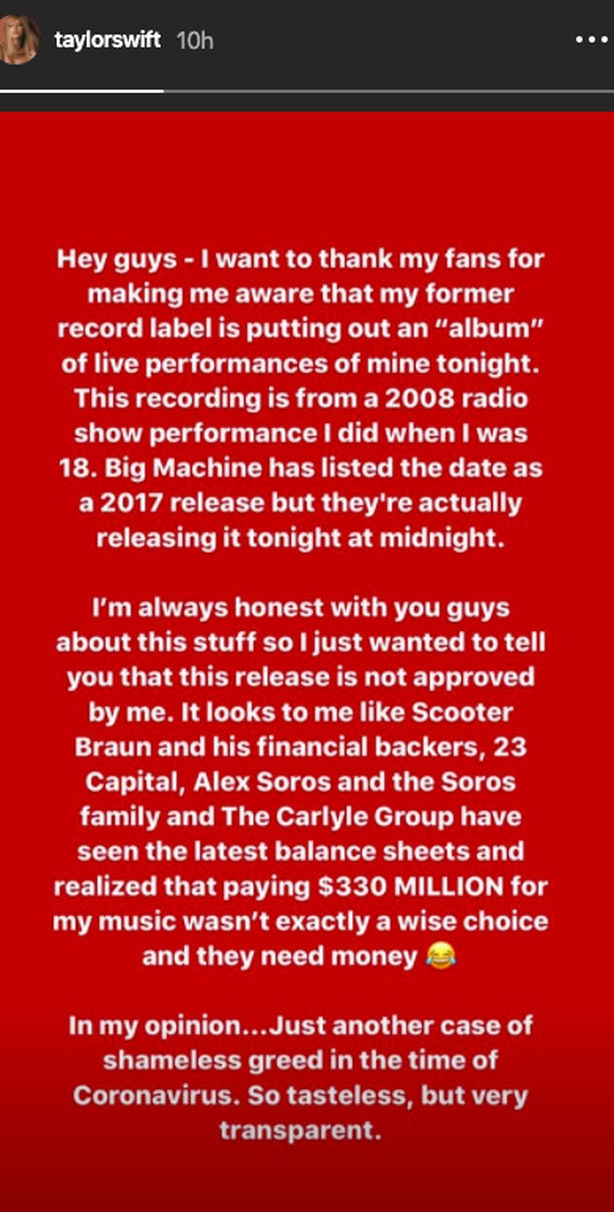 "This recording is from a 2008 radio show performance I did when I was 18. Big Machine has listed the date as a 2017 release but they're actually releasing it at midnight."
Swift continued: "I'm always honest with you guys about this stuff so I just wanted to tell you that this release is not approved by me."
"In my opinion … Just another case of shameless greed in the time of coronavirus," Swift added.
"So tasteless, but very transparent."
Swift is now signed to Universal Music, which released her 2019 album, Lover. Swift is planning to re-record her first six albums following the sale of Big Machine Music to Braun.