No let up for John Creedon, who continues to present his nightly show but with a bit more time to speculate on the fortunes of his sunflowers, garlic, courgettes and tomatoes.
"RTÉ Radio 1 is my station of choice, so I get my mix of news, documentaries, drama, music and sport from my own colleagues during the day.
"Every now and than, I take a break from Irish life and listen to a wild variety of channels on my digital radio. I listen to local stations in Melbourne, Glasgow, Newfoundland where I have family members. Or I go to Latino music stations from South America, Jazz channels, and a Roots/Reggae channel in South Africa.
"Otherwise, I'm pottering around in my little garden, looking up at the clouds or feeding the birds. Although I live in Cork City centre, I'm fortunate to have a little outdoor space and there is a huge variety of birds in the area.
"I've photographed 31 different varieties. We even had a sparrowhawk yesterday and I have a robin who will eat from my hand. For the first time in a few years now, I've stuck in a few tomatoes, courgettes and garlic bulbs. Also, I noticed that the sunflower seeds, discarded by the finches at my feeder, have popped. So I planted them for the craic and sure enough, they are sprouting skyward.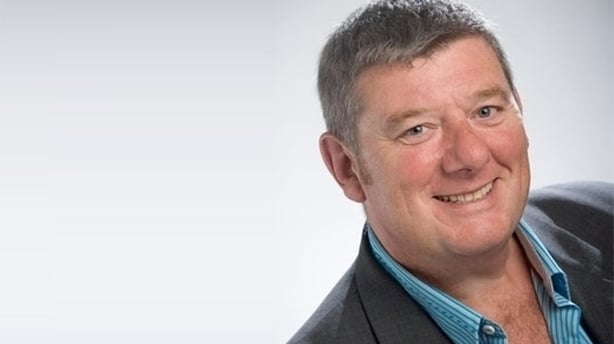 "I don't watch a lot of television really, apart from news and documentaries or whatever is on in the half hour before turning in for the night. I don't watch boxed sets. I read a little in the evening, mostly folklore, biography and books concerned with the human spirit. I'm currently devouring Jo Kerrigan's Brehon Laws -The Ancient Wisdom of Ireland (published by The O'Brien Press).
"I've actually been very busy on several fronts - the nightly radio show, the Shine A Light special and prepping a new series of Creedon's Atlas for RTE television, filming of which has been delayed until we get the all clear.
"I'm also busy writing. So, my working day begins around mid-day from my desk at home. I have the running order for the nightly show pretty much ready by 5pm. A quick bite to eat and into the studio by 6pm, finishing touches to the running order, download a few off-beat recordings from various digital libraries, a social media post or two (Twitter and Instagram), final technical checks and it's 'Thunderbirds are go!'
"I get home and catch up with social media, a few emails maybe and knock off in time to hear the 11pm news. When I think about it, life is very structured at the moment, but that all flies out the window once I'm back on the road filming. It will be all go, different locations, presenting the nightly radio show from various RTÉ regional studios, hotels, early starts, wellies, boats, planes, hot-air balloons, the works.
"In times like these, I realise how fortunate I am. I'm following all the government guidelines to the letter of the law and I wish everyone a safe passage through these troubled times."
The John Creedon Show, 8.00pm, Monday to Thursday, RTÉ Radio One