These are extraordinary times but the Frehill family are trying hard to put their best foot forward each day, writes RTÉ Sport's Darren Frehill.
"Both my wife Joanne and I are very fortunate to be able to work from home, we've three kids, Molly, 11, Kate, 9, Jack 5, and our pride and joy, Maggie the dog. It's a busy house, but so far we are managing to stay safe and keep the rows to a minimum.
"Broadcasting from home is a totally new experience, but I'm trying to have some fun with it by selecting some of the nation's favourite sporting moments from the RTÉ archive.
"I'm doing a daily slot on Morning Ireland after the news at 8.30am and I've been taken back by the public's response to it. Hopefully, it brings a little daily cheer to our lives at this very difficult time.
"The early start means I can get work out of the way pretty early, so I spend time helping the kids with their homework. Home-schooling has opened my eyes to the work done by our teachers, amazing people. It's an absolute vocation, and just like the frontline health workers, they deserve a lot more recognition for the job they do with little or no fuss.
"My kids are really enjoying the RTÉ Home School Hub, it's a fantastic resource, and Muinteoirs Clíona, Ray and John doing a super job educating and entertaining my crew. I'm even learning a few things myself.
"My passion is sport and I'm really missing the walks on Salthill Prom, treks in the Connemara mountains and the gym. I've kept myself busy in the evenings by getting around to clearing out the garden shed, and that has become a makeshift home gym. It's fine for now, but I will never take the freedom of the great outdoors for granted again.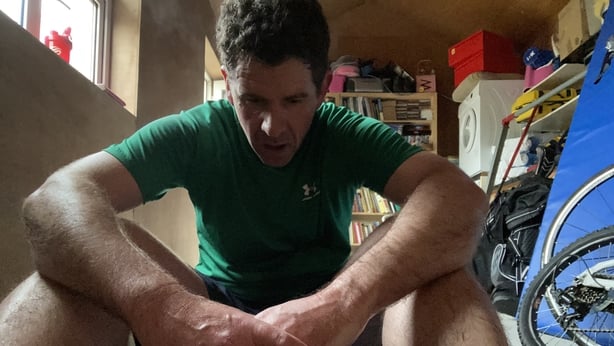 "Another positive is I'm getting a lot more reading done, I'm a couple of chapters into Girl, Woman, Other by Bernardine Evaristo. A friend recommended it, and I'm not disappointed. I'm a big fan of taking an unorthodox approach to projects, and I love the structure of it, following the lives of very different characters across several decades. Very clever.
"Current affairs and sport are always playing in the background on radio, but I also tune into the news on RTÉ One at 6pm and 9pm. Not one for the box sets, but usually switch the brain off by taking in some Netflix when the kids go to bed. Big fan of Ozark and series three dropped just as the lockdown kicked in. Pretty dark and not for the faint-hearted, but we've found it compulsive viewing. All going well, final episode of series three tonight!
"It's a testing situation for everyone, but we just have to stick together. The Covid-19 situation has meant we as a family are spending a lot more time together, and it's certainly brought us closer, a big positive in unprecedented times."