From the joy of Dolly Parton to the gloom of Grey Gardens, the last-ever Criminal Minds, the finale of BBC drama The Nest to a shedload of movies, there's loads to while away this Easter Monday...
Pick of the Day
Dolly Parton: 50 Years at the Opry, 9.00pm, BBC Two
In recent years, Dolly Parton's enjoyed the kind of kitsch-to-cool career twist previously granted to the likes of ABBA and The Carpenters.
Here are highlights from her performance to celebrate 50 years as a member of the Grand Ole Opry, recorded in Nashville in October 2019.
Featuring hits including Jolene, 9 to 5, Coat of Many Colours and her masterpiece, I Will Always Love You, as well as appearances by Lady Antebellum, Emmylou Harris and Hank Williams Jr.
If you fancy more Dolly, it's followed by Sisters in Country: Dolly, Linda and Emmylou (10.15pm) and Dolly Parton @ Glastonbury 2014 (11.15pm).
Don't Miss
Grey Gardens, 2.00pm, Sky Atlantic
This is a magnificent HBO film, with Drew Barrymore in career-defining form as Little Edie Beale, a former New York débutante who lives an outrageously abnormal life with her mother, Big Edie, at their decaying Hamptons mansion, Grey Gardens.
Based on the genuinely haunting 1975 documentary of the same name, which is an even more compelling experience because it's real, this dramatised version has Jessica Lange alongside Barrymore as the Edies.
Hopelessly dysfunctional and quite broke, the ladies struggle to survive in a once-glorious house that became a virtual prison for the mother and daughter.
New or Returning Shows
Flack, 10.00pm, W
Anna Paquin plays Robyn, an American PR executive living in London, who must figure out how to make the best of bad situations and somehow manage to remain unscathed.
Robyn specialises in clearing up the monumental messes caused by her hapless and selfish clients. And although utterly on point in terms of her job, her personal life is spinning out of control.
As season two begins, Robyn gets some unexpected news which threatens to derail her very precarious recovery.
The Great Mountain Sheep Gather, 7.00pm, BBC Four
Quirky documentary following a shepherd's journey from summit to valley as he leads his sheep off Scafell Pike, reflecting on life caring for his flock in this rugged landscape.
Maxine Peake reads specially commissioned poetry written by Mark Pajak to provide a counterpoint to the shepherd's insights throughout the film.
Mend it for Money, 8.00pm, Channel 4
Restorers compete to give objects a new lease of life with high-end makeovers, pitching against each other to win jobs and estimating how much profit the items will make when sold.
For example, law-enforcement officer Nick brings in a vintage Allwin penny arcade machine and antique restorer Andy and woodturner Nick go up against each other for the opportunity to renovate it.
The World's Most Beautiful Eggs: The Genius of Carl Faberge, 9.00pm, BBC Four
Stephen Smith explores the life and work of the renowned jeweller Carl Fabrege, best known for the eggs he made out of precious metals and gemstones for the last tsars of Russia.
He also follows Faberge's path, from the Green Vaults in Dresden to the corridors of the Kremlin museum, to discover how a modest family business became the world's most famous supplier of luxury items.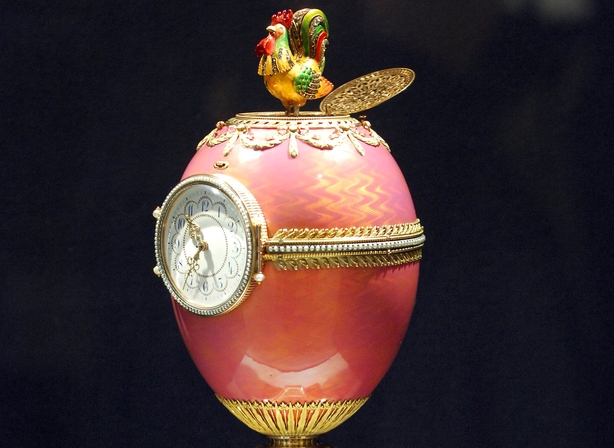 Ending Tonight
Criminal Minds, 9.00pm, Sky Witness and NOW TV
It's the last-ever episode of this long-running procedural, after 15 seasons. Good Lord, I remember interviewing the then lead actor Mandy Patinkin back in season two.
Following an explosive face-to-face encounter with Everett Lynch, a.k.a. The Chameleon, Reid suffers from a brain injury and, while experiencing hallucinations, is visited by ghosts from his past.
Also, the BAU makes a shocking discovery about Lynch that affects Rossi personally, and the entire BAU team comes together to celebrate Rossi's retirement.
The Nest, 9.00pm, BBC One
In the final episode of Nicole Taylor's layered and addictive drama starring Line of Duty's Martin Compston, there are many competing and explosive emotions as everyone wrangles over the future of the surrogate baby.
Alone and betrayed by all those closest to her, Kaya becomes increasingly reliant on Siobhan. But can the pair ever free themselves from the history they share?
Devastated that the teenager has revoked their rights to visit the baby, Emily regrets how bitter their relationship has become, but Dan launches an aggressive legal battle against Kaya the surrogate mother.
Repeats of the Day
M*A*S*H, 7.00pm, Sony Channel
Feature-length finale of the much-loved US sitcom based on Robert Altman's film of the same acronym, starring Alan Alda, Mike Farrell and Loretta Swit.
The atmosphere is frantic as casualties flood into the station during the last days of the war, while Hawkeye is temporarily institutionalised due to a nervous breakdown.
Andre Rieu: And the Waltz Goes On, 9.00pm, Sky Arts
Musical Marmite, Andre Rieu is like a latter-day James Last, as he has popularised classical music and annoyed purists.
Here, Rieu and his Johann Strauss Orchestra capture the sights and sounds of Vienna as they play at the city's Town Hall, performing a collection of melodies against the backdrop of the classical music capital.
The Royle Family: The Golden Egg Cup, 9.40pm, Gold
Another chance to see the one-off festive edition of this classic sitcom from 2009, starring Sue Johnston, Ricky Tomlinson and the late, great Caroline Aherne.
Jim and Barbara have received a gift from their loving children - a large sum of cash to spend however they choose. Barbara has dreams of going abroad, while Jim has his heart set on a satellite HD box.
Blarney - A Year on the Estate, 7.00pm, RTÉ One
Documentary filmed over a year taking a look behind the scenes of the work required to keep the world-famous Blarney Castle Estate up and running, as it deals with thousands of tourists from all around the world, who want to visit this icon of the Irish tourism industry.
Britain's Best Loved Sitcoms, 11.00pm, More4
Friday Night Dinner and Black Books star Tamsin Greig narrates the results of a UK-wide poll seeking to identify the most revered sitcom.
It features contributions from the likes of Brendan O'Carroll, Richard Wilson, Tony Robinson, Ricky Tomlinson, Wendy Craig, Patricia Routledge, Leslie Ash and Alison Steadman.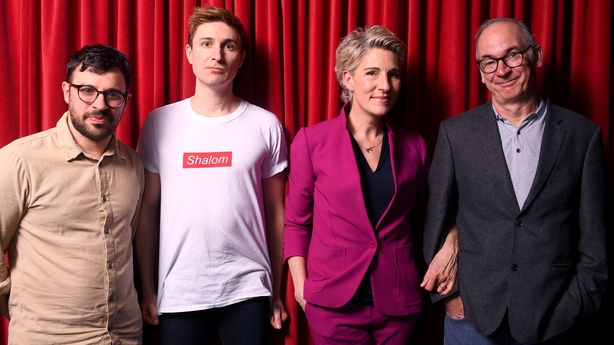 Daytime Film Choices
The Robe, 3.00pm, BBC Two
A classic Biblical epic based on the novel by Lloyd C Douglas, starring Richard Burton, Jean Simmons, Victor Mature and Michael Rennie.
A callous Roman centurion is assigned to oversee Christ's crucifixion, an experience he finds so moving that he decides to convert to the Christian faith in a bid to redeem himself.
Oliver Twist, 12.30pm, Virgin Media Two
Alec Guinness, Anthony Newley, John Howard Davies and Robert Newton star in this adaptation of the Dickens' classic about a runaway orphan who becomes involved with a dangerous gang of backstreet thieves and pickpockets led by the elderly crook Fagin.
The Borrowers, 2.40pm, RTÉ 2
John Goodman, Jim Broadbent, Celia Imrie, Flora Newbigin and Tom Felton feature in this charming tale of a family of four-inch-high people living beneath the floorboards of an ordinary human home.
They help the owner's son fight back when a dastardly lawyer - is there another kind? - plans to demolish the house and make way for a luxury apartment block.
Indiana Jones and the Last Crusade, 1.40pm, BBC One
Sean Connery, Alison Doody, River Phoenix, Julian Glover and Denholm Elliott star in this fun sequel.
This time around the intrepid archaeologist sets out to find his estranged father, who has gone missing while searching for the Holy Grail.
Once reunited, the duo team up to finish the task and locate the sacred relic before those nasty Nazis get their filthy hands on it.
Prime Time Movie Picks
Kingsman: The Secret Service, 9.00pm, Channel 4
Here's an action-comedy based on a comic book, starring Colin Firth, Taron Egerton and Samuel Jackson.
A streetwise teenager is taken under the wing of his dead father's old colleague, an agent working for a super-secret spy organisation.
Will the youngster prove to be a chip off the old block by proving useful during a battle against a twisted, hi-tech genius?
Mission: Impossible - Fallout, 9.00pm, Sky Cinema Hits
Tom Cruise leads the charge as Ethan Hunt and the IMF team join forces with CIA assassin August Walker to prevent a disaster caused by mysterious arms dealer John Lark and a group of terrorists known as the Apostles.
Hunt and his colleagues are soon pushed to their limits thanks to a face from their past in writer/director Christopher McQuarrie's sixth serving of the action thriller saga.
The Magnificent Seven, 9.00pm, RTÉ 2
Not the original 1960 film, but a remake of the classic Western based on Seven Samurai, starring Denzel Washington and Chris Pratt.
A remote frontier town falls under the control of a ruthless industrialist, who uses the locals as forced labour in his mines.
A woman goes in search of help, recruiting a band of seven hired guns to protect the town and train the people to fight back.
Michael Collins, 9.30pm, RTÉ One
Okay, you've seen it a zillion times, but there's a great gangster movie vibe to this Liam Neeson-starring drama - written and directed by Neil Jordan - focusing on the life of the Irish radical who rose to prominence after his involvement in the 1916 Easter Rising against British rule.
It rattles along at a great pace, but the best part for me was seeing the GPO in Dublin set at the top of North Earl Street, rather than just to the left. It looks perfect there.
Indiana Jones and the Kingdom of the Crystal Skull, 6.40pm, BBC One
The globe-trotting archaeologist - Harrison Ford, again - teams up with a rebellious teenager who draws him into a search in the Amazon jungle for a mysterious artefact of untold power.
But their quest is hindered by Soviet agents, who also want the fabled object for an altogether more sinister purpose.
Late Late Flick Picks
Happy-Go-Lucky, 10.45pm, Flim4
Mike Leigh's dramedy, starring Sally Hawkins, Eddie Marsan and Alexis Zegerman, is well worth a look and should send to slumberland with a smile.
Sally Hawkins is great as Poppy, an eternally optimistic schoolteacher who's determined to maintain an upbeat attitude whatever life throws at her and help others to do the same.
Then she meets her total opposite when she takes lessons with an embittered driving instructor perpetually raging at the world.
The Last Sharknado: It's about Time, 1.00am, SyFy
Perfect late-night nonsense. A young man must unlock the time-travelling power of the sharknados in order to save the world in this deliberately trashy sci-fi adventure, starring Tara Reid, Vivica A Fox and Jonathan Bennett.
Georgy Girl, 12.50am, Sony Movies Classic
Here's a snapshot 1960s' dramedy, perfectly capturing the Swinging London mood, and starring Lynn Redgrave, Charlotte Rampling, James Mason and Alan Bates.
Dowdy dance teacher Georgy is envious of her glamorous flatmate Meredith's seemingly more exciting life.
When Meredith becomes pregnant, Georgy finds herself having to look after the baby and unexpectedly falls for the father.
Worth watching just for the memorable theme song, performed by The Seekers.
Click here for full TV listings