Bachelors Walk star Simon Delaney says he hopes viewers will join him on a stroll down memory lane when the much-loved Noughties comedy returns to RTÉ2 from Monday, April 20.
The series, which ran for three seasons and a Christmas Special, starred Delaney, Keith McErlean and Don Wycherley as Michael, Barry and Raymond - three hapless pals trying to get their heads around adulthood.
Actor-turned-presenter Delaney joined Ray D'Arcy on RTÉ Radio 1 on Wednesday to discuss the show's enduring appeal.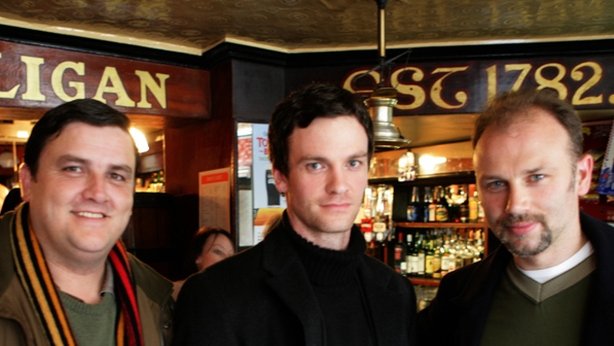 "I think it's that thing of an oul' walk down memory lane," he said. "It was 20 years ago that we made it - it was 2000. I'm not just saying this, but there isn't a week when somebody doesn't mention Bachelors Walk to me, be it in a queue at the shopping centre or in a taxi or online or Twitter or Facebook or Instagram. 'Where can I get the DVD? I live in Australia. My brother-in-law wants it. I want to send it to him as a present'.
"It's incredible; it literally has stayed with us."Delaney described Dublin as "the fourth star of the show"."I remember one journalist at the time writing, 'I live in Bachelors Walk, but I wish I lived in their Bachelors Walk - it looks like Paris!'
"It just caught the imagination. Also, I think the three central characters - everybody had a mate like one of them."We ended up shooting it over three summers, which were just brilliant. Sure, it wasn't work at all, Ray! We were sitting in Mulligan's drinking pints at 8 o'clock in the morning!""Were they real pints?" laughed D'Arcy.
"Clearly, I can't comment on something like that!" replied Delaney. "Let's just say there were often lunchtime naps taken!"
Bachelors Walk is back on RTÉ2 from Monday, April 20 and is available to watch now on the RTÉ Player.