New period crime drama Miss Scarlet and the Duke lands, as does US comedy Pen15, while it's the end of the odyssey for Steve Coogan and Rob Brydon in The Trip to Greece . . .
Pick of the Day
Miss Scarlet and the Duke, 9.00pm, Alibi
This new crime drama set in Victorian London, starring Kate Phillips and Stuart Martin, was filmed in Dublin and produced by ShinAwil, the people behind the likes of Dancing with the Stars Ireland.
It follows the fortunes of Eliza Scarlet (Phillips) who, after her father dies, is left penniless in a time where marriage is a woman's only option for financial security.
But the headstrong Eliza is determined to find another way and, luckily, she has an ace up her bonnet - her father's business, a private detective agency.
Eliza knows all the tricks of the trade but as a genteel 19th century lady she's never been allowed to put them into practice. To operate in this man's world, she needs a male partner.
Step forward Detective Inspector William Wellington (Stuart Martin) of Scotland Yard, who is also known as The Duke: he's a drinker, a gambler and a womaniser.
Don't Miss
Pen15, 9.00pm, Sky Comedy & NOW TV
This could go either way. And, no, I'm not taking bets. It's too hard to call.
Comics Maya Erskine and Anna Konkle star in this adult comedy as lightly fictionalised versions of their thirteen-year-old selves, navigating the trials of middle school in the year 2000 – when the best day of your life can turn into the worst with the stroke of a gel pen.
The American school adventure of the two outcasts opens on their first day in seventh grade where, unusually, Anna and Maya are picking up a lot of attention.
New or Returning Shows
Vice Versa: Meghan Markle - Escaping the Crown, 9.00pm, Vice
Just what the world needs now: another documentary about former Suits star Meghan Markle.
When the Californian actress married Britain's Prince Harry she seemed to have it all.
But less than two years after her fairy tale wedding, she's walked away, with Harry in tow. How did it come to this?
Kidding, 9.35pm, Sky Comedy & NOW TV
Jim Carrey reprises his role as children's TV entertainer and national treasure Mr Pickles (aka Jeff) in the second season of the dramedy about a kind person living in an unkind world.
As Jeff continues to grapple with the emotional highs and lows that come through his grieving process, he looks for a way to connect with his young audience.
And in the season opener, Jeff realises if he can tell a lie for the first time in his life, he'll get everything he's ever wanted.
Reports from the US suggest this second run is a vast improvement on the first, but I have to admit that this show gives me the creeps.
Mafia Only Kills in Summer, 11.05pm, RTÉ 2
The Italian drama set in the late 1970s that tells the story of an ordinary family in the Sicilian city of Palermo - a great town with a dark underbelly - returns for a second run.
As the story resumes, Lorenzo is afraid of a retaliation from the Mafia as he had spoken of Boris Giuliano's murder.
Ending Tonight
The Trip to Greece, 10.00pm, Sky One & NOW TV
This final season of Steve Coogan and Rob Brydon's mix of food, impressions and travel started out in fine form but is limping over the line. Greece is the last word:
On the final leg of the journey, Rob suggests a detour to Olympia, but Steve refuses, on the grounds that it will be full of tourists.
Instead, he insists, they are heading to Pilos, before stopping at the waterside Poseidonia restaurant for a snack. As they are admiring the view, Steve receives some bad news.
Back in Time for the Corner Shop, 8.00pm, BBC Two
The Arderns reflect on the lessons learned through the series, and how corner shops can continue to thrive in the changing world of 21st-century business.
The programme examines how shops have reinvented themselves to compete with mini-supermarkets, the rise of zero-waste shops, and how other businesses, such as cafes, coffee shops and micro pubs, are filling the role of community hub.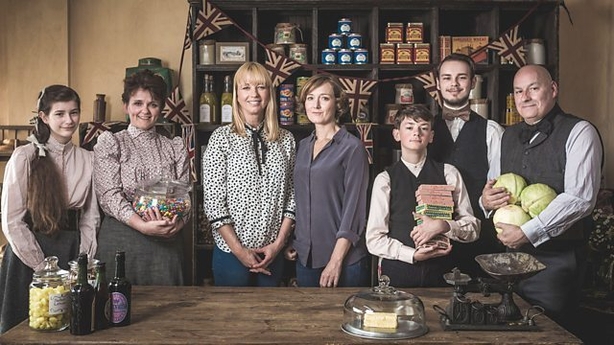 Repeats of the Day
Soup Cans and Superstars, 11.00pm, BBC Four
Alastair Sooke examines the history of the art movement, bringing a fresh eye to the work of superstars Andy Warhol and Roy Lichtenstein and tracking down pioneers including James Rosenquist, Claes Oldenburg, Ed Ruscha, Peter Blake and Allen Jones.
If this rocks your arty boat, it's followed at 12.30am by A Day in the Life of Andy Warhol.
Opry le Daniel: George Jones Tribute, 9.30pm, TG4
Daniel O'Donnell's in the Millennium Forum in Derry to present a tribute show to country legend George Jones.
He's joined by George and Tammy Wynette's daughter Georgette Jones, alongside Jimmy Buckley and Robert Mizell who share their George Jones stories and experiences.
Mildred Pierce, 9.00pm, Sky Atlantic
Another chance to see this miniseries based on James M Cain's 1941 novel, starring Kate Winslet, Guy Pearce and a pre-Westworld Evan Rachel Wood.
It's also more faithful to the book than the 1945 film version, starring Joan Crawford, which took a more soapy and melodramatic approach. This is a gritty and highly addictive adaptation.
Los Angeles mother Mildred Pierce (Winslet) faces ruin as she struggles to raise her two daughters alone during the hardships of the Great Depression.
After a disheartening search for employment, Mildred is forced to take a job as a waitress - much to the disgust of her frankly appalling daughter Veda, played by Evan Rachel Wood.
Kylie: Showgirl - The Greatest Hits Tour, 9.00pm, Sky Arts
The Australian singer and former Neighbours star performs a selection of classic hits from her extensive back catalogue in a concert from her 2005 tour at London's Earls Court Arena.
The spectacular show combines a mixture of styles, inspired by everything from the dancers of the Moulin Rouge to the Busby Berkeley musicals, with songs including Can't Get You Out of My Head and I Should Be So Lucky.
If this doesn't put a smile on your face, you're pretty much set to be miserable forever.
Daytime Film Choice
Journey to the Center of the Earth, 4.10pm, Film4
James Mason stars as an explorer who discovers a prehistoric monster-infested world deep beneath Earth's crust and faces a tough ordeal escaping the predatory attacks of the creatures as he tries to guide his team back to safety.
Despite being 60 years old, this yarn stands up surprisingly well.
Nighttime Movie Pick
Black Sea, 11.10pm, Film4
You think it's claustrophobic staying indoors at home? You'd never survive in a submarine.
Jude Law and Jodie Whittaker head the cast in this claustrophobic thriller about an unemployed submarine captain who attempts to turn his fortunes around by recovering a lost treasure rumoured to have sunk in the Black Sea.
But a combination of greed, desperation and good old stupidity cause the members of his crew to turn against each other with inevitably catastrophic results.
Click here for full TV listings