Miriam O'Callaghan will stand in for Ryan Tubridy on tonight's Late Late Show but this isn't the first time Ireland's biggest TV Show has gone without its regular host...
Tonight for only the second time in his ten-year tenure as host, Ryan Tubridy will not present the Late Late Show.
The broadcaster was also forced to step down from his RTÉ Radio One show during the week due to a persistent cough and his adherence to the self-isolation measures brought about by the Covid-19 pandemic.
Tonight's show will be hosted by the more than capable Miriam O'Callaghan, a broadcasting veteran who has been on TV more often than that cat on the roof in the opening credits of Coronation Street.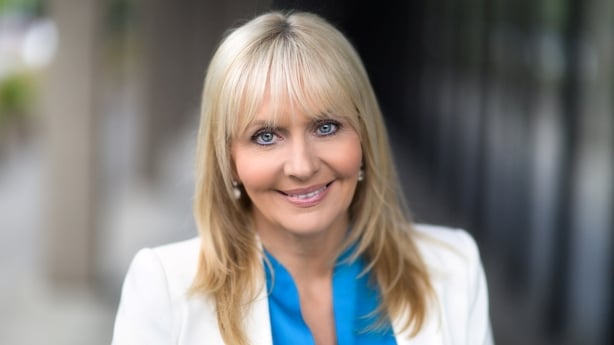 However, this isn't the first time in its near 60-year history that the world's longest-running chat show has been presented by an alternative host when the main man has had to step down for the night.
From Gerry Ryan's bravado performance in 2001 when Pat Kenny had to bow out due to his mother's death to Frank Hall's brief tenure in the hot seat, there have been a few moments when, for night only, the Late Late took on a whole new face.
Pat Kenny, February 2013
Not long before he announced his departure from RTÉ in July, 2013, Pat Kenny, who hosted the show from 1999 to 2009, was drafted back in to stand in for Ryan Tubridy following the death of his father, Dr. Pat Tubridy. 
Gerry Ryan, October 2008
When the late Gerry Ryan strode onto the shiny black floor of the Late Late studio on the night of October 24, 2008, he looked like he was to the manner born. Regular host Pat Kenny had to bow out due to the death of his mother and Gerry, then 52 years old, was the perfect man to take up the reins.
He'd never made a secret of his ambition to host the biggest TV gig in the country and boy was he good.
We need your consent to load this YouTube contentWe use YouTube to manage extra content that can set cookies on your device and collect data about your activity. Please review their details and accept them to load the content.Manage Preferences
That night's line-up certainly helped. Gerry got to sit down with Tony Curtis (in a fetching white cowboy hat), a then still, shall we say, "unpredictable" Tommy Tiernan, Roseanne Barr, Richard Madeley, Leon Jackson and Daniel and Majella O'Donnell (proof at least that some things never change on the Late Late). 
Looking not unlike Jerry Lewis's debonair chat show host in Martin Scorsese's King of Comedy, a suited and booted and very expansive Gerry was assured, comfortable and damn excited to be there.
"What an atmosphere!" he announced to the audience, who were already on their feet cheering. "The mouth is dry and it is an odd feeling being here. This is it! The big one, the Late Late Show."
And guess what? Gerry's stint as Late Late kingpin ended up as the second most-watched edition of the season after that year's Toy Show. 
Eamonn Andrews, 1979 
Eamonn Andrews surprises Gay in 1979, after 'only' 500 episodes of the Late Late, the tables - or rather chairs - were turned on Gay. Thinking he was about to greet American star Dana Andrews, Gay was instead presented with This Is Your Life host Eamonn Andrews, who congratulated Gay on reaching that milestone, and wasted no time in letting his old friend know that he'd been set up by the rest of the Late Late team!
This was water cooler telly before we had water coolers, as a man who was rarely lost for words suddenly found himself scrambling for things to say. "Will you sit down in the other chair and let me talk to you about you?" asked Eamonn as Gay tried to make sense of it all.  
We need your consent to load this rte-player contentWe use rte-player to manage extra content that can set cookies on your device and collect data about your activity. Please review their details and accept them to load the content.Manage Preferences
Composure somewhat returned, Gay reflected on his 17 screen years in the homes of Ireland. "Seventeen years ago, I think we realised we would never have a never-ending supply of personalities and celebrities and film people and so on," he said.
"And we started making excursions into current affairs and politics and matters of controversial interest and so on. And I think now we've reached a stage where the programme continues to be 'formatless' down through the years. And I'd like to continue it in that way. The programme hasn't changed; I think the important thing is to keep it different, on the hop most weeks."
"Do you think that's one of the reasons it is so popular?" asked Eamonn. 
"I think so," replied Gay. "I think that one of the reasons is that it's live and people like the feeling that it is live and it's here in Studio One here in Montrose every Saturday night and that anything can happen. And they're prepared to accept it live, warts and all, even the things that go wrong - tonight!" 
It was all right on the night.
Ted Bonner, 1972
Ted Bonner was a Belfast-born war veteran, who also had a career in the aviation industry. After he entered journalism and broadcasting, he became a regular panellist on the Late Late Show in the seventies. Ted, who passed away, aged 84, in 2002, was an old school gentleman and noted raconteur with a Nivenesque charm - and an obvious choice to replace Gay Byrne to present the Late Late for one night in 1972 when Gay fell ill. However, not everyone was happy with the idea. There were major objections from Irish Actors Equity as Ted was not a member and a threat from the unions to boycott the show but in the end he was to make his one and only appearance as host. 
Frank Hall, 1964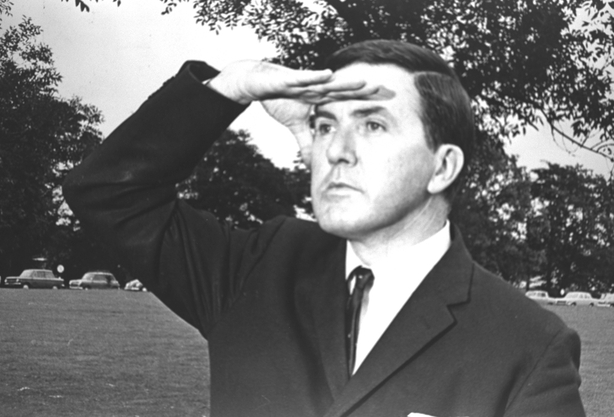 Long before he did Trojan work for the gaiety of the nation on Hall's Pictorial Weekly, Frank Hall sat in the Late Late hot seat for the opening season of 1964 when Gay was probably off building his media empire in Britain. Newry native Hall, who had previously been a newspaper man, had some shoes to fill and while he gave it his all, RTÉ mandarins took him off the biggest show in town and reinstalled young whipper snapper Byrne the following year. 
Hall will forever be remembered as the man who interviewed The Beatles when they arrived in Dublin in 1963 and for bequeathing us many deathless Hall's Pictorial Weekly greats but for one season in the sixties, he had the biggest gig on Irish telly. 
Er, that's it. 
Alan Corr @CorrAlan2