If you're going to spend a lot of time between now and Sunday on the sofa, here are loads of telly tips to keep your remote good and busy . . .
Pick of the weekend
Keys to My Life, 8.30pm Sunday, RTÉ One
In this new series Brendan Courtney invites celebrities to reveal how places they have lived in have shaped their lives. Former RTÉ news anchor Anne Doyle begins by revisiting Ranelagh in Dublin.
From the Grand Georgian splendour of her current Dublin home to the cramped and surprisingly unchanged bedsit she shared back in 1970's in Dublin 6, Brendan takes Anne back to visit the places that have helped to form her maverick personality.
Don't Miss
All Round to Mrs Brown's, 10.00pm Saturday, RTÉ One
In the second episode of the latest run, Agnes and the family are joined on the show by comedian and actor Lee Mack, actress and star of Silent Witness Emilia Fox and her mother, the actress Joanna David.
Plus, there's a musical performance from the legendary singer-songwriter, Billy Ocean.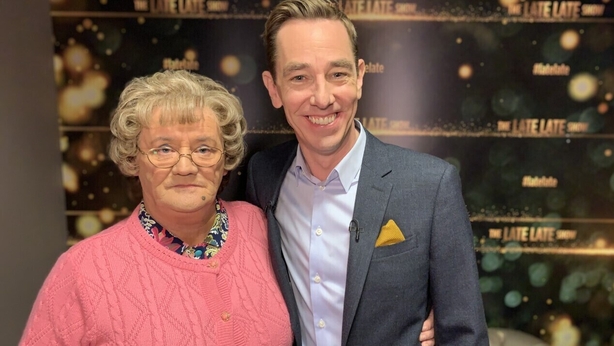 The Late Late Show, 9.35pm Friday, RTÉ One
This week's edition - presented by Miriam O'Callaghan - pays tribute to the men and women of Ireland's National Frontline Services who have been bravely leading the fight to slow down and treat the spread of Coronavirus.
Also on Friday's show, global superstar Hozier will launch an emergency on-air appeal for the ISPCC who are experiencing an upsurge in calls to Childline.
Lee Duffy, a young, fit and healthy League of Ireland footballer, will talk about about his experience when he contracted Coronavirus; Mrs Brown's Boys stars Brendan O'Carroll and wife Jennifer Gibney will be talking via Skype from Florida, and comedian Dara Ó Briain will join in from London.
New or Returning Shows
Peter Kay's Comedy Shuffle, 9.30pm Friday, BBC One
It's up to season four of this compilation series with more highlights from the career of one of Britain's best-loved comedians, including a special appearance from The One Show's Alex Jones.
Friday Night Dinner, 10.00pm Friday, Channel 4
Simon Bird, Tom Rosenthal, Tamsin Greig and Paul Ritter are back in Robert Popper's award-winning comedy.
Adam and Jonny arrive at Mum and Dad's house with big news to announce - they both have girlfriends.
Dad buys a caravan that has seen better days and is keen for the family to have dinner in there. Jackie refuses to step foot inside, though Jim is less fussy as his house has flooded.
Duncanville, 10.35pm Friday, Channel 4
Amy Poehler co-created and stars in this animated comedy that revolves around a 15-year-old boy with a rich fantasy life. In this opening episode, Annie worries about her `very average' teenage son.
Rock 'n' Roll Island: Where Legends Were Born, 9.30pm Friday, BBC Four
This is the story of Eel Pie Island, a small island in the Thames in south-west London, which became the epicentre of R`n'B in the 1960s.
In its heyday, the likes of the Rolling Stones, the Yardbirds, the Who, David Bowie, Elton John, Pink Floyd, Fleetwood Mac, John Mayall, Long John Baldry and many others cut their teeth at the venue before becoming legends of the music industry.
Nigel Planer narrates this documentary while contributors include Rod Stewart, Steve Hackett and Dave Brock.
Pilgrimage: the Road to Istanbul, 9.00pm Friday, BBC Two
Seven well-known personalities, all with differing faiths and beliefs, put on backpacks and walking boots and, on foot and by road, set out to cover sections of the Sultans Trail - a modern-day, 2,200km pilgrimage across Eastern Europe, which starts in Vienna and ends in Istanbul.
Journalist Adrian Chiles, former politician Edwina Currie, Olympian Fatima Whitbread, comedian Dom Joly, actor Pauline McLynn, broadcaster Mim Shaikh and television presenter Amar Latif are the modern-day pilgrims.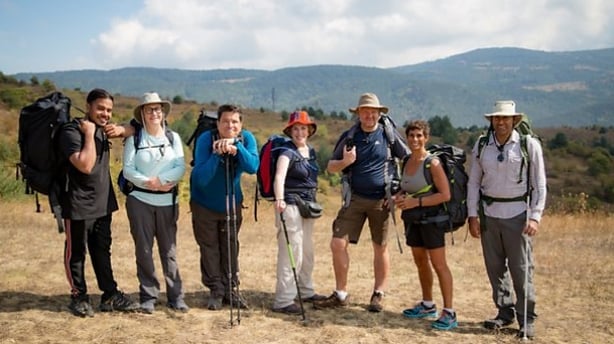 Micky Flanagan - An' Another Fing Live, 10.00pm Friday, Sky One
A stand-up show recorded at London's O2 Arena as part of the comedian's sell-out 2017 tour, in which he played to more than 600,000 people around the UK.
The Cockney funnyman covers topics from the French and marriage to Saga holidays with his dad and his love of Mary Berry.
Supernatural, 10.00pm Sunday, E4
As season 14 of this cult show opens, Sam enlists everyone's help in trying to track down Dean, who can literally be anywhere. Castiel may be in over his head after meeting up with an unreliable source.
Secrets of Egypt's Valley of the Kings, 8.00pm Sunday, Channel 4
A specialist team unearth a long-lost tomb in the shadow of the pyramids, as archaeologists hunt for remains and explore hidden tombs in the Valley of the Kings.
An extraordinary discovery is made in a rare tomb 4,500 years old, while a team from Switzerland take up the hunt for clues to identify human remains found in looted tombs.
Batwoman, 9.00pm Sunday, E4
Superhero drama from DC starring Ruby Rose as Kate Kane, Bruce Wayne's cousin, who becomes Gotham City's latest vigilante.
In the first episode, Kate Kane soars onto the streets of Gotham as Batwoman. But don't call her a hero yet. In a city desperate for a saviour, Kate must overcome her own demons before becoming Gotham's new symbol of hope.
New to Download
Rocketman, from Friday, Sky Movies Premiere
Charting the star's career from his humble beginnings as shy piano prodigy Reginald Dwight through to international superstardom as Elton John, Taron Egerton stars in this engaging story of the music icon's magnificent highs and crushing lows.
Ozark: Season 3, from Friday, Netflix
The Emmy-winning series about a suburban family laundering millions in the Missouri Ozarks returns for a ten-part run.
Marty Byrde and his family fell deeper into a life of crime in season two, ending with the launch of Marty's giant casino boat, which is going to be used to launder hundreds of millions of dollars for the Mexican drug cartel.
At the 2019 Emmys, Bateman revealed that season three opens six months after the season-two finale:
"The casino is up and running and that provides us with more opportunities both positive and negative, some that are tempting and some that are calming," he said.
"That affects the family in interesting ways, and certainly the relationship that Marty has with Wendy."
Her Smell, from Saturday, Sky Cinema & NOW TV
Elisabeth Moss puts in a gripping lead performance as Becky Something, a '90s punk rock superstar who once filled arenas with her grungy all-female trio Something She.
Now she plays smaller venues while grappling with motherhood, exhausted bandmates, nervous record company executives, and a new generation of rising talent eager to usurp her stardom.
Il processo, from Friday, Netflix
The murder of a teen girl impacts a public prosecutor linked to the victim, a lawyer seeking a career-making case and a suspect who says she's innocent.
Car Masters: Rust to Riches: Season 2, from Friday, Netflix
Classic cars get massive makeovers courtesy of Gotham Garage, a skilled California crew dedicated to upgrading and trading sweet vintage vehicles.
The Decline, from Friday, Netflix
As a way to prepare for disasters, family man Antoine attends a training programme on survivalism given by Alain, at his self-sufficient retreat.
Apprehending a natural, economical or social breakdown, the catastrophe waiting for them is nothing like the one they'd anticipated.
Uncorked, from Friday, Netflix
A young man faces his father's disapproval when he pursues his dream of becoming a master sommelier instead of joining the family's barbecue business.
Mark of the Devil, from Friday, Netflix
When two sisters open an ancient book that ushers evil into their midst, a possessed priest wrestling with his own demons becomes their only salvation.
Weekend movies
Florence Foster Jenkins, 9.35pm Friday, RTÉ 2
Meryl Streep is great, but Hugh Grant is even better in this hugely enjoyable comedy based on a bizarre-but-true story.
A tone deaf socialite imagines she is a great singer, and her conniving yet devoted husband allows her to remain in her fantasy by holding concerts with small, invited audiences.
But reality threatens when she announces her intention of realising a lifelong dream of performing in New York's Carnegie Hall, recruiting a struggling young pianist to aid her.
Monsters University, 6.35pm Saturday, RTÉ One
Student creatures Mike Wazowski and James P Sullivan, aka Sulley, attend university to learn how to be scary, but their rivalry gets them both kicked off the course.
The duo must learn how to work together if they are to realise their dreams of terrifying children. Winning the Scare Games will make the difference between Mike staying at the campus or having to leave.
Jane Eyre, 4.10pm Saturday, BBC Two
Here's a classic Hollywood version of the romantic period drama based on Charlotte Bronte's novel, starring Joan Fontaine, Orson Welles, Agnes Moorehead and Margaret O'Brien.
A naive young woman becomes governess in a mysterious Yorkshire mansion and before long she is completely besotted with her charismatic but intimidating employer.
But she's unaware that the master of the house is concealing a dark secret.
Stronger, 9.00pm Saturday, BBC Two
Anything with the great Jake Gyllenhaal in it is worth a look and this is no different. But it's not an easy watch.
After he is seriously injured in the 2013 Boston Marathon Bombings, Jeff Bauman loses both his legs in the tragedy - but captures the hearts of his city and the world through his recovery, as he adjusts to his new way of life.
Repeat Musical Treats
Sinatra: All or Nothing at All, 11.30pm Friday, BBC Four
This absolutely superb four-part documentary offers an examination of the life, music and career of the legendary entertainer Frank Sinatra.
The opening episode takes us from Sinatra's birth to his early years as a roadhouse performer, revealing the influences behind his meteoric rise.
Kings of Soul, 8.00pm Friday, BBC Four
A welcome repeat of the compilation celebrating the male artists whose vocal stylings have played an instrumental role in the soul genre from the 60s to the 00s.
Featuring the likes of Brenton Wood, Curtis Mayfield, Billy Preston, Bill Withers, Billy Ocean, Alexander O'Neal, Bobby Womack and Barry White.
Sgt Pepper"s Musical Revolution with Howard Goodall, 10.30pm Friday, BBC Four
Howard Goodall explores why Then Beatles' Sgt Pepper album is still seen as so innovative, so revolutionary and so influential, with the help of outtakes and studio conversations between the band.
Box Set Binge
Enlightened, Sky Box Sets
This outstanding satirical dramedy is the best show of the last 20 years that you (probably) haven't seen.
Laura Dern deservedly won an Emmy in 2012 for her portrayal of Amy, a self-destructive woman who decides to lead an enlightened life after having a mental breakdown at work.
But after returning home from her treatment she faces many problems while readjusting to life, especially at work, where she's disregarded and sidelined.
The problem, really, is other people.
Click here for full TV listings