There's a great cast in new Channel 4 dramedy Feel Good, Sarah Lancashire-starring drama Kiri comes to an end, and there are documentaries about Boris Johnson's advisor Dominic Cummings and Hollywood legend Steve McQueen . . .
Pick of the Day
Feel Good, 10.00pm, Channel 4 & ALL4
This new dramedy series is about love and addiction, following the life of stand-up comedian, Mae. It also features former Friends' star Lisa Kudrow in its impressive cast.
Canadian stand-up comedian Mae Martin stars as Mae, who finds herself stuck in a rut. She's single, in recovery from a drug addiction and sleeping on a friend's sofa.
Suddenly she crosses paths with George (former Call the Midwife star Charlotte Ritchie), and the pair embark on a whirlwind romance, moving in together and ultimately triggering events that will drastically change both their lives.
New or Returning Shows
Taking Control: the Dominic Cummings Story, 9.00pm, BBC Two
Brexit and all that seems like an age ago now, but here Emily Maitlis examines Boris Johnson's chief adviser Dominic Cummings' pivotal place in UK politics.
Maitlis charts his arrival in Downing Street as a senior adviser with significant and unprecedented power. Now Cummings aims to play a key role in reshaping the UK.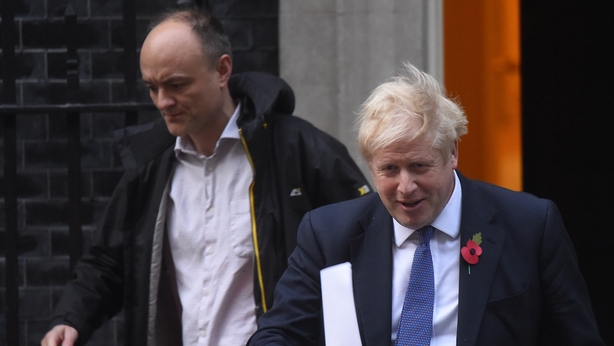 Featuring testimonies from some of his fiercest critics and closest political friends, the documentary sheds light on a man whose ambitions may now direct Britain's journey for years to come.
The Repair Shop, 8.00pm, BBC One
Jay Blades and the team bring four treasured family heirlooms, and the memories they hold, back to life.
The team set to work repairing a Jamaican pump organ, an RAF bomber pilot's hat, a naval rigging tool kit, and a crib made from wood salvaged from a church bombed during World War One.
Steve McQueen: Le Man and the Man, 9.00pm, BBC Four
This feature-length documentary follows Hollywood legend and all-round man's man Steve McQueen's efforts to make his passion project, the 1971 film Le Mans, revealing the true extent of the troubled production process.
During the period of filming, McQueen would lose his marriage, close friendships, control of the movie and endanger lives, as he - literally - risked everything in pursuit of his dream.
Grow, Cook, Eat, 7.30pm, RTÉ One
Karen O'Donohoe demonstrates how to grow food on an apartment balcony, and Michael Kelly learns more about commercial onion growing.
Màthair, 9.30pm, TG4
This is the story of Jane Wilde, the mother of Oscar Wilde, who was an Irish poet under the pen name 'Speranza', and supporter of the nationalist movement.
Building the Dream, 9.00pm, More4
Charlie Luxton is in Yorkshire with Helen and her husband Gary, who have grand plans for a huge self-build on the outskirts of historic York.
Great British Menu, 8.00pm, BBC Two
What a great idea!
The UK's top chefs compete for the chance to cook at an incredible banquet, creating dishes inspired by iconic food from children's literature, from Willy Wonka to Alice in Wonderland.
This year, the contestants will prepare dishes hoping to impress not only the judges, but a series of guest judges from the world of children's literature, including David Baddiel and Jacqueline Wilson.
Ending Tonight
Kiri, 10.35pm, RTÉ One
In the final episode of this drama starring Sarah Lancashire, DI Mercer confronts Nate with new evidence about Kiri's murder, and as the truth about her disappearance comes to light, Miriam realises she has to take responsibility for her actions.
Meanwhile, Alice's devastation gets the better of her, Tobi has a choice to make about his son Nate, and Si realises his relationship with Alice has deteriorated, and he is determined to find out why.
Don't Miss
The Guards: Inside the K, 9.00pm, Virgin Media One
The documentary series about frontline policing in Ireland's busiest policing district this week takes a look at the daily reality facing the guards as they deal with mental health issues, and carry out their duty to preserve life.
Castle Rock, 9.00pm, RTÉ 2
So far this has been a pretty enjoyable addition to telly land's ever-expanding Stephen King multiverse.
This week's double episode begins with Castle Rock honouring Sheriff Pangborn as a stranger comes to town.
Later, Henry's son visits from Boston, and a funeral stirs up unsettling memories.
Click here for full TV listings