Westworld returns, while new shows include documentary series Changing Ireland: My Big Idea and You, Me and Surrogacy, as well as US comedy Sunnyside . . .
Pick of the Day
Westworld, 9.00pm, Sky Atlantic
The first two seasons of this adaptation of the book and film of the same name were superb - but can the show maintain its momentum, especially given what's going on in the real world?
As the third season of the visually lavish sci-fi drama unfolds, the critical event that marked the end of the last season threatens to consume the outside world.
As the show broadens out from its theme park origins, Evan Rachel Wood's Dolores develops a relationship with Caleb, a mysterious new character played by former Breaking Bad star Aaron Paul.
Early reports from the US aren't encouraging, but the high quality of the series so far must buy Westworld a bit of time.
New or Returning Shows
Changing Ireland: My Big Idea, 8.30pm, RTÉ One
This new documentary series is about people trying to solve some of Ireland's biggest social challenges.
For example, in Rathcoole Aerodrome, near Millstreet in Cork, Irish Community Rapid Response founder John Kearney and his team are working to launch Ireland's first dedicated and charity-funded Helicopter Emergency Medical Service.
You, Me and Surrogacy, 9.00pm, Virgin Media One
Here's a new observational documentary on the surrogacy process from an Irish perspective, following couples hoping to realise their dream of completing their families through surrogacy.
In episode One, we meet Cathy and Keith from Dunlavin, County Wicklow. The couple have been struggling to start a family for the last six years.
Although their finances are tight, they are determined to find the funds for surrogacy any way they can, even if it means they may have to remortgage their house.
On the Edge, 10.00pm, Channel 4
The drama anthology returns with three unusual love stories, with the first a coming-of-age tale about a young, plus-size British-Nigerian woman trying to find her place in the world.
Everyone in Remi's life thinks they know what she should do, with her parents and her friends telling her what is best for her. But she just wants her life to begin. Will she ever be able to take control?
Sunnyside, 9.00pm, Sky Comedy
Kal Penn stars in this new comedy as a former New York City councilman finds his calling when he meets a group of immigrants in search of the American dream.
Co-created by Penn - who previously juggled acting jobs with being part of the Obama administration - it takes a swipe at politics, and more specifically, the politics of immigration.
New to Download
Frozen 2, Sky Store
The inevitable sequel to the phenomenal Frozen makes it inevitable debut on the Sky Store site before its equally inevitable arrival at the Sky Cinema Premiere site.
The voices of Kristen Bell, Idina Menzel and Josh Gad return for a tale where Anna, Elsa, Kristoff, Olaf and Sven leave Arendelle and travel to and ancient and enchanted land to find the origins of Elsa's powers and save their kingdom.
Ending Tonight
The Boys in Green, 9.35pm, RTÉ One
In the final part of the documentary about Ireland's national football team during the Charlton era, there's a look back at the events surrounding the notorious riot by England fans at Lansdowne Road in 1995 during a friendly with Ireland, as well as the final days of Jack Charlton's reign as manager.
This Time with Alan Partridge, 9.00pm, RTÉ 2
Steve Coogan stars as the broadcaster making a return to prime-time TV from the wilderness of local radio when he is given the opportunity of co-hosting BBC One magazine show This Time.
Jennie confronts Alan about a comment he made about her behind her back, leading her to walk off set and leave Alan to finish the show without her. Simon then joins him as co-host.
Don't Miss
Miss World 1970: Beauty Queens and Bedlam, 9.00pm, BBC Two
The story of the protest at the contest, when protestors dramatically disrupted the event and kickstarted a feminist revolution in front of an audience of millions.
Hannah Berryman's film uses archive, animation and contributions from key players to offer an entertaining and thought-provoking celebration of a night of game-changing anarchy.
Blood, 9.00pm, Virgin Media One
In episode four of the Adrian Dunbar-starring drama, the day of the twins' First Holy Communion has arrived. But while the rest of the family focus on the celebrations, Jim and Paul are distracted.
Still reeling over what happened at the caravan, they are barely holding it together. And there's still work to be done to clean up the mess they've made.
Things are made more difficult for Jim when Michael and Cat arrive and the whole Hogan family are reunited for the first time since the events of last year.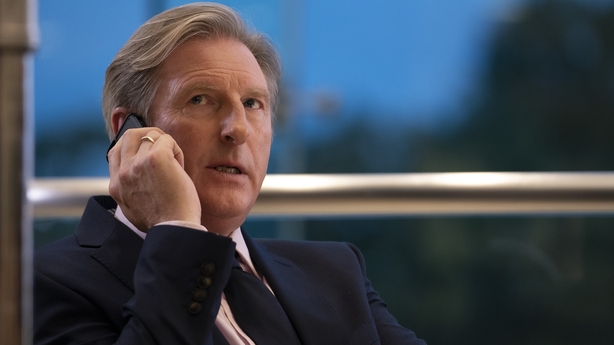 Click here for full TV listings