He's been in the likes of Love/Hate, Game of Thrones and Vikings, but Ian Lloyd Anderson insists that acting in Blood was "a real challenge".
The 33-year-old Dubliner, who was also in the hit Film Dublin Oldschool, joined Adrian Dunbar and the rest of the Blood cast as the addictive drama returned to Virgin Media One for a second season.
The second run began last week and continues on Monday nights - so in case you haven't seen it yet and plan to catch up on the Virgin Media Player, we won't be giving any spoilers away here.
But we would recommend that you give it a watch. It's Blood-y marvelous.
Ian takes the role of Paul, the husband of Fiona Hogan (played by Grainne Keenan), who starts season two afflicted with the awful condition known as Motor Neuron Disease.
It's the same disease that befell her mother Mary, whose death formed the basis of the show's first season. As fans will recall, Fiona's sister Cat feared that her surgeon father Jim (played by Line of Duty star Adrian Dunbar) had killed Mary.
Things have moved on though.
"We're about a year on from the last series," Ian explains. "The story centres around Jim's other daughter, and her husband Paul, who I play. The relationship is about trying to sort out the stresses in life. He's really struggling and she's got Motor Neuron Disease and she's slowly fading.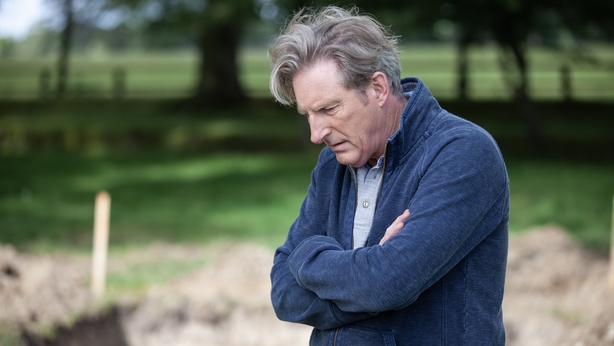 "He's struggling to deal with the fact that it's a ticking time bomb. He's eventually going to be a lone parent, and I don't think that he's equipped for it."
Joining a successful show can be a bit like being the new kid at school, but Ian enjoyed every minute on set. And there was a lot of them.
"We were filming for 12 weeks and it was busy," he recalls. "I was in most days and it was really busy. "But the writing's so good and the way the story is told it kind of jumps back and forth – there are flashbacks.
"And so a real challenge within it was kind of just kind of maintaining and knowing where you were in the story while you were shooting because you don't film these things chronologically.
"It becomes a kind of balancing act, in a weird way, just to know exactly where you were at. But you're working with really brilliant people," he adds. "And working with the likes of Grainne [Keenan] and Adrian [Dunbar], it's just brilliant."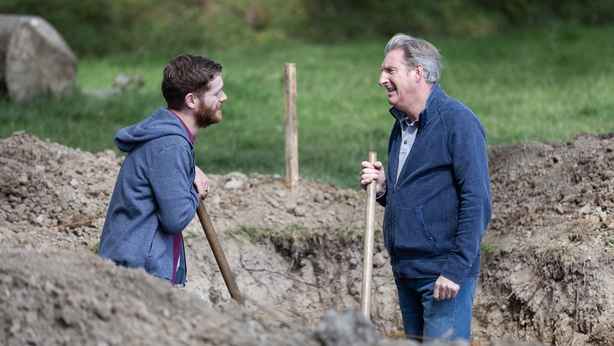 Apart from his work on-screen, Dubliner Ian is also an accomplished stage actor. He is currently performing in Anton Chekov's much-lauded The Cherry Orchard, a play about land, legacy, and the struggle between tradition and change.
Directed by Garry Hynes, it's currently on in the Black Box, Galway until March 7, before a move to Dublin's Bord Gais Energy Theatre for three nights in April. It's also getting live-streamed nationwide in Irish cinemas, on March 5.
This – in case you don't know – is a big, big deal for Irish theatre. Ian Lloyd Anderson's eager to see how it all goes down with cinema-goers. Chekov and popcorn is an unusual mix. And there's an added twist.
"It's a Chekov play, but it's a version by Tom Murphy," Ian explains. "It's a big one, with a huge cast. And a huge stage. And it's kind of interesting because it's the first time that a little Irish company have done what the National Theatre do in the UK where they broadcast it live in cinemas.
"It's the first time I've done anything like it," he adds. "An Irish company has never done this before. So it's kind of like a groundbreaking moment, you know. We'll see how it goes."
Blood continues on Mondays nights on Virgin Media One and you can catch up on the Virgin Media Player.