Oliver Jackson-Cohen told RTÉ Entertainment how the domestic abuse storyline in director Leigh Whannell's new sci-fi thriller is "inherently really more terrifying" than the "iconic" 1933 version of The Invisible Man.
Written and directed by Leigh Whannell, who wrote the first three Saw movies and the Insidious films, this reboot follows Elisabeth Moss' Cecilia as she faces off against an unseen force following the mysterious death of her abusive ex, played by Jackson-Cohen.
The 33-year-actor said playing the role of an abusive partner, who comes back to haunt his girlfriend through invisibility technology, has been updated for "an audience of today".
Speaking to RTÉ Entertainment, Jackson-Cohen said: "The nice thing about our version is that as much as the 1933 version is so iconic, we're not trying to remake that in any way.
"We're not trying to add on to that. Leigh has taken the property and updated it for an audience of today and he's written a story that's about domestic abuse, and about the realities of what that's like.
"The Invisible Man is no longer this supernatural monster, he's made him a real life human being and I think that is inherently really more terrifying."
"When I read it, I was just so amazed at this character driven story that had been written that I actually hadn't put two and two together that it was The Invisible Man from the world of Universal, and that's a testament to Leigh. He'd written a really, really brilliant and solid story."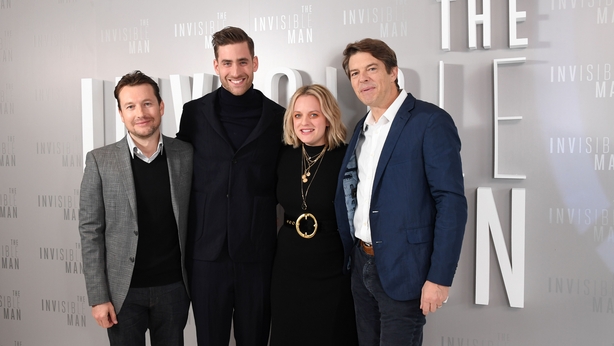 Whannell's screenplay turns the camera on the victim, and in doing so showcases the dangers of men gaslighting women and the true horror of people not believing victims when they talk about their abusers.
"This threat that no one else will believe you - or you can't manage to convince anybody that this threat is real.
"You hear this thing a lot of things being played down like - 'ah you're worrying too much' – that is an idea that I think fits well with the concept of The Invisible Man."
Whannell explained how he wanted the camera to become a character of its own to ensure viewers were kept guessing throughout the movie.
"My mantra going in to the film was let's have the camera be autonomous. Usually, you are trying to get the audience to forget that they are watching a movie.
"What I wanted to do was to tap on the fourth wall a little bit to say there's a point of view here, that's not the character's point of view. There's some other eye in this house that knows more than the characters know," he added.
Watch our interview with Elizabeth Moss below:
We need your consent to load this rte-player contentWe use rte-player to manage extra content that can set cookies on your device and collect data about your activity. Please review their details and accept them to load the content.Manage Preferences