Stockport, birthplace of sporting legend and fashion icon Fred Perry, the UK's finest hat museum, and a viaduct made famous by artist SJ Lowry, may seem like an unlikely spawning ground for the most poppy and melodic act to emerge from the UK in years.
But that's Blossoms, the twenty-something five-piece whose retro look and sound has propelled them in four short years to the forefront of a new generation of acts who have happily fallen into pop's sweet embrace.
Along with Mr. Perry and that milliner's paradise, Blossoms have put their hometown on the map. They've recently released their swoonsome third album, Foolish Loving Spaces, and this weekend, the very likeable likely lads kick off their five-date Irish tour with shows in Cork, Limerick, Belfast and Dublin.
That new album is their second UK Number One and another collection of punchy pop and delicate ballads that does not lack sonic sophistication and also drips with romantic euphoria as well as lovelorn longing.
As for that very evocative album title . . . "I just thought it encapsulated all the things I was writing about," says 26-year-old Blossoms front man Tom Ogden.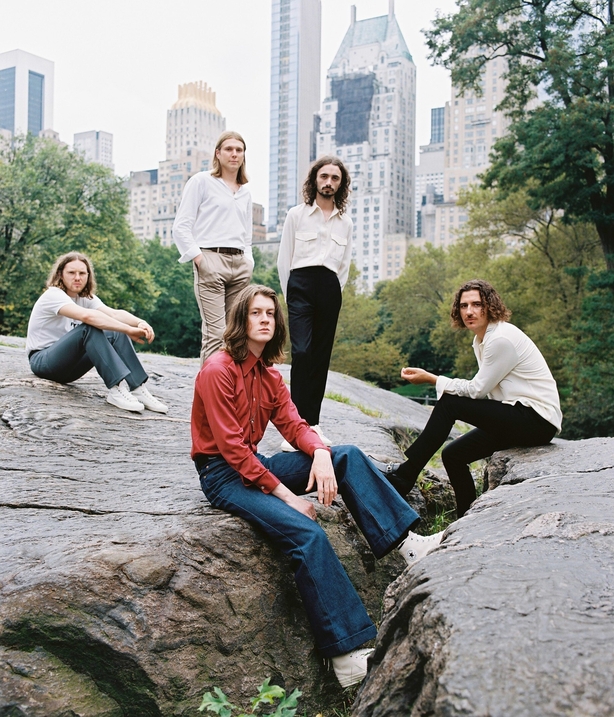 "You are quite foolish when you're in love, you're foolish when you're out of love and the `places' in the title could be the memories you have of a certain city or bedroom . . . or whatever you want."
With the wry McCartneyesque charm of Your Girlfriend, Oh No (I Think I'm in Love) and The Keeper, it's a record that is unashamedly starry-eyed with romance. "Aye, that's fair to say," Tom says. "In the past I've written about my feelings in one form or another and what's going on in my relationships in some form or another.
"I've written about heartbreart and touched on love in the past but this time I decided to go the whole hog and lay it all out.
"I've always found it hard to write lyrics about love without sounding really cringey but I've tried to put a spin on it. I don't normally express my feelings so my girlfriend thinks it's nice to hear it in a song. Hahaha."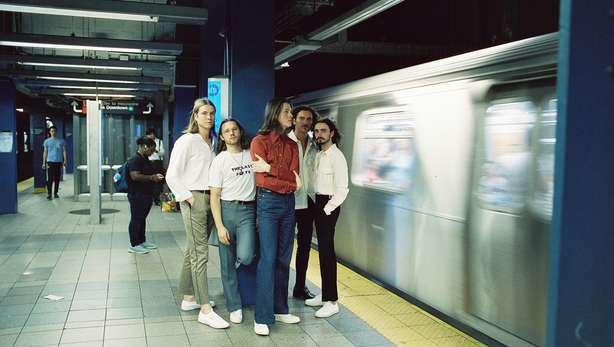 For this album, the band mention three classics in particular as key influences, Talking Heads' Stop Making Sense, U2's The Joshua Tree, and Primal Scream's epochal Screamadelica. All stone cold classics and all connected to each other in one way or another.
"The main singles from The Joshua Tree, like I Still Haven't Found What I'm Looking For, With or Without You and Where The Streets Have No Name, they're so universally known they're kinda ingrained in my mind," says Tom.
"I've never managed to get my head around how much they influenced my song writing. We couldn't show it on our first album but now that we're on our third album, we've earned our stripes so we can go back to them and try and get a bit of that ambition into our records. Songs like The Keeper are definitely inspired by U2."
The sheer groove of Talking Heads was also a huge influence, as was the gospel - not the loved-up/drugged-up euphoria - of Screamadelica.
Other, possibly less "cool" bands, are have also been name checked when it comes to Blossoms, namely seventies megastars such as Slade, Bay City Rollers and The Osmonds. "I think they're great bands!" says Tom. "To be compared to them is a compliment. They're got a lot of great pop songs. Slade are a f***ing great band."
Blossoms have recently been playing dates with Inhaler, who are, of course, fronted by Bono's son, Eli. The two young bands also shared a bill when they supported Noel Gallagher at his Malahide Castle show in Dublin last June.
"I don't normally express my feelings so my girlfriend thinks it's nice to hear it in a song. Hahaha."
"They're really great lads and a great band. We've played a few shows with them and become really good friends," says Tom. "We're big fans of their music now and they're big fans of us so it's a nice relationship to have. We have nothing but nice words for them lads. We think they'll go far."
However, when it comes to the question of Team Liam or Team Noel, Tom remains diplomatic.
"We've played with both of the Gallagher brothers and we're huge Oasis fans so it's an impossible question to be honest," he smiles. "We love both their music and Oasis are my favourite band of all time so . . . I love Oasis!"
Alan Corr @CorrAlan2
Foolish Loving Spaces is out now. Blossoms play Cyprus Avenue, Cork on February 29; Dolan's, Limerick on March 1; The Limelight, Belfast on March 3, and the Olympia Theatre, Dublin on March 4
More music news, reviews and interviews here