Courtney Love has recalled her late husband Kurt Cobain in an emotional social media post on their 28th wedding anniversary.
Posting a picture on Instagram of their wedding day, Love, who married Cobain two years before his death in 1994, wrote, "28 years ago, we got married, in Honolulu, on Waikiki beach.
"I recall feeling, deeply, delighted, dizzy, so in love, and knowing how lucky I was. This man was an angel."
She went on to describe how "many parts of the last 28 years have been torturous chaotic and uphill", adding that it "almost tapped my resilience".
"But between Kurt's strange amazing divinity, and the honor of a few true friends," she continued, "the gift of desperation and sobriety, of a higher power and of love, and of empathy... I'm here now."
In 1991, just weeks before the release of their game-changing second studio album Nevermind, Nirvana supported Sonic Youth on a mini Irish tour. They played a midweek gig at Sir Henry's in Cork and the next day played the late, lamented Top Hat venue in Dun Laoghaire.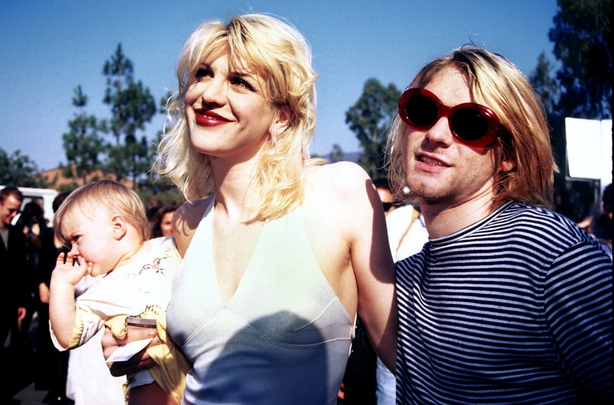 They returned for headlining dates in Dublin and Belfast on June 21 and 22 1992, supported on both dates by The Breeders and Teenage Fanclub.
Cobain's body was discovered in his Seattle home on 8 April 1994. He died from a self-inflicted shotgun wound to his head and a suicide note was found near his body. A sold-out concert in the Royal Dublin Society (RDS) scheduled for this date had already been cancelled.
Two weeks after Cobain's death, Irish fans gathered for a vigil in memory of Cobain at the Wellington Monument in the Phoenix Park.
In July 2018, Kurt and Courtney's daughter Frances Bean was in Ireland with Cobain's mother, Wendy O'Connor and his sister, Kim Cobain, to open an exhibition of the singer's personal belongings in the Museum of Style Icons in Newbridge, Co Kildare.
More music news, reviews and interviews here