English synth pop duo Oh Wonder say that "coming out" as a couple has helped them deal with the madness of their surprise whirlwind success over the past few years.
The girlfriend/boyfriend London duo of Josephine Vander Gucht and Anthony Westand have just released their third album No One Else Can Wear Your Crown and Josephine says it was nice to finally come clean about their romantic relationship.
"We `came out' as a couple last September but we've been together for seven years," she told RTÉ Entertainment. "We started this band after we had been dating for ten months and if you're dating someone for ten months and you find yourself on a world tour making an album and being interviewed every day about your life, it's pretty overwhelming.
"We were dating but we just kept schtum for a few years and worked it out because it's an insane relationship we have because we spend every hour of every day together - we run a business together, we live together, we create together . . .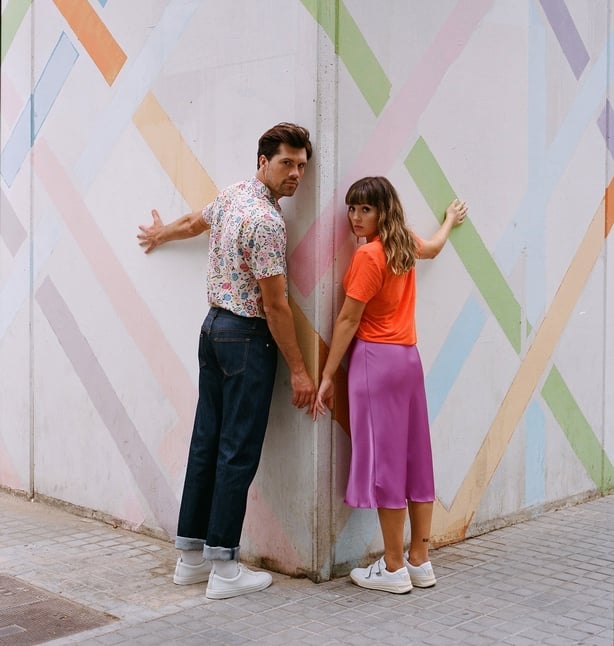 "It's all so intertwined in an amazing way but we had to navigate that for ourselves for a while before we could share it confidently with other people."
Oh Wonder may already be on their third album of soothing synth music with the kind of uplifting sentiments about self-acceptance, empowerment and joy that Oprah Winfrey or a random Hallmark card generator would be proud of but they are probably one of the most quietly successful but little known acts of recent years.
They regularly undertake global tours, have just scored their second top ten album in the UK, and in this new world of algorithmic metrics, their songs have been streamed over a billion times.
"We are sharing something really real here. I can imagine it's like what having a kid is like. It's amazing to share something that you love with someone you love."
"100%" says Josephine. "How we started was like so inadvertent, it was such an accident that we became a band. We were launched into this amazing whirlwind of touring the world, making an album between tours and it was just insane.
"That lasted four years and it wasn't until we finished that tour that we stopped and said wow! We haven't even had a weekend off in four years and therefore hadn't processed any of it, took a step back and given ourselves a pat on the back, which I think is important."
So two years ago, the couple took a year and a half off, ran a few marathons together, built a home studio, and, most importantly, got a dog that has become the real star of their social media posts.
"I guess you could say we nested and became super-normal and victims of routine and structure in a brilliant way, which we never had," says Josephine. "And that's probably where you get the best songs because you're reflecting and being yourself, you're being authentic to yourself."
The result is No one Else Can Wear Your Crown. It's a balm for the soul in these troubled times, a sonic elixir and the equivalent of sinking into a warm bath after a long day. "Yes, we did set out to make an album that's like a warm bath . . . haha," laughs Josephine.
"We wrote out first song after my brother came home and told us his girlfriend had dumped him so we wrote him a song."
"When we listen to our favourite albums and songs or artists, we listen to be comforted in some way. It's like someone holding your hand during a really shitty day and when we create music, that's what we're aiming for.
"We have this amazing opportunity to speak to people and comfort people and be there for them. We've been incredibly fortunate to have received so many messages over the years in person and random emails saying you've literally saved my life, `my partner's got cancer and your album is all we listen to . . . '
"Flippin' 'ell! We're creating sounds that help people and we're super proud to take on that responsibility. We're all about making comforting music."
It's there on songs like Better Now from the new album, a deeply personal track that also has a deeper universality. It means that Josephine and Anthony can really connect with their audience. "Our first album was very character-based," she says. "We wrote out first song after my brother came home and told us his girlfriend had dumped him so we wrote him a song."
Happy Valentine's Day 🌹 Nothing says I love you like a live acoustic version of us playing "I Wish I Never Met You" at a grand piano with a string quartet 💘 https://t.co/dr4TO7Jx5n pic.twitter.com/meuFegTyDu

— Oh Wonder (@OhWonderMusic) February 14, 2020
Fans of James Blake and the more soothing love songs of James Taylor, Oh Wonder's own sound is occasionally melancholic but mostly upbeat. The new album also features brass and strings, piano based balladry, club bangers and even a country song.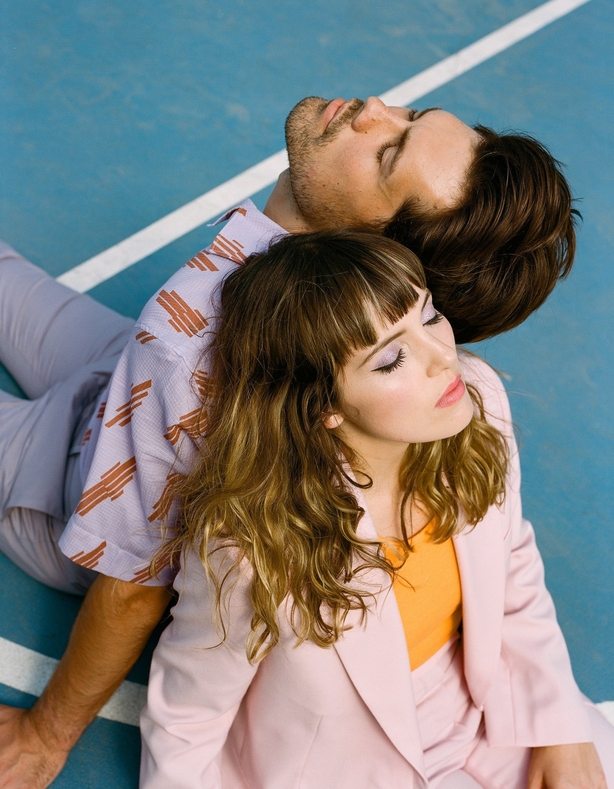 Josephine likes to listen to Shawn Mendes, Calvin Harris and S Club 7, while studio boffin Anthony is more of a James Blake/Radiohead kind of guy. Oh Wonder meet somewhere in the middle.
"We love to experiment with genres but for this album we wanted to stay in the realm of perfectly curated pop songs."
One doesn't like to be a downer about such a gilded pop dream but it doesn't always work out for bands that become romantically entangled. Fleetwood Mac, anyone?
"You know what, I couldn't do this on my own because it's lonely as hell," says Josephine. "It's a weird job, especially for a woman - touring with 13 guys on a tour bus around the world, I just couldn't do that on my own. I'm a strong woman but it would just get to me.
She adds, "There is always a moment when me and Anthony catch each other's eye on stage and I can only imagine that it's like something that would happen at your wedding.
"We are sharing something really real here. I can imagine it's like what having a kid is like. It's amazing to share something that you love with someone you love."
Alan Corr @CorrAlan2
No One Else Can Wear Your Crown is out now. Oh Wonder play The Olympia Theatre, Dublin on Monday, November 30.
More music news, reviews and interviews here