The chief instructor on RTÉ2's Ultimate Hell Week has told RTÉ Entertainment that "a good sense of humour"  is key to getting through the gruelling Special Forces selection course.
The second series of the army training challenge returns to RTÉ2 on Monday, with 28 new civilian recruits taking part in the ordeal.
They will be put through their paces in the army-style selection course that's designed by former members of Ireland's elite Special Forces unit, the Army Ranger Wing (ARW).
When asked if the recruits realised what they were signing up for, Ray Goggins said: "God love them, no they don't. They think they might do, but they don't really. Thinking you know what's going to happen and then when it actually happens, it's a different kettle of fish."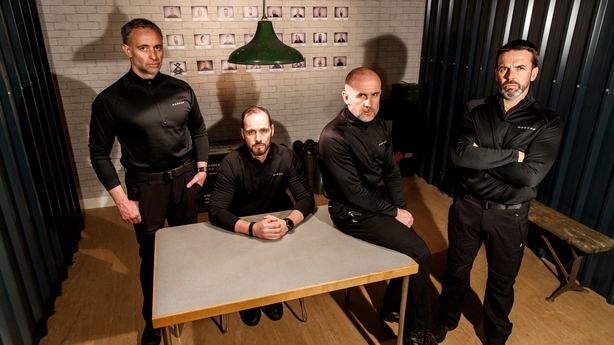 The chief instructor said that the "intensity" of the course surprises and challenges the recruits the most.
"I think the intensity is the biggest one, the fact that there's no recovery", he said. "You'd have marathon guys, triathletes, all kinds of super athletes who are really fit, they're used to a regime where they get plenty of training, plenty of rest and recovery, but in our game you take away all of that.
"You take away the sleep, the food is reduced, you take away the recovery and people struggle because they don't have their routines post-physical."
It's relentless, which Goggins says it key. "It has to be, because in the real course that's what you're training, someone to be in a position where they can cope with large amounts of stress and intense situations constantly because that's what you're trying to instill in people."
We need your consent to load this Facebook contentWe use Facebook to manage extra content that can set cookies on your device and collect data about your activity. Please review their details and accept them to load the content.Manage Preferences
There are very specific traits which successful recruits will need to have.
"Physically you need to be fit, you need a certain amount of fitness and endurance which is key for the course.", Goggins explained. "Psychologically you need to be very balanced, you need to be very calm, is a big part of it I believe, and the last thing is you need to be focused about what you want to do.
"A good sense of humour is probably the most important thing that I've experienced in my tenure in the military because when things are really stacked against you, no matter where you are or what you're doing, if you can knock a bit of craic out of something it just takes the sting out of everything."
There are 21 men and 7 women taking part in Special Forces: Ultimate Hell Week, which Goggins says is probably representative of the percentages of men and women who apply for the army, but not for Special Forces.
"The amount of females that apply for the actual courses will be way below that", he said. "There's only been a handful over the years that the unit's been in existence, so a very small percentage."
Would he hope for more to apply?
"Absolutely. Series one showed it's not about brawn, it's about your head and your mental capacity to push yourself."
Episode one of Ultimate Hell Week starts on Monday, where the new recruits are tested when the vehicle they are travelling to the base camp is ambushed.
"We decided that we'd hit them earlier. Most people when they're joining a course or going to an event there's a welcoming phase, but we decided we wouldn't do all that, that we'd hit them before they even got there," he said.
Special Forces: Ultimate Hell Week kicks off on RTÉ 2 at 9.35pm on Monday February 17.