Discussing his 50-year long song-writing collaboration with Elton John, lyric-writer Bernie Taupin reveals that the musician might sometimes throw him 'a curve ball.'
Taupin remarked that on occasion his preconceived idea of what something should sound like is totally in tandem with Elton's thinking.
"Sometimes he throws a curve ball in there and takes it to a totally different place," he told Variety. "But I don't think that I've ever really been offended by him being misguided in how he treats a lyric of mine. He's a much better musician than me, so his ideas are going to be far more interesting and intricate."
Taupin also revealed that, along with pen and paper, he uses a guitar, writing the lyrics with accompanying chords.
"But the melody is always fairly straightforward. It's just to give it some sort of regimented, melodic feel, lyrically. But when he gets hold of it, his melodies change and work in so many different directions.
"They have changes in them that sometimes are very intricate, but then again, sometimes they're very simple."
Elton remarked that the duo's recent Golden Globes award for Best Original Song for I'm Gonna Love Me Again from the biopic Rocketman, had been the first major award which the partnership had won as a duo. The duo are also nominated for an Oscar.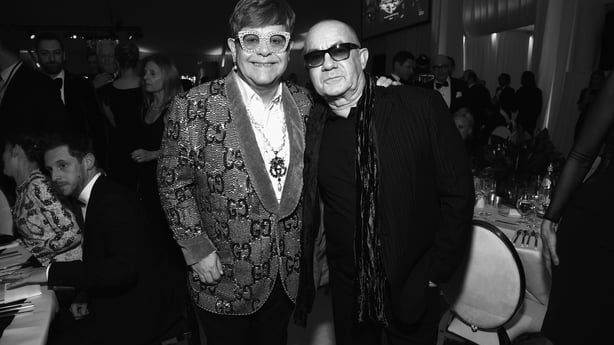 Taupin also noted that the pair had never won "Song of the Year or whatever they have at the Grammys - I'm not sure of all of the categories because I'm not really that familiar with them."
However, he noted 'dozens of awards' for other songs, including a number of Ivor Novello awards in the UK.
"We've been nominated into the Songwriters Hall of Fame twice, so we've definitely got our fair share of awards," said the lyricist.
Elton won an Oscar award for Can You Feel the Love Tonight? which he wrote with Tim Rice while Taupin garnered a Golden Globe for one of his songs which featured in the movie Brokeback Mountain.