Mary Kennedy has shared one of the bonuses of taking part in the current series of Dancing with the Stars, saying it has given her "confidence in my body, using my body".
The former Nationwide presenter, who signed off from the show after 15 years last October, has shown great progress and potential with her pro-partner John Nolan since the dancing series kicked off in January.
Following her retirement aged 65 last year, she said she relished the opportunity to jump into a challenge like this.
Speaking to RTÉ Entertainment, she said: "I knew it was going to be hard work and I knew that I was in a position where I could commit to it. When I do something I like to commit to it 100% and I couldn't have done that, say this time last year because of Nationwide.
"It's a great way to start the New Year, it's a very nice transition from Nationwide to whatever the future holds. It's full on and I'm really enjoying the people, the fun, the learning of a new skill and also the fitness, it's brilliant."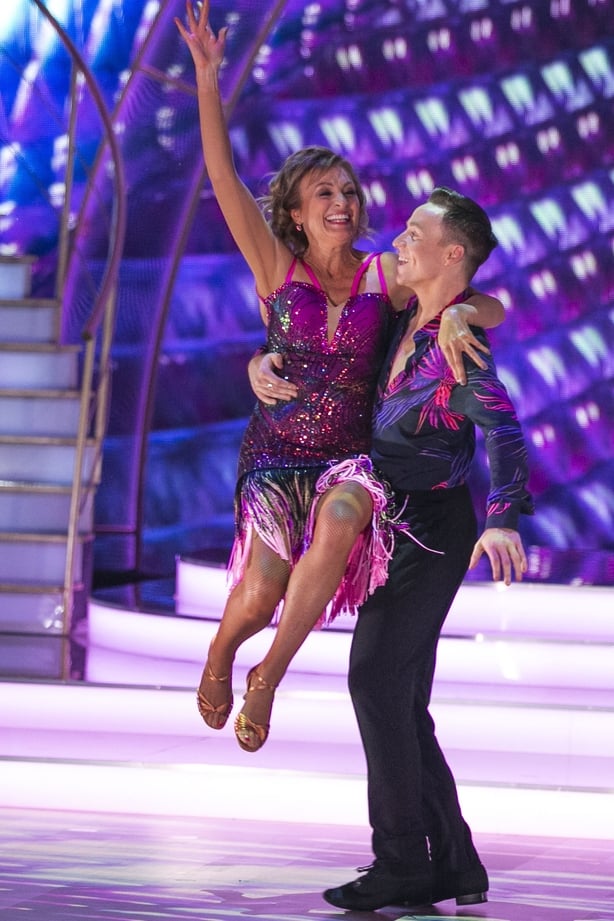 When asked if she was enjoying the opportunity to show a different side to her personality outside of what people were used to seeing on screen, she said with a laugh: "That's true because I never danced on Nationwide!"
She continued: "I think it's nice that there's a woman of my age on Dancing with the Stars, that I'm not gone from the first week. I work really hard at it and I would love to be there for another while, that depends on the votes. I'm trying very hard and I want to stay.
"The reaction I've had has been mostly from women, from women of my vintage if you like, and I'm hoping that they get a lot of positivity and confidence from the fact that I'm doing this, it's not just for young people who are lithe and athletic."
She said taking part in the series has given her a confidence boost, explaining: "Not psychologically, because you get to this age and I do feel pretty confident and happy the way I am, but it's given me, definitely, a confidence in my body, using my body, and not being all about covering up and closed, if you like."
Kennedy said the intensive training schedule from 8am to 3pm is something she has come to enjoy.
"What's surprised me is how much I'm enjoying the actual physicality of it and the work and the dancing", she said. "The fact that I get up very early in the morning and that I'm really looking forward to going in and getting stuck in at eight o'clock."
She's understandably proud of how far she's come so far in the competition. "I'm thrilled, I've got three dances under my belt and they've all been lovely and different and I love the hair, the makeup, the costumes. It's just delightful really."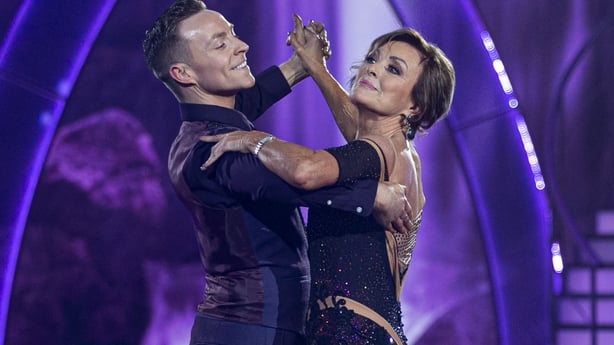 The TV star says she's "really looking forward" to Sunday's show, when the contestants will dance to a song that reflects a memory of their own. She will reflect on her time hosting the Eurovision Song Contest.
"My memory is from the Eurovision in 1995 so it's lovely to be remembering that and to have the opportunity to look at bits of souvenirs and a bit of footage, and remembering the song", she said.
Although you might think hosting the Song Contest to millions of viewers around the world might be hugely anxiety-inducing, the presenter said taking part in Dancing with the Stars is "much more nerve-wracking".
"When I was presenting the Eurovision I knew what I was doing", she laughed. "Here I sometimes feel like a headless chicken.
"But John is a wonderful teacher and he's extremely patient, and he gets it. He can see the difficulties from the pupil's point of view. He says if we have to do it a hundred times, we do it, if we have to do it a thousand times we do it. He's very calm and so kind."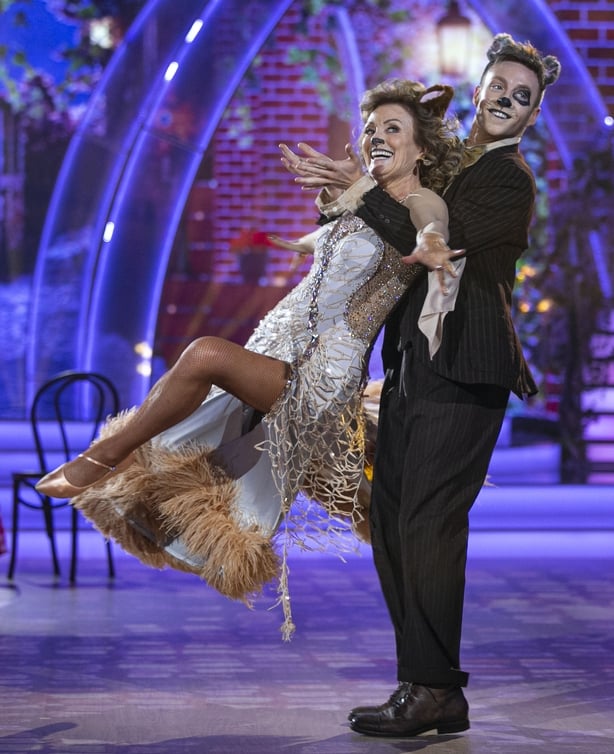 Her enjoyment has increased as she has racked up more minutes on the dancefloor, but she still battles nerves.
"I'm not really relaxed on a Sunday." she explained. "This is the fourth dance and it just doesn't seem to be taking as long to learn a dance as it did in the beginning.
"So I'm more relaxed about that, but I really need to sort out my nerves on Sunday, it's just crazy. I just need to give myself a good talking to!"
She was clear about her ambitions in the competition.
"My goal every week is to get to the next week and I really want to get to Switch-Up week, and the nice thing about that is that nobody goes home", she said. "So then it would be week seven which is very respectable."
Kennedy said she was "very sad" to see TV presenter Glenda Gilson sent home from the competition last Sunday, in an elimination that came as a shock to many. She said it's "too early" to single out a potential winner this year.
"Myself and my kids are big fans and we have analyzed it over the past three seasons – it's far too early to say what way it's going to go", she said.
"It's nice to have a mix of the really really good people and the people who are making progress every week.
"It's a television programme, it's about entertainment."
Dancing with the Stars continues on RTÉ One on Sunday at 6.30pm.