Thursday night's First Dates Ireland features the oldest dater to ever feature on the show, 81-year-old Michael from Dublin, who goes on a date with 75-year-old Lorraine, a writer who shares her astonishing childhood story in the episode.
Lorraine now lives in Tullamore but was born in the Isle of Man. Speaking to RTÉ Entertainment ahead of the show airing, she described how she came to be brought up by her grandparents in Ireland after being taken from her mother days before her fifth birthday.
She said: "My parents met during the [Second World] War, my father was in the Royal Air Force and my mother was in the Women's Auxiliary Air Force. They met, got married and I was born a year later. Then my father, by virtue of the nature of the job he was doing, he was travelling all over the place not just in the UK or wherever.  
"My mother became 'friendly' with a man, who it turned out to be a good neighbour who felt very sorry for her being in an isolated place with a young child. The priest got to hear of this and decided that married woman should not be fraternising with the opposite sex, especially when their husband was away fighting in the war, and got in touch with my father and decided that I should be removed because I was in 'moral danger'."
Lorraine described how the priest intervened to take her from her mother to live with her father's parent's in Ireland, who she had never met before.
"He [the priest] came and said he would be picking me up to go to the airport and that was it. I can remember it clearer than yesterday, I remember what I was wearing, I can remember the weather in Ireland that night."
Of her grandparents, she continued: "They were sent a telegram the day before saying I was arriving, telling my grandmother to pick me up in Dublin airport."
Lorraine was raised in Ireland by her grandparents and was told her mother had died. She stayed with them until she was nearly 18 when she moved to London. At the back of her mind she knew her mother was still alive and resolved to track her down.
Lorraine said of her mother's parting words: "She had promised me through her tears that she would come for me, so that was always in my mind.

"I started really searching in my twenties, but I would start and get dispirited, because other things were more pressing like raising a family. In 1993 I started to really look in earnest and I found her."
The writer agreed that the manner in which she eventually tracked her mother down was "magic".

"It really was, you would find it difficult to script that story", she said. "I'd been looking and looking and got different clues. What had spurred me on a bit was my grandmother who raised me, a week before she died she was quite strong in saying 'you have to look for your mother'.
"She had told me as I had gotten older that my mother hadn't died, that they had said that to protect me. That spurred me on, the fact that she wanted me to find my mother.
"Some cousins of mine that live in the UK, they had given me a couple of leads taken from the electoral registers. I rang Eircom and all the numbers they came up with were private numbers. We were at a dead end, and I think the operator was getting exasperated and I said 'humour me, you've been brilliant, find me anyone at Quarry Road' and that was where my mother lived. It was crazy."
Lorraine made contact with her mum after 47 years apart. They reconnected and had 15 years of being in touch before her mother passed away.
She is eternally grateful for that time they had together. "It gave us time to reconcile the past, to talk about times then and how I was as a small child, and she was able to give me loads of photographs from when I was very small, which she had cherished all her life."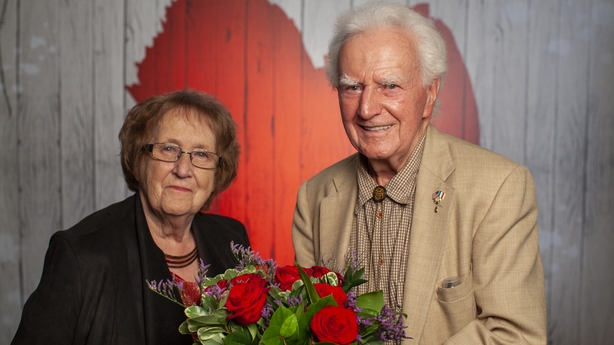 Lorraine, who comes across as a fiercely independent and spirited woman, said she decided to apply to take part in First Dates "on the spur of the moment".
"I'd watched the show but I'd never given any consideration to the process of applying", she explained. "I had bought Senior Times magazine because I wanted to read a review of a book we [her writer's group] had published, and at the bottom of the review there was the advert for First Dates Ireland so I thought why not give it a lash!"
She hit it off straight away with Michael, a former teacher who shares her love of the English language.

"We had a lot of interests in common," she said. "He has a great love of language and literature, as I do, and he's particularly skillful at language having been a teacher. His English is incredible, he writes beautifully, so we had that in common, and life experience as well."
Meet Lorraine, the oldest rocker in town. 🤘#FirstDatesIRL pic.twitter.com/GMIHHHLZxL

— RTÉ2 (@RTE2) January 29, 2020
Lorraine said it has become harder to meet people with similar interests, especially in a romantic way.
"Very much so, especially as you get older, because where do you go to meet people anymore, there aren't the options", she explained.
She said she has "a very open mind" when it comes to online dating. "Obviously there are pitfalls and you have to be aware of them, and I don't think it would be advisable for very young, immature people because they could be vulnerable.
"But I think it's as good a way as any of meeting someone. If you have a correspondence with somebody for a while you do get to know them. It may not work out that when you meet them in person they say they're six foot five and they're four foot nothing, because it is open to dishonesty.
"The net can be a place for cowards to hide. But it's as good a place as any, and I've met some very interesting people online and none of the people I've met have been anything but exceptionally nice."
Lorraine said she would "thoroughly" recommend people to take part in First Dates.
"Particularly for older people", she advised. "I would appeal to them, actually, to try it, because it's a great experience, and when you get to a certain age, you have to have as many life experiences as there are."
First Dates Ireland airs on RTÉ 2 on Thursday night at 9.30pm.