Nicholas Parsons, the veteran British TV and radio host - best known for hosting Sale of the Century and radio game show Just a Minute - has died aged 96 after a short illness.
A statement issued by his agent, Jean Diamond, on behalf of his family, said: "Nicholas passed away in the early hours of 28 January after a short illness at the age of 96.
"He was with his beloved family who will miss him enormously and who wish to thank the wonderful staff at the Stoke Mandeville hospital."
Parsons had hosted the BBC Radio 4 comedy radio game show Just a Minute since its inception in 1967. He also hosted Sale of the Century throughout its initial incarnation from 1971 to 1983.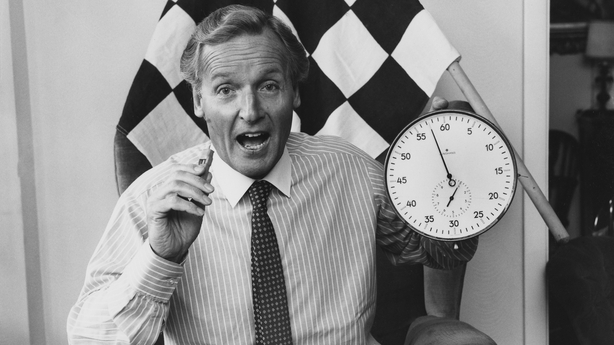 The show was notable for its often impressive prizes, and probably best-remembered for the introduction: "And now, from Norwich - it's the quiz of the week!"
During Parsons' tenure on Sale of the Century, the UK audience peaked at over 21 million viewers, a record for an ITV game show.
His showbiz career began in acting. In the 1950s and 1960s he appeared in many supporting roles in British films, before becoming a regular on ITV's The Benny Hill Show from 1968 to 1971.
In more recent times he was the guest presenter in 2005 on the BBC topical quiz show Have I Got News for You, appeared on Celebrity Mastermind in December 2007 and played Father Gorman in Agatha Christie's Marple.
Tributes have been paid to the late broadcaster on Twitter.
The sound of the final whistle. Nicholas Parsons was truly the kindest and most generous person I've ever worked with. His continued delight at being a part of show business should be an inspiration to us all! Huge love to his wife Annie and his whole family. #ripnicholasparsons

— graham norton (@grahnort) January 28, 2020
Oh no. Nicholas Parsons gone? He ruled Just a Minute for Just a Lifetime. A stunning achievement: never scripted, always immaculate. From comedian's sidekick to great institution, via Sale of the Century & much more. Unrivalled continuity, professionalism & commitment. Farewell x

— Stephen Fry (@stephenfry) January 28, 2020
Without hesitation, deviation or repetition I'd like to say that Nicholas Parsons was a broadcasting giant who proved that the straight man could be the real star of comedy. Will be hugely missed by all who work at & love @BBCRadio4 https://t.co/8r2hyMMXRY

— Nick Robinson (@bbcnickrobinson) January 28, 2020
RIP Nicholas Parsons, 96.
A wonderful man who brought so much fun, charm, wit & pleasure to so many millions of people over so many decades. What a life. pic.twitter.com/3ZoRKQDOqQ

— Piers Morgan (@piersmorgan) January 28, 2020
So sad to learn of the death of Nicholas Parsons, though at 96 it was a pretty impressive innings. I last saw him a year ago and he was in great form. A more friendly, generous, polite and solicitous person you could not hope to meet.

— Andrew Neil (@afneil) January 28, 2020
Heartbroken. I was thrilled to have been able to work with Nicholas Parsons on Good Omens. I sort of directed him, but the direction was basically "You're Nicholas Parsons so do that." Kind and professional and a pleasure to work with. So sad. https://t.co/gR5IFtnbak

— Neil Gaiman (@neilhimself) January 28, 2020
RIP Nicholas Parsons.I was 21 when we first worked together and I will never forget how welcoming he was to me and others like me.He was a born performer who lived to be on stage and never lost his love of being infront of a crowd. A true gent.He will be greatly missed.

— Ross Noble (@realrossnoble) January 28, 2020