Ahead of heartbreaking scenes in next week's Coronation Street, star Samia Longchambon has said her character Maria will tell Gary that he can leave her if he wants.
Maria will discover that she has suffered a miscarriage after contracting measles. Daniel's son Bertie is in hospital with measles and Maria was in contact with him before he was taken ill.
When asked by ITV if she thinks Maria's new relationship with Gary will continue following their loss, Longchambon replied: "She tells Gary he doesn't have to stay with her now. If the reason why they're living together - he's bought her the car - is all down to the fact they were having a baby together then they're not anymore and he can go if he wants.
"She's been through a lot, she feels anxious and this has brought it all to the surface. She did get pregnant quickly and she's giving Gary that option now by saying, 'If you don't want all this that's fine'. But Gary says he does want them to make a go of it and hopefully it will make them stronger."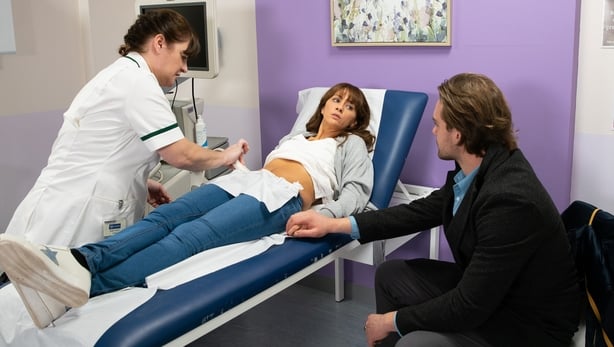 On the subject of Maria's feelings for Ali, Longchambon said: "I think she does still have feelings for Ali but she's pushed them deep down and is trying to make a go of her relationship with Gary and try and be true to him."
Longchambon said that missed measles vaccination is "definitely an issue that needs talking about".
"It's a problem that measles is on the rise again in this country and it shouldn't be," she continued.
"There are vaccinations there to stop it, but people are choosing not to vaccinate their children. Obviously, it is a personal decision, but it can have a snowball effect, so it is really important to show that."
If you have been affected by issues raised in this story, please visit: www.rte.ie/helplines.
Coronation Street airs on Virgin Media One and ITV on Mondays, Wednesdays and Fridays.