If you're going no further than the sofa - and even if you are - here are some tips from the tons of telly worth watching between Friday and Sunday...
Pick of the weekend
Dancing with the Stars, 6.30pm Sunday, RTÉ One
With the Oscars just around the corner, it's movie week on Dancing with the Stars as each of the celebrity dancers will hit the floor to a song featured in a film.
It's also the second week of eliminations and each celebrity will be eager to dance their way to next week's show, so they can do it all again.
New or Returning Shows
Top Gear, 8.00pm Sunday, BBC Two
There's much less fanfare about the return of this show compared to its heyday with Clarkson and co, but Paddy, Freddie and Chris are back for more motoring as they head on a British summer holiday in super-cheap second-hand convertibles.
Also, Chris tests the new Ariel Atom on track, and Freddie attempts to bungee-jump an old Rover off a dam.
Auschwitz Untold: in Colour, 9.00pm Sunday, More4
This promises to be a powerful and revelatory account of one of the most hideous crimes in human history, told from the perspectives of 16 extraordinary Holocaust survivors - from a Jewish artist to a Roma resistance fighter.
These inspiring stories of survival in a Nazi death camp and armed resistance in the World War II underground have been restored and colourised from black and white archive of the Holocaust.
From across Eastern Europe to the infamous gated entrance of Auschwitz-Birkenau, most of the 16 Holocaust survivors featured in this programme were children when World War Two began in 1939.
This first episode is told from a unique child's perspective, concerning the rise of fascism, the uprooting of families, and the long journey from centuries-old Jewish communities into Auschwitz - a hell on earth and blight on humanity.
Bob's Burgers, 10.00pm Friday, Comedy Central
This animated show about the Belcher family is back for a 10th season.
Bob's plan to surprise Linda for their anniversary gets tricky when the kids become involved.
Great American Railroad Journeys, 8.00pm Saturday, BBC Two
Michael Portillo returns to explore more of the US rail network, embarking on the first leg of a journey across Alaska.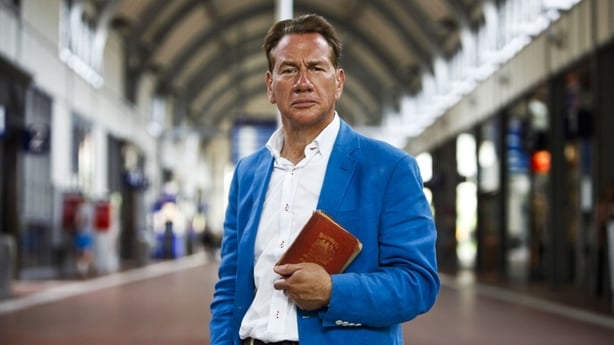 He begins his journey amid the snow-capped mountains of the Kenal Peninsula, where he discovers that 150 years ago, Alaska was a Russian colony.
Win the Wilderness: Alaska, 9.00pm Sunday, BBC Two
This new series follows six British couples as they compete for the ownership of an extraordinary home in the Alaskan wilderness.
Situated 100 miles from the nearest road, the three-storey property is the home and legacy of Duane and Rena Ose, the married couple who have spent over 30 years building it.
Stockholm Requiem, 11.00pm Sunday, Channel 4
The Walter Presents strand continues with this Swedish psychological crime thriller based on Kristina Ohlsson's best-selling novels.
After a tragic accident, unconventional and cunning criminologist Fredrika Bergman joins a special investigations team in Stockholm and is assigned to work closely with the celebrated leader of the unit, Alex Recht.
Alex and the other unit members are resistant to Fredrika's aloof and intellectual presence, but they need her help in tracing the main suspect in the case of an abduction of a little girl.
The Smiley Face Killers: The Hunt for Justice, 9.00pm Sunday, Sky Crime & NOW TV
This jaw-dropping docuseries follows a unique team of former NYPD investigators who have dedicated their lives to proving the country's most notorious string of mysterious, accidental drownings, aren't accidents at all.
Will they be able to prove that these deaths are actually homicides committed by one of the most prolific serial killers in US history?
New to Download
Escape Room, from Friday, Sky Cinema Premiere & NOW TV
Six strangers are given mysterious black boxes with tickets to an immersive escape room experience, with the promise of winning a life-changing amount of money.
But it soon becomes clear that while some doors may contains a way out, there's an equal chance they will lead to a grisly end.
The Ranch: The Final Season, from Friday, Netflix
This comedy series set on a ranch and starring Ashton Kutcher and Sam Elliott returns for its final season.
Chilling Adventures of Sabrina: Part 3, from Friday, Netflix
This re-imagining of the origin and adventures of Sabrina the Teenage Witch as a dark coming-of-age story returns.
Part Three finds Sabrina reeling from the harrowing events of Part Two. Though she defeated her father Lucifer, the Dark Lord remains trapped within the human prison of her beloved boyfriend, Nicholas Scratch.
A Sun, from Friday, Netflix
A family reckons with the aftermath of their younger son's incarceration and a greater misfortune that follows.
Ending this Weekend
The Trial of Christine Keeler, 9.00pm Sunday, BBC One
In this final episode of the drama based on the Profumo Affair, Christine (Sophie Cookson) is on tenterhooks as Stephen's (James Norton) life hangs in the balance while his sentence is decided.
Christine's lie about Lucky Gordon (Anthony Welsh) haunts her and she faces trial herself.
Later, at 11.00pm there's the documentary Keeler, Profumo, Ward and Me, where secret audio tapes reveal the true story behind the 1963 Profumo Affair.
Monty Don's American Gardens, 8.30pm Friday, BBC Two
Monty explores the scenery of the west coast of the United States, beginning in Arizona where he learns about cacti and marvels at the sight of them in the desert and in private gardens where they have replaced traditional plants and lawns.
Celebrity Coach Trip: the Finale, 7.30pm Friday, E4
It's the final day of the tour and one couple will be crowned winners of Celebrity Coach Trip. Arriving in Barcelona, the celebs seek some final glory as they play bubble football.
Wisting, 9.00pm Saturday, BBC Four
The Norwegian drama comes to a conclusion. With the investigator still breathing down his neck, William is determined to clear his name, while Line helps him to chase leads that his colleagues cannot follow up.
Don't Miss
Chicago Fire, 8.00pm Friday, Sky Witness & NOW TV
It's a special week for fans of the Chicago franchise, as a three-part crossover event takes place across all three shows on Sky Witness.
In the first part of the crossover storyline, a rare, deadly bacteria takes its toll on numerous victims around the city, leaving Chicago's finest first responders to work together alongside the CDC to resolve the dangerous situation.
Following a fire at a local university that ties into the outbreak, Severide has suspicions that something bigger is happening.
Chicago Med, 9.00pm Friday, Sky Witness & NOW TV
In the second part of the crossover event, an entire apartment complex is forced into quarantine when cases of the deadly virus turns into an epidemic.
PD chases a lead that could point to a case of bioterrorism and Will gets dangerously close to the suspect.
Chicago PD, 10.00pm Friday, Sky Witness & NOW TV
In the final part of the crossover, the PD have zeroed in on the suspect responsible for the bioterrorism that's gripping Chicago, and prepare to undertake their biggest manhunt yet.
Upton is torn between helping track down the perp and providing emotional support to the scared young girl that needs her. Voight fears his team is being sent on a wild goose chase.
Weekend movies
Lady Macbeth, 11.45pm Friday, BBC Two
Florence Pugh is superb in this quirky and hugely entertaining period drama as a young woman newly married to a rich industrialist in 19th-century England who finds herself starved of companionship.
When her husband is called away to one of his collieries, she begins a passionate and fiery affair with a young groom from the estate. This ultimately leads to a lot of mayhem.
Eighth Grade, 9.45pm Sunday, Sky Cinema Premiere & NOW TV
Comedian Bo Burnham writes and directs this critically-acclaimed coming-of-age story that's way above the usual coming-of-age movie.
Thirteen-year-old Kayla (a very impressive Elsie Fisher) endures the tidal wave of contemporary suburban adolescence as she makes her way through the last week of middle school – marking the end of her so far disastrous eighth grade year.
Captain America: Civil War, 9.15pm Sunday, RTÉ 2
The Avengers are divided over a system of government control for their actions, leading to war between the Marvel superheroes.
But before Iron Man's side clashes with Captain America's, Tony Stark recruits extra help in the form of a brilliant young crime fighter called Spider-Man.
Box Set Binge
Westworld, Sky Box Sets
Season three begins in March, so if you haven't seen this impressive reimagining of the book/film, now would be a good time to take a look at the first two seasons.
Evan Rachel Wood and Thandie Newton head an impressive cast in a sci-fi tale about a theme park where guests experience the American Old West in an environment populated by hosts, androids programmed to fulfill the guests' every desire.
The hosts, who are nearly indistinguishable from humans, follow a predefined set of intertwining narratives but have the ability to deviate from these narratives based on interactions they have with guests. That is, until they begin to revolt.
Click here for full TV listings