John Byrne travelled to Paris to see the latest Cirque du Soleil show Corteo ahead of its arrival at Dublin's 3Arena, and to meet with an Irish couple who are part of the show's massive backstage team . . .
It's a pretty miserable, wet afternoon in Paris. There's a major strike on involving public transport workers, so the French capital is a grim mix of gridlocked traffic and soaked pedestrians.
The wise folk are either staying indoors, or heading to The Accorhotels Arena in Ber Bercy, in the 12th arrondissement. It's the opening night of Cirque du Soleil show Corteo, Paris needs to get a smile back on its collective face, and this is where to get it.
It's an impressive venue, with a capacity of up to 20,000 and has been used for a variety of events, ranging from tennis, table tennis, handball, basketball, boxing, gymnastics, track cycling, show jumping, and more besides. It's got a piramidal shape, and its sloped walls are grassed. It looks nuts from the outside, and pretty awesome on the inside. It's like a larger version of the 3Arena.
The show itself is - even by Cirque's standards – visually stunning and quite a spectacle. Set Designer Jean Rabasse has divided the show's arena and its rotating stage in two, with each half of the audience facing the other half, so that they see the performance, but also have a performer's eye view of the audience.
Corteo, which means 'cortege' in Italian, is a joyous procession through life and through the circus, as imagined by a clown, who may (or may not) be on his death bed. It features various acts, including acrobats, gymnasts, trapeze artists, as well as a variety of circus-related characters.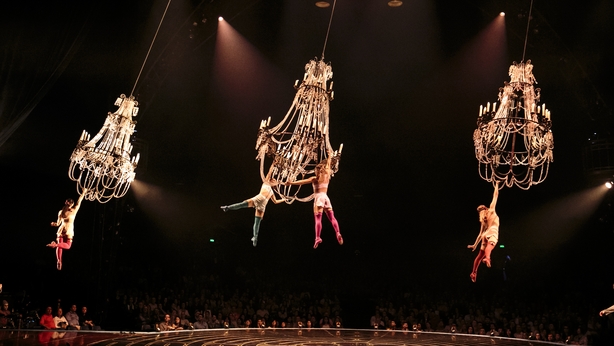 First premiered in Montreal in 2005, more than 8 million people have seen the show, which lands at Dublin's 3Arena from Wednesday July 8 for a limited run of seven performances. It's bloomin' massive show and operation, and the touring company is equivalent to a small town on wheels.
The cast is an international one, representing more than 18 nationalities. Performers are from Argentina, Armenia, Belarus, Belgium, Brazil, Canada, Finland, France, Hungary, Italy, Japan, Kazakhstan, Romania, Russia, United Kingdom, Ukraine, United States and Uzbekistan.
The crew has a similar global mix, but we get to meet two Irish people involved behind the scenes: Artistic Director Aoife Carry and Automation Technician Mark Carry. They're a married couple, with Aoife originally from Roscommon, while Mark's a Dubliner.
We met them backstage before the show, where various members of cast and crew come to relax, eat or chat throughout the course of a working day that begins early in the morning, and does end until well after the final curtain.
Aoife and Mark told us about their backgrounds and how they ended-up involved in something as big as Cirque De Soleil, and get to travel the globe with the show. The world really is their back yard . . .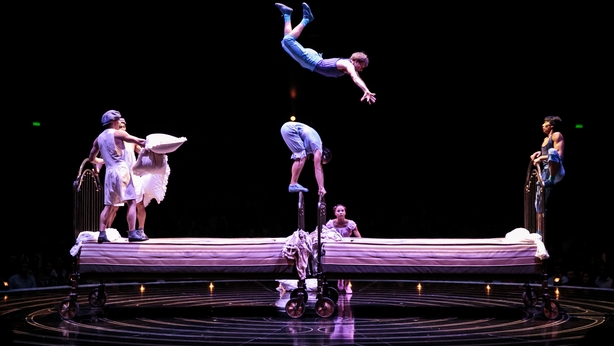 Can you tell us a bit about the production?
Aoife Yep. So Corteo is one of Cirque De Soleil's biggest arena shows. We have different shows in different formats like some in tents. This is in an arena.
The Show was created by Daniele Finzi Pasca, who is here at the moment [overseeing the show and adding a few tweaks]. So we're very excited.
Corteo is the story of celebration of a clown's life. It was originally created for the big top, so for a tent show in 2005, and then it ran for nine years. And then they decided to recreate it as an arena show. So there's a lot of the same elements.
But you'll see from the set outside, it's really big. It's one of the biggest shows that we have out on the road, but not much has changed from the original concept. And it's still the same story; still the same aesthetic. But you get to see it in an arena. So that's what you'll get in Dublin.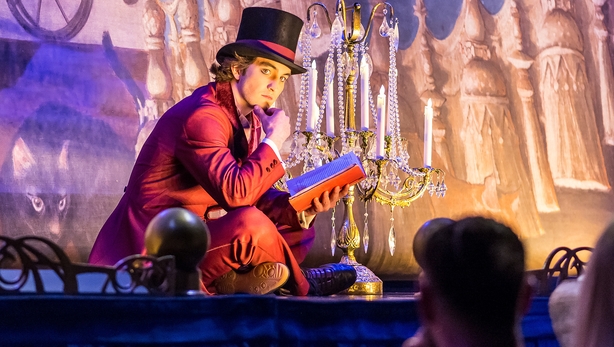 And how long have you been with this show, then? Is it since it moved to the arenas or earlier?
Aoife I joined about a year after it was started in arenas. So I've been here for about a year. So it's only been on the road in arena for two years.
Previously, were you working for Cirque?
Aoife No, I was working for a different circus. We were both actually working for a different circus company in China. How did we end up doing this Mark?
Mark Well, I left Ireland back in at the end of My Leaving Cert in 2002, and I accidentally ended up in the Citizens Theatre in Glasgow. Well, I never, I didn't even know about theatre. I wanted to work in audio.
I applied to all the recording studios but couldn't get a gig.
And then someone told me they [the Citizen's Theatre] were looking for production assistant. I did six weeks and, at the end, they offered me a job. Then I went to college because I didn't know what I was doing. I was terrible at the job but I loved what I was doing. So I went to college, and then that's where I met Aoife.
It was the Academy and Music and Drama. It's now the Royal Conservatory of Scotland. Yeah. So I was on the technical course, Eva was an actress studying acting at the same time. That's where we met. And then we ended up going back to Ireland, and I worked in the Abbey and The Gate. And then we left and went to China.
Aoife No, you left and went to China!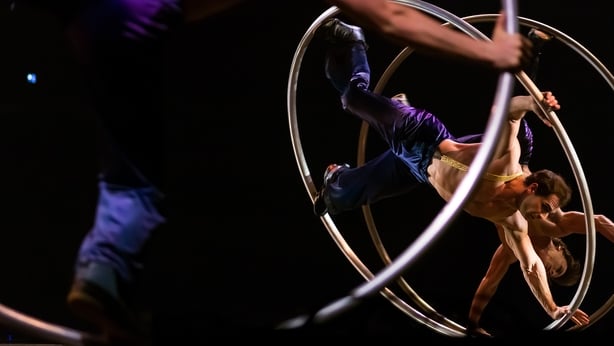 Mark Yeah, I got a job on a show in China called The House of Dancing Water. It's actually one of Cirque's original, artistic, or creative directors from the Vegas shows, went and made one in China. [Italian theatre director] Franco Dragone and I went to work on one of his shows out there. And then Aoife came to work on them two.
Aoife Yeah, he thought he could escape . . .
So, he went over, and I went over to visit him just after you started, and I was like, 'Nope, never moving here. Thanks very much.' It was like you can have this adventure for a year and then come home. At the end of the year, it was like, 'Well, actually, let's give it a go!' So I moved over. We have two kids. So I moved over with the kids.
Mark 2014 you were doing your masters in Glasgow at the time for the year. So then at the end of the Masters Aoife came out to work, and within a month had a job on the show.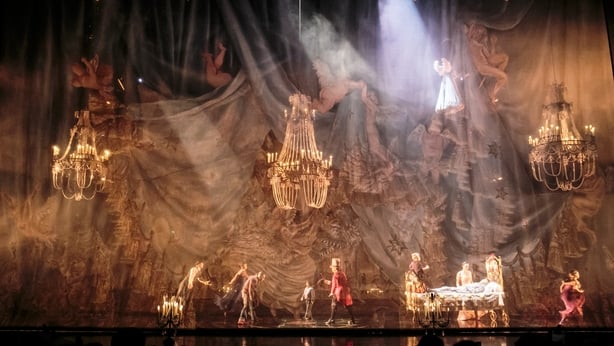 So what was the experience like working in China? The cultural differences must have been considerable?
Both Different!
Mark It was amazing. It was definitely the best thing. The best decision I think we could have made the time because Ireland was in the depths of recession. I had very good jobs in Ireland, I was very lucky, but it was really hard like for everybody.
It was hard to make ends meet. So we decided we had a chance let's go see how the other half live and that turned out to be pretty, pretty interesting. So that was a really good experience. It gave us a lot of experience with bigger shows, and opened doors to places like Cirque de Soliel and Corteo. Yeah, that was great.
Corteo opens at Dublin's 3Arena on Wednesday July 8 for a limited run of seven performances. Tickets are on sale now.