Armando Iannucci's Avenue 5 arrives, Easy Ways to Live Well aims to do just that, and Pat Kenny is referee as Varadker and Martin face off in the first leaders' debate . . .
Pick of the Day
Avenue 5, 10.00pm, Sky One & NOW TV
With Veep gone, here's the ideal replacement and yet another creative feather in the cap of that show's creator Armando Iannucci, who also has the superb The Personal History of David Copperfield in cinemas this weekend.
It's a space tourism comedy set 40 years into the future when a trip throughout the solar system is on everyone's bucket list.
Hugh Laurie stars as Captain of the luxury space cruise liner Avenue 5, Ryan Clark. On board you can expect a first class experience, with gourmet buffets, a spa, yoga classes and an observation deck to watch the planets and stars as you fly past.
As the series begins, Avenue 5's eight-week journey around Saturn is underway and everything seems optimal. But when the ship suddenly encounters technical difficulties, it's up to Ryan and his crew to calm the disgruntled passengers and deal with the unexpected events on board.
New or Returning Shows
Easy Ways to Live Well, 8.00pm, BBC One
In this new series, Hugh Fearnley-Whittingstall and Steph McGovern reveal some of the easy fixes that can help to dramatically improve people's diet, fitness and mental wellbeing.
First up, they challenge a GP surgery to test out solutions for their compulsive snacking. They also tackle their own health concerns.
Spy in the Wild, 9.00pm, BBC One
Narrated by David Tennant - who pops up later on Good Omens – this is the second season of the nature programme where camouflaged cameras go undercover in the animal world. It's a joy to watch.
For the first time, cameras follow a family of gorillas, with Spy Grub and Spy Fruit testing their intelligence. Elsewhere in Brazil, Spy Jaguar Cub explores a beautiful gathering of water birds, capybara and caiman, and joins Spy Caiman to film a feeding frenzy.
New to Download
Everybody Knows, Sky Cinema Premiere & NOW TV
Penélope Cruz, Javier Bardem and Ricardo Darín star in director Asghar Farhadi Spanish language drama.
Laura (Cruz) is on her way from Argentina with her two kids to her small home town in Spain for her sister's wedding. But the reunion and festivities are shattered when the eldest daughter is abducted.
In the tense days that follow, various family and community tensions surface and deeply hidden secrets are revealed.
Pandemic: How to Prevent an Outbreak, Netflix
This series follows the annual cycle of the influenza virus, showing how the public is generally unprepared for the chaos that an outbreak of the common flu can create.
Ending Tonight
Meat the Family, 9.00pm, Channel 4
This show's been a bit hit and miss – particularly for the animals involved – as carnivorous clans have to decide whether to give up meat or send a farm animal in their care to the abattoir.
In this finale, the lambs have become much-loved family members, but Pam and Lou feel committed to remaining as meat eaters.
Meanwhile, another family meet two male dairy calves that will make them question their eating habits. Will the family's two existing vegetarians, Nicky and Manon, convince the others to let the calves live?
Don't Miss
Good Omens, 9.00pm, BBC Two
It took me a while to get into last week's opening episode of Neil Gaiman's quirky fantasy series – but once I did, it proved totally engrossing.
Based on Gaiman's book with Terry Pratchett, this second episode sees Aziraphale and Crowley realise that they've been following the wrong boy for years, so they must now try to locate the real Antichrist.
The pair head back to Tadfield, to the old convent and site of the baby-swap, only to discover it no longer exists. As they head back, they cross paths with Anathema, and soon discover that she has lost Agnes Nutter's book.
The Big Debate: Varadkar v Martin, 9.30pm, Virgin Media One
Pat Kenny moderates an election debate between Taoiseach Leo Varadkar and Fianna Fail leader Micheal Martin.
Before that at 9.00pm there's The Tonight Show: Debate Special, as Matt Cooper and Ivan Yates give their take on the day's stories, and take a look ahead to the debate.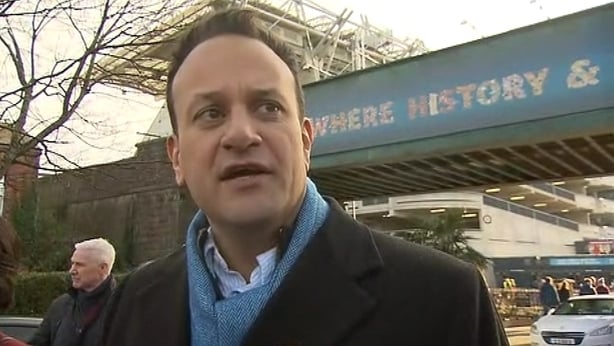 Click here for full TV listings