Love Island star Yewande Biala has become the first celebrity to be eliminated from this series of RTÉ One's Dancing with the Stars.
In episode three of the fourth season of the hit dancing show, the Irish TV star performed a Viennese waltz with her partner Stephen Vincent to Lover by Taylor Swift. It was met with harsh criticism from judge Brian Redmond who said it was "clumpy, lumpy and bumpy".
After scoring 12 points from the judges, which was combined with the viewers' votes, Yewande was sent home from the competition.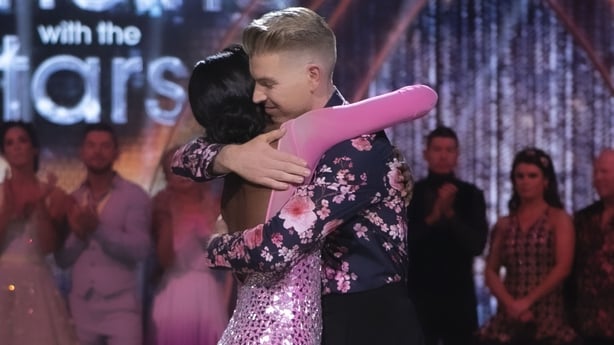 Speaking about her time in the show, she said: "I did have fun, I had an amazing partner and it was an interesting experience."
Take a look at our picture gallery from week three of Dancing with the Stars.
This was the first week that all eleven celebrities took to the floor to perform their individual dances in a jam packed and highly competitive show.
A strong and boppy start to the show
First to take to the dancefloor this week was model Gráinne Gallanagh who danced a boppy, high energy and fun jive jive to Dear Future Husband by Meghan Trainor with her partner Kai Widdrington.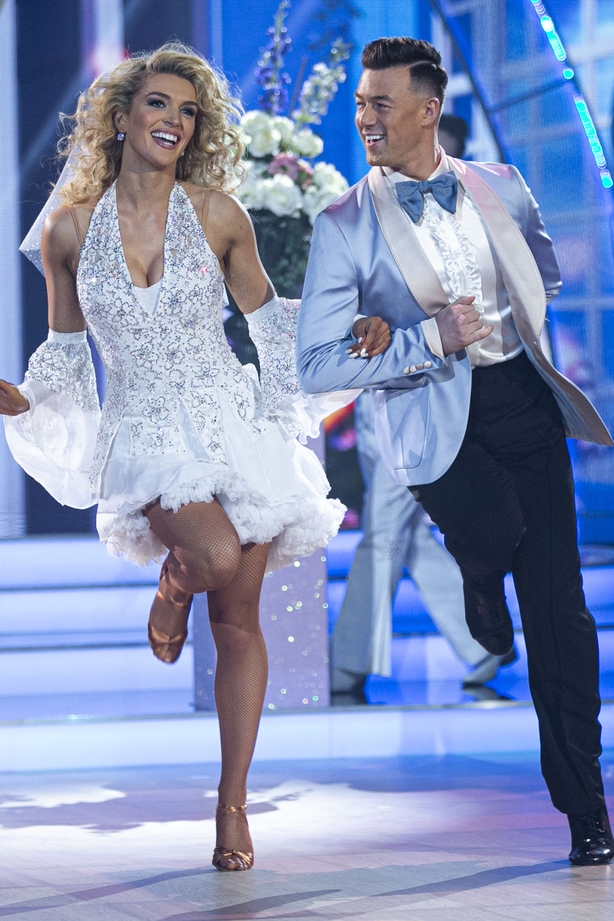 Loraine commented: "This is the type of jive that thrills me because it's based on partnering skills. Kicks and flicks very good, a groovy start."
Julian joked: "What happens in Vegas stays in Vegas!", before continuing:
"That was a great jive and a great start to the show. Great characterisation."
Brian criticised "small timing issues and postural issues" but added that it was "overall a great party feel."
They scored a total of 20 points.
A smooth and controlled foxtrot sets the tone
Former Kilkenny hurler Aidan Fogarty took to the dancefloor for a foxtrot with his partner Emily Barker to the Oasis track Half the World Away.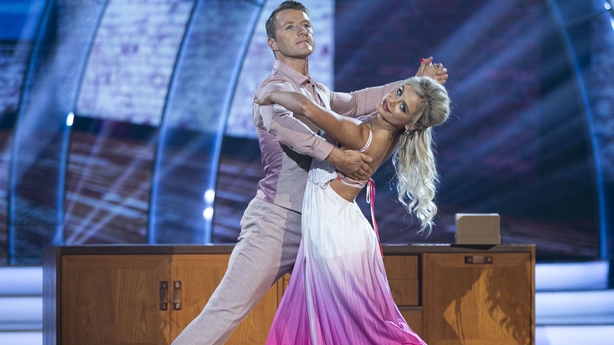 Julian enthused: "This was a leading man's foxtrot. It was smooth, sophisticated, controlled. It was sublime. A dance match made in heaven."
Brian said: "I think towards the start – the left arm was flat. It got better as it went through". However he added that he was "really impressed, the way you used your legs was phenomenal.
"This is probably one of the best foxtrots from any male celebrity on the show."
Loraine asked Aidan: "Reassure me you have never danced before?"
She continued: "I'm so impressed. It was superb. There were many footfalls but the positives outweigh the negatives."
They scored a total of 23 points.
A shimmying and entertaining samba
Former boxer Michael Carruth was next up as he performed a samba to It's Not Unusual by Tom Jones with Karen Byrne.
Brian commented after the dance: "The arms need more extension, the legs didn't quite work for me."
Loraine said: "Karen I salute you, that is a great samba routine. Sadly Michael you didn't quite complete the steps."
Julian added: "I thought this was a good concept, great choreography. Pockets of samba moments, I just wanted to see you commit a little bit more to the routine.
"But you entertained us, it was fun and enjoyable."
They scored a total of 11 points.
A Loverly and ladylike Viennese waltz
Former Love Island contestant Yewande Biala was up next on the dancefloor as she performed a Viennese waltz with Stephen Vincent to Lover by Taylor Swift.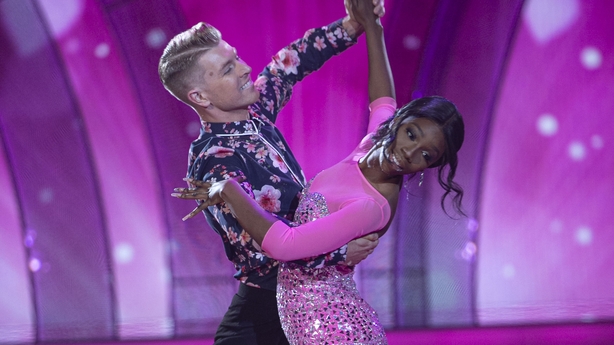 Yewanda said she needed to have "more confidence" on the dancefloor and she brought it in spades, although it wasn't enough to put her through to week four of the competition.
Loraine complimented her "very good arm actions" but added, "it's a difficult dance and it needed a better position."
Julian continued: "That for me was a really ladylike Viennese waltz. A little bit of advice – in this routine I look for the frame, the flow of the routine and the magnificent feet.
"Let's work on those moving forward because you've got the magic ingredients."
Brian criticised the dance for being "clumpy lumpy and bumpy" and said they were "out of sync with one another."
They scored a total of 12 points.
Passionate paso doble brings the house down
B*Witched singer Sinéad O'Carroll, who was joint top of the leaderboard, took to the dance floor with Ryan McShane for a Paso Doble to El Gato Montes by Arielle Dombasle.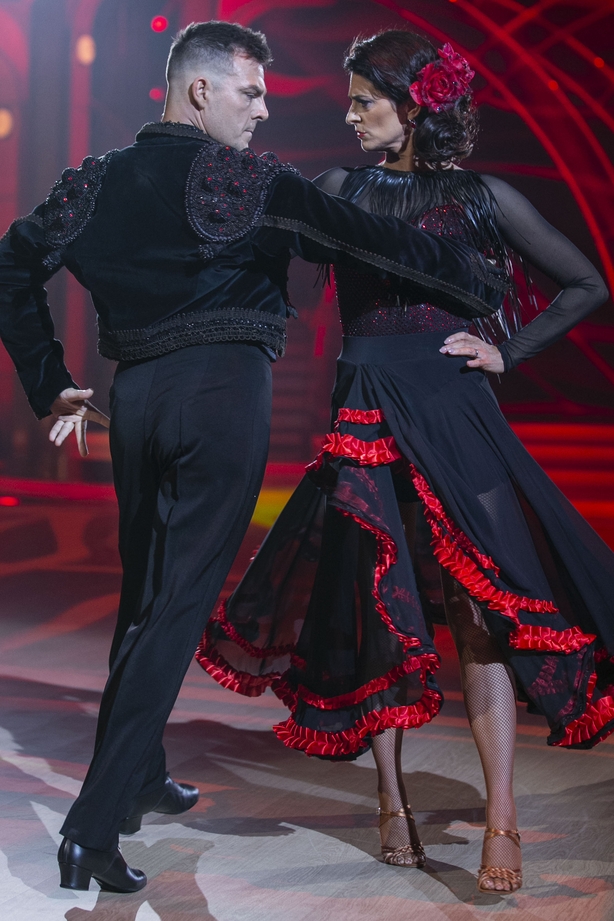 Julian jumped to his feet after their performance and said: "Listen I felt like I was at the bull fight! It was fabulous. I loved the great shaping, no frills, no fuss, just great dancing on the floor."
Brian had singularly high praise, saying: "For a ballroom purist like me that was practically perfect paso."
Loraine concluded: "I just want to go with Julian and Brian, that was a tremendous paso doble. It was that lovely postural circle. A little tip, be more deliberate, but a fantastic ending."
They scored a total of 24 points.
Moody and elegant waltz
TV Presenter Glenda Gilson performed a dark waltz to I Never Loved a Man by The Commitments with her partner Robert Rowinski.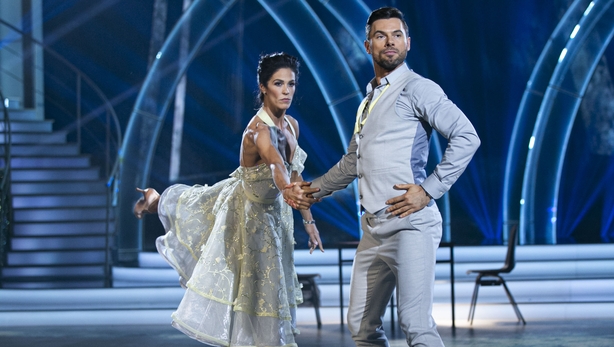 Brian commented: "The head position was quite low, it reminded me of someone who dropped a fiver and is looking for it", but said she "combined a moody character with a lovely waltz feel."
Loraine said: "First of all you look stunning and you played the hard done wife very well", but added that she needs to work on her head position.
Julian concluded: "I really enjoyed it. What I'd like to see moving forward, watch your free arm and your leg extensions. But for a waltz for your first time, well done."
They scored a total of 15 points.
Born showman takes on the cha cha
Fr. Ray Kelly was up next as he danced a cha cha cha with Kylee Vincent to Save the Last Dance for Me by Michael Buble.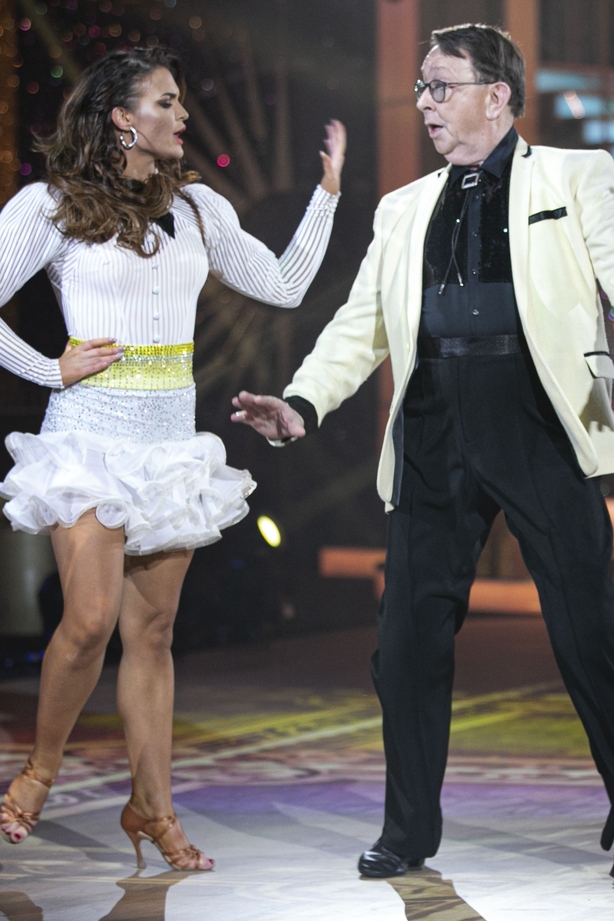 Loraine said: "You have a dance card but I don't think I'll be putting my name on it. You didn't do any of the steps. But you can move your hips, that's the only thing I saw!"
Julian continued the feedback: "Father I don't know what to say! It was fun, it was entertaining, you put your personality on the dancefloor.
"I love you dearly but I just need you to knuckle down a little bit more. I hope this isn't the last dance because I think you have lots more to give."
Brian concluded rather harshly: "Viewers of the show know that I'm not a big fan of the faffing about.
"Father you're killing me here, I'm looking for something positive but all I can say is at least it looked like you enjoyed yourself out there."
They scored a measly total of 6 points from the judges, earning boos from the audience.
Ryan embraced his bad boy side
Next to dance was Ryan Andrews who performed an energetic and dark tango with Giulia Dotta to Billie Eilish's Bad Guy.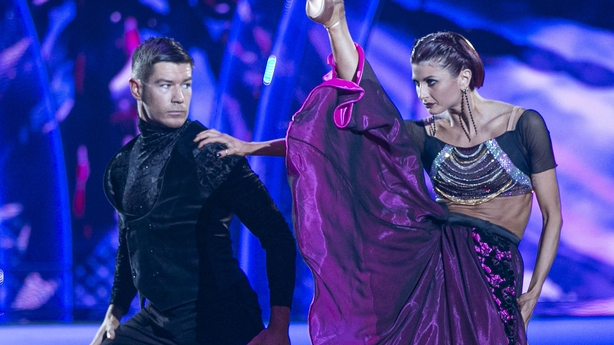 Ryan was worried about performing the tango as it is "very serious", saying: "I'm kind of struggling with that one." He managed to keep the smile off his face for this moody and well executed performance.
Following the dance, which got a standing ovation from the audience, Julian said: "That was dark, intense, dramatic, we saw that bad boy we were looking for.
"The characterisation was on point, what magic. Wow, you were just on fire tonight."
Brian said: "I loved this, what an impactful opening. You started the competition tonight."
Loraine added: "This was intense, the music was dark, you both got into character. Excellent tango."
They scored a total of 23 points.
A fierce and fiery performance from Lottie
Radio presenter Lottie Ryan performed a fierce contemporary ballroom dance with her pro partner Pasquale La Rocca.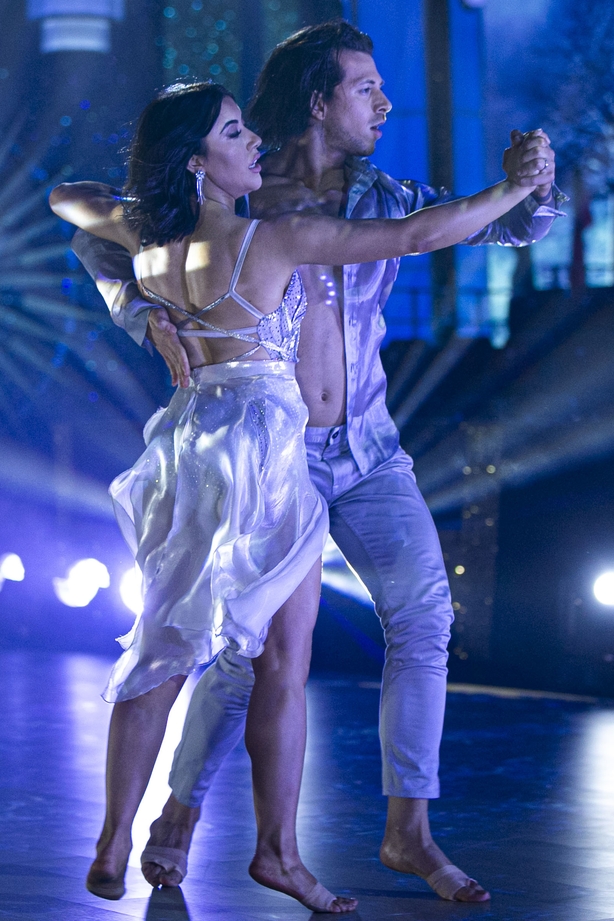 Brian said: "Guys that was a top class performance for me. I maybe would have liked to have seen a bit more ballroom content, but it was fantastic."
Loraine said: "This was a gripping performance. For me you were consumed into the role playing, it was fierce, it was fiery. Lottie I'm captivated by you, you're so committed."
Julian added: "This was near perfection for me, honestly. The perfect marriage between contemporary and ballroom dance. The energy, the commitment to the dance was phenomenal. Your face was on fire.
"Lottie Ryan you are dynamite girl."
They scored a total of 26 points.
An impressive salsa from Mary
Television presenter Mary Kennedy and partner John Nolan danced a salsa to Ran Kan Kan by Luis Lema.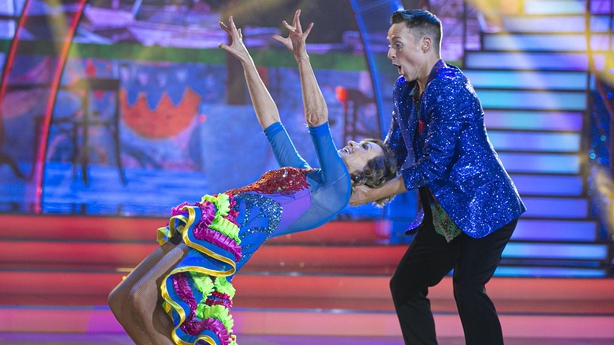 She had the audience behind her who were chanting her name after taking to the dancefloor.
Loraine commented: "You're not just entertaining us and surprising us, I think you're shocking yourself. It was a great salsa. You put a bit of chic into it tonight."
Julian enthused: "You are my sexy senorita. It was great it was energetic, and the lifts, wow.
"You were fantastic. You can see in your face that you enjoyed it."
Brian added: "For me this wasn't better than last week, it was vastly better than last week. Posture much better, lifts were great, a big step forward, well done."
They scored a total of 16 points.
Brian makes the American Smooth great again
Finally, it was Brian Dowling and partner Laura Nolan's turn. They showcased a 60's style American Smooth to Dance Monkey by Tones & I.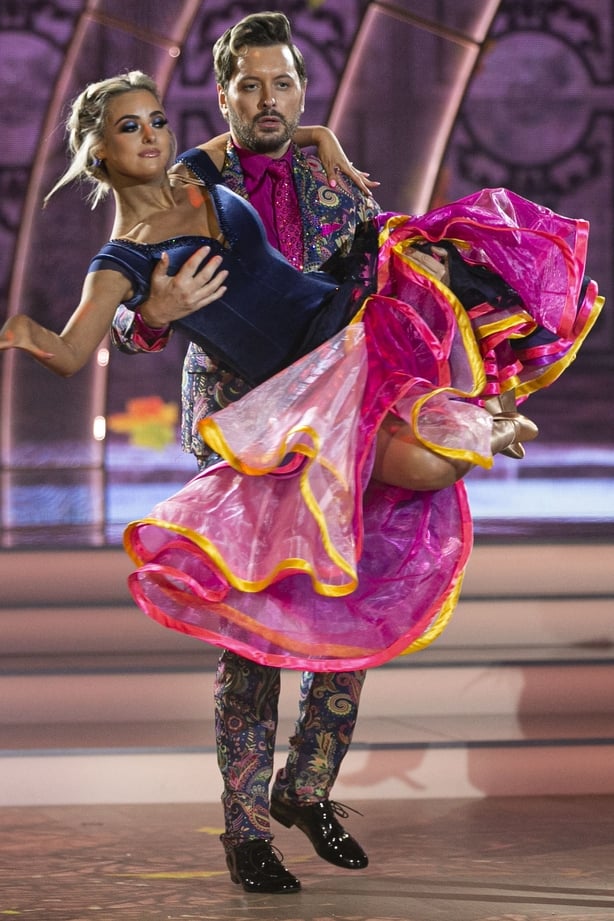 Brian promised to make the American smooth "great again" and he didn't disappoint.
Julian said it was: "A picture perfect opening. On the floor, I loved the fact that you fused different dance styles into it.
"You sold it and you had fun so well done."
Brian said: "I loved this concept. I think that was a really interesting take on the American smooth."
Loraine concluded: "You definitely had me in this, I'm very impressed with your foxtrot, the shape the fluidity across the floor. Super good."
They scored a total of 20 points.
Dancing with the Stars continues on RTÉ One on Sunday at 6.30pm with Movie Week.
Catch up with the show on the RTÉ Player.