Ben Mendelsohn and Jason Bateman star in The Outside, Stephen Graham's in The White House Farm Murders, and Murdoch Mysteries returns for a 13th season . . .
Pick of the Day
The Outsider, 9.00pm, Sky Atlantic & NOW TV
Based on Stephen King's bestselling novel, Ben Mendelsohn and Jason Bateman star in what promises to be a gripping mystery following a seemingly straightforward case of the murder of a young boy.
Detective Ralph Anderson (Mendelsohn ) investigates the murder with all signs pointing to a popular high school teacher (Bateman) as the culprit.
But Ralph is mystified by the suspect's iron-clad alibi and his investigation is thrown into a tailspin, so an unconventional private eye is brought into the case. Meanwhile an insidious supernatural force makes its presence known.
New or Returning Shows
Murdoch Mysteries, 9.00pm, Alibi
The Canadian detective drama television series set in Toronto in the 1890s returns for a 13th season.
Renowned Dr Katherine Talbot is set to speak at a gathering of the League of Women Voters when a bomb explodes injuring fellow women's suffrage advocate Clara Martin and killing a mysterious man.
Meanwhile, the professional tension between Murdoch and coroner Violet Hart is exacerbated by what he deems a slow investigation.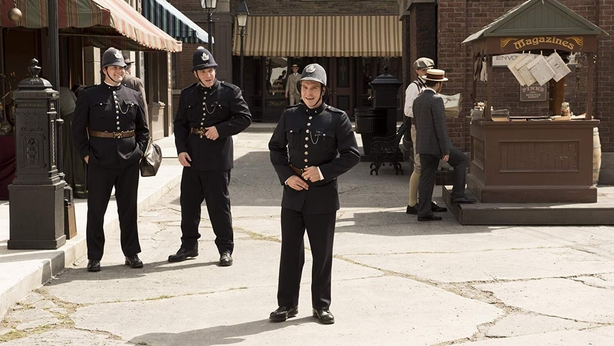 Catching a Killer: a Diary from the Grave, 9.00pm, Channel 4
When elderly teacher Peter Farquhar was found dead at home in the village of Maids Moreton in 2015, no one thought it suspicious.
But 18 months later, when his neighbour Ann Moore-Martin also fell ill and died, the police decided to look again.
They found that Ben Field, a would-be vicar and academic, had recently become part of both of their lives and benefited from their wills.
John Williams by Anne-Sophie Mutter: Across the Stars, 10.00pm, Sky Arts
The violinist performs music from the composer's classic film scores, including extracts from the soundtracks to the Harry Potter and Star Wars franchises and Schindler's List.
New to Download
Talking it Out, RTÉ Player
Looking for a laugh? Here's a pretty animated place to start.
Talking it Out is a new, weekly topical comedy panel show set in a radio studio, and starring Dave Coffey and Kevin McGahern.
Don't Miss
The White House Farm Murders, 10.00pm, Virgin Media One
Stephen Graham stars in this six-part drama based on the true story of the mass murder of a family in an Essex farmhouse in August 1985, promising a fresh insight into these tragic events.
Nevill and June Bamber were shot and killed inside their farmhouse, along with their adoptive daughter, Sheila Caffell, and Sheila's six-year-old twin sons, Daniel and Nicholas Caffell.
Police receive a call from the only surviving member of June and Nevill's immediate family, their adoptive son Jeremy. At first, it appears to be an open-and-shut case to investigating officer DCI Thomas 'Taff' Jones, but for DS Stan Jones, something doesn't feel right.
Click here for full TV listings