The fourth run of Dancing with the Stars kicked off on Sunday night with a glittertastic opening number which got the proceedings off to an energetic start.
The ballroom show got rolling with a fabulous homage to dance through the decades, from the roaring twenties to Gangham Style.
Jennifer Zamparelli and Nicky Byrne looked as stylish as ever as they reprised their roles as hosts of the show, along with returning judges Loraine Barry, Brian Redmond and Julian Benson, who made the entrance of all entrances in a bedazzled jacket and cape.
Julian Benson knows how to make an entrance! The jacket/cape combo is inspired ?????? #DWTSIRL pic.twitter.com/Trv04yDbiy

— Entertainment on RTÉ (@RTE_Ents) January 5, 2020
Zamparelli revealed this year's celebrities were all "terrified" and admitted she was "starstruck" seeing one of this year's hopefuls, TV presenter Mary Kennedy.
As is customary, week one sees the boys showing off their new moves, while it will be the girls turn next week. Nobody will be eliminated until week three.
Let the dancing commence!
Aidan Fogarty and Emily Barker get the show off to a high octane start
Kilkenny hurler Aidan Fogarty and his partner Emily Barker kicked off proceedings with a spectacular jive to Tiger Feet by New Hope Club. In the introductory video, Emily revealed she had her eye on the glitterball trophy, and it was clear she put Aidan to the test with a fast and full-on dance.
He said he hasn't "trained as hard as this in ten years" and admitted he's already half a stone down from his dance training. Their routine was met with excellent praise from the judging panel.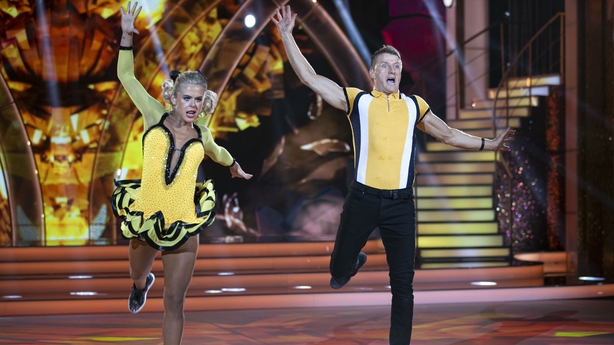 Loraine said: "Wow where do I start! You don't need your hurley anymore. It was a full on jive." She did says he was "too flat footed at times" but said it was "a sensational start".
Julian enthused: "What a jumping jivelicious opening! You have dancing feet.
"You can see that you're an athlete, you're in it to win it. Emily threw the kitchen sink at you and you attacked it and gave it your everything. I know I can see that the passion and drive is in it. I think you're one to watch."
Brian criticised Aidan's "flappy feet" which he said were "a little bit turned in". However, he said with Aidan's "power and the energy and the volume of content, I think you're a cat that could be roaring for a few weeks yet."
They scored a total of 18.
Michael Carruth and Karen Byrne don't deliver a knock out punch
Olympic boxing gold medalist Michael Carruth and his partner Karen Byrne were up next with an American Smooth to I'm Shipping Up To Boston by Dropkick Murphys.
Michael said the dance training had well and truly "taken him out of his comfort zone" while Karen, a previous winner of Dancing With the Stars with partner Jake Carter, said she longed to lift the glitterball trophy again.
Karen said the main obstacle she faced was improving Michael's posture, and the judges thought he didn't do too badly.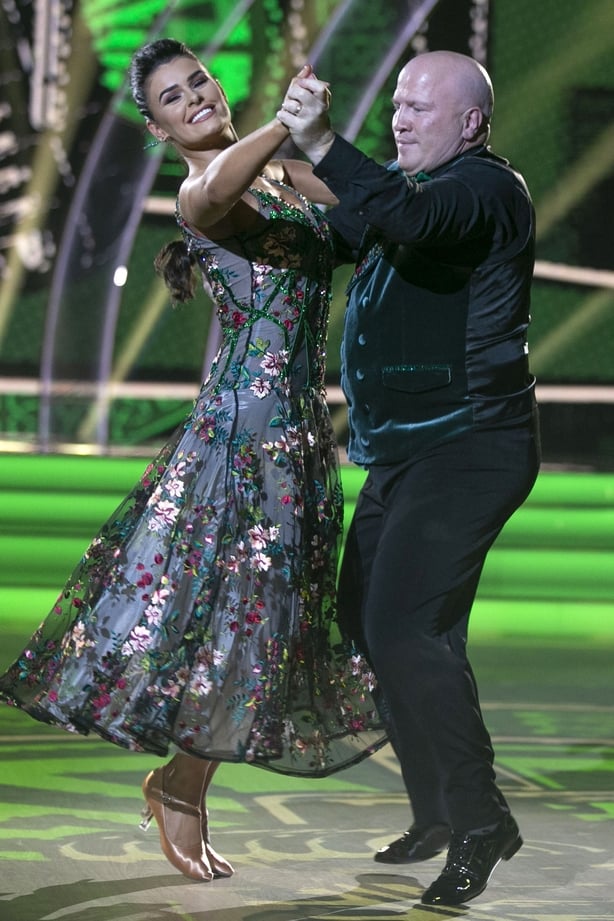 Julian said: "I thought I was watching Michael Flatley in Lord of the Dance.
"This was a new interpretation of the American Smooth. The lift was very well executed. Watch the core, a little bit more agility across the floor, I know you have it in you."
Brian continued: "There was too much jigging around. There is one slight endearing thing about it, you were worried about your posture and your frame, it was not quite as bad as you thought it would be."
Loraine added: "We needed to have it a bit clearer, the foot patterns. You gotta knuckle down and learn the routine and get it going."
They scored a total of 12.
Ryan Andrews proves he's one to watch with partner Giulia Gotta
Next up was Fair City star Ryan Andrews, who plays Sean Cassidy in the soap, and Guilia Gotta who served up a Cha Cha Cha to If I Can't Have You.

Guilia warned Ryan that the Cha Cha is "very fast very technical and full of energy" which left poor Ryan sweating before he had even started. He admitted it was "extremely challenging" but said "we'll get there with a bit of luck."
Ryan didn't need any luck as he clearly put tonnes of hard work into this slickly choreographed performance.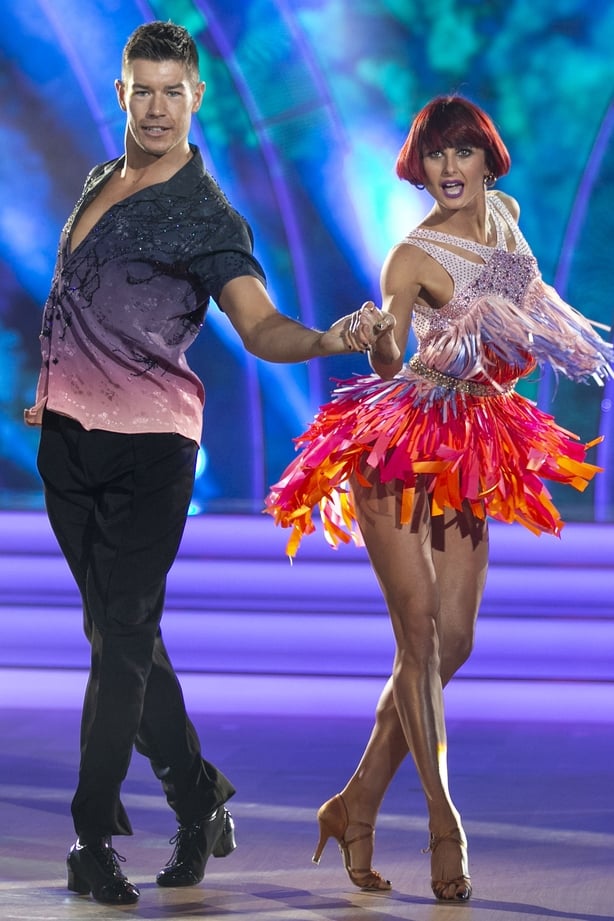 Brian commented: "I thought the hips were a bit blocked. At times the arms switched off. But the one thing that I would say, the way you used your feet was phenomenal. This is a good start and bodes very well for the future."
Loraine had high praise: "I loved it, I really did. Sometimes a little bit choppy, but the timing was there. A marvelous start."
Julian was full of approval: "Cha cha boom baby! Can I just say, it was a cool, contemporary cha cha.
"Very well executed, also the chemistry between you two was bouncing. You have the most amazing feet, and you have great footwork. It's only going to get better. I'm very excited about you because you have huge potential."
They scored a total of 21, putting them top of the leaderboard.
The ladies show what they're made of with their first group dance
Taking a break from the competitive element of the show, the female celebrities got a chance to show what they're made of when they took to the floor for an impressive and colourful group dance to California Gurls by Katy Perry.
They may not be competing until next week, but it was great to see them bust a few moves.
Wow! Well done to the @DWTSIRL ladies on their first group dance. Fierce!#DWTSIRL pic.twitter.com/pNY0F9Xgka

— Entertainment on RTÉ (@RTE_Ents) January 5, 2020
Fr Ray Kelly and partner Kylee Vincent give it socks
Viral singing star Fr Ray Kelly and his partner Kylee Vincent were next to show off their dancing skills with a Foxtrot to A Spirit in the Sky. New professional dancer Kylee said the Foxtrot is "quite a hard dance to learn" and that it's "important to nail the frame".
Ray said he has "a lot to learn" but was full of enthusiasm for the task.

It's clear he's out to entertain.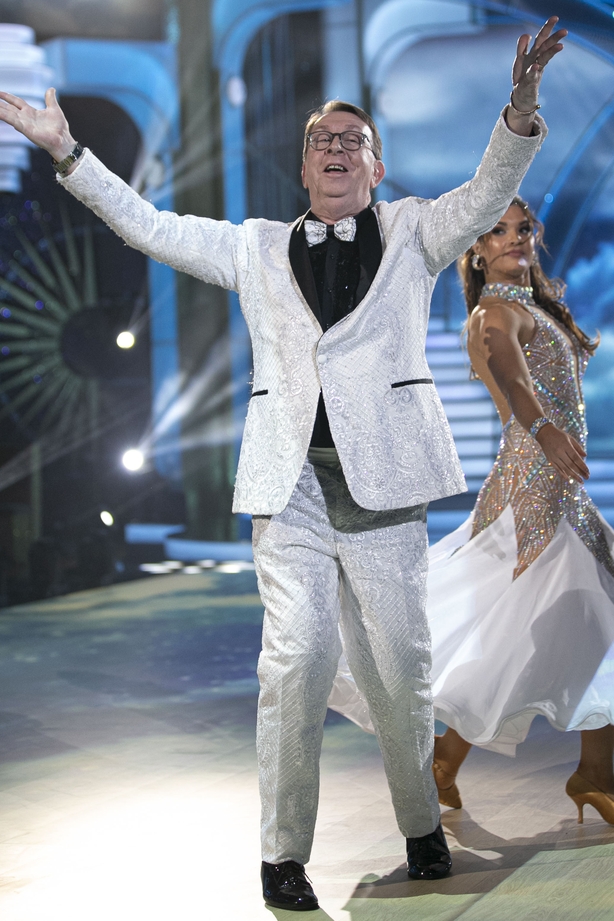 Loraine said: "Father I think you're going to have to forgive me when I sat this, it was a trot, not a fox trot, because you did a lot on the toes, but you did your very best and you've worked very hard. Just keep working hard."
Julian was more positive, saying: "Never mind the spirit in the sky, after that performance you are my ray of sunshine.
"I'm not going to focus on the negatives, you have lovely agility on the floor and you danced from the heart. You enjoyed every minute on the floor. I know you can go a long way. Well done."
Brian was more cutting in his feedback: "They say the Lord works in mysterious ways and that dance was a bit of a mystery to me, and it looked like a mystery to you too. The basic requirement is that people get most of the steps right, and in the second half of the performance you got most of them wrong. It can only get better."
They scored a measly total of 8.
Brian Dowling dials up the sass with partner Laura Nolan
Television presenter Brian Dowling and his partner Laura Nolan were the last couple to dance on the night, and boy did they pick a good tune in Juice by Lizzo.
Brian promised to "give it 150%" and he didn't disappoint. Laura chose a Salsa for his dance floor debut as it "really suits Brian's personality".
The TV star quipped during rehearsal: "It's hard work, I've not lost any weight yet and I've been here for 8 hours."
Lauren advised him he has to be "more sassy" and he took it to heart.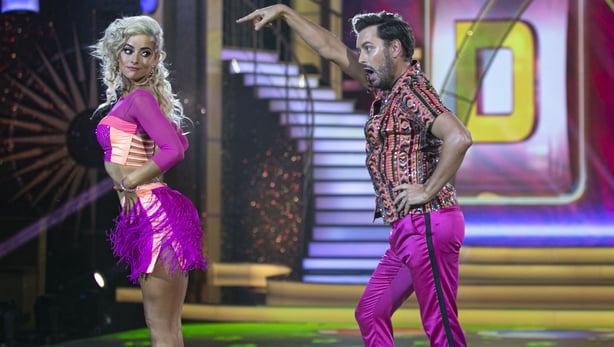 Julian enthused of his effort: "Girl that was one sassy salsa. You were giving it loads, we got lots of arms, lots of movement. You're a born entertainer. A bit more hip action and soften it up, I want you to feel it. You've got potential, keep it going. Practice makes perfect!"

Brian commented: "You know the words to that song! You were good at that kind of thing with the posing. To get a bit more drive from the feet and legs, we want to use the feet to get more of those body actions, but overall, not a bad start."

Loraine added: "You've got it, but you've got to let it go into the body, it's got to come out in the feet and the legs.
"But there is something special about you, I think we're going to see it in the next few weeks."
They scored a total of 16.
The reigning champs show the contestants what it takes to lift the trophy
Viewers also got another chance to see the reigning champs Mairéad Ronan and John Nolam who performed their beautiful Vienesse Waltz to You Are The Reason by Calum Scott and Leona Lewis from last year's semi-final.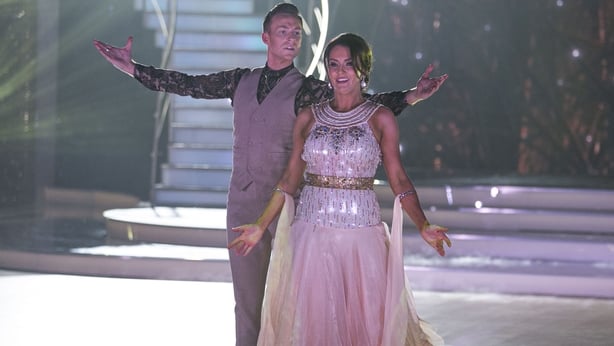 The night ended on a high as the pro-dancers took to trampolines to perform a Charleston to The Bounce. A definite highlight from the show. How do they make it look so easy?!
Next week it will be the girls time to shine. They'll have tough acts to follow after tonight's performances, but we're sure they're up to the task!
Dancing with the Stars continues on Sunday at 6.30pm on RTÉ One.
Catch up with the show on the RTÉ Player.