French actress Claudine Auger, best known for starring alongside Sean Connery in the 1965 James Bond film Thunderball, has died aged 78.
Her agent announced on Thursday that she passed away in Paris, according to AFP.
The actress became the first French Bond girl when she appeared as Domino in Thunderball, the fourth in the Bond franchise.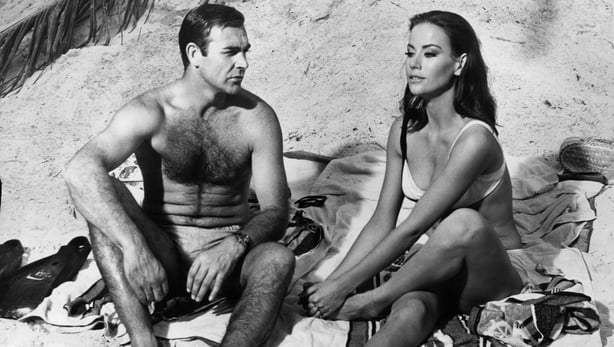 Born in Paris in 1941, she began her career as a model before representing France and becoming runner-up in the 1958 Miss World competition.
She became known internationally after being cast as Domino in the Bond franchise.
The film's trailer introduced her character as: "Young. Beautiful. Trapped. Could be dangerous".
After the 1960s, Auger continued her acting career in French film and television. 
Tributes to the late actress have poured in on Twitter.
Farewell Claudine Auger, the most beautiful Bond girl of all. You haunted my dreams as Domino in 'Thunderball' @007 pic.twitter.com/ukIIbnzQAE

— David Walliams (@davidwalliams) December 19, 2019
So sad to hear that #ClaudineAuger has passed away. She was superb in the role of Domino. Such a beautiful lady, I always adored that sweet smile of hers. pic.twitter.com/c1kokPcKyZ

— Carly (@007_CJBond) December 19, 2019
Bond fans around the world are receiving reports on the death of Claudine Auger who played the character Domino in Thunderball.We are truly saddened on this news...we offer our condolences to her family and friends.We will keep her in our hearts...💘 pic.twitter.com/IsTGRXsr8C

— Denise Alcarez (@AlcarezDenise) December 19, 2019
Claudine Auger is no longer with us. The favourite Bond girl for Don and myself. A sad day...

[Anthony] pic.twitter.com/I8krzOPLpw

— The 00 Files (@the00files) December 19, 2019
Saddened to hear that French actress Claudine Auger has died aged 78. Claudine was the first French Bond girl alongside Sean Connery in Thunderball playing the character Domino. #JameaBond #claudineauger pic.twitter.com/qsNy6jdjFv

— James Bond Archives (@007archives) December 20, 2019
Claudine Auger who so memorably played the role of Domino in the 1965 James Bond film Thunderball opposite Sean Connery has passed away at the age of 78. An iconic character of the series. @007 #bond #jamesbond #claudineauger pic.twitter.com/ctS21c8Ulm

— THUNDERBALLS™ (@Thunderballs007) December 19, 2019