Here's what's worth watching on the telly this weekend between now and Sunday night . . . and there's loads on offer!
Pick of the weekend
Strictly Come Dancing: the Final, 7.05pm Saturday, BBC One
Tess Daly and Claudia Winkleman host the live final, as the three remaining couples return for this year's ballroom showdown.
Each of the finalists will perform three routines - one chosen by the judges, one showdance and one previous favourite.
Judges Shirley Ballas, Bruno Tonioli, Craig Revel Horwood and Motsi Mabuse are close at hand to score each dance out of ten - tonight the judges' scores are for guidance only. The power rests in the hands of the fans at home across the UK, who can vote for their champion of 2019.
Also performing tonight is American superstar Taylor Swift.
Here's a treat from last week's semi-final:
New or Returning Shows
The RTÉ Sport Awards 2019, 9.20pm Saturday, RTÉ One
Darragh Maloney and Joanne Cantwell (pictured below at last year's bash) are back again to present this year's ceremony live from Studio 4 in RTÉ.
The categories include Sportsperson of the Year, Team of the Year, Manager of the Year and Young Sportsperson of the Year - plus there's the announcement of this year's Hall of Fame inductee.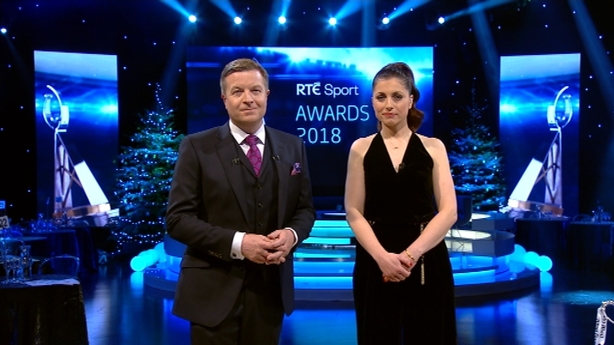 Sports Personality of the Year, 7.00pm Sunday, BBC One
It's UK sport's turn on Sunday as Gary Lineker (below), Gabby Logan and Clare Balding present the BBC awards ceremony live from Aberdeen.
There will be a full review of all the year's magical moments, climaxing with the crowning of the BBC Sports Personality of the Year, voted for by the UK public.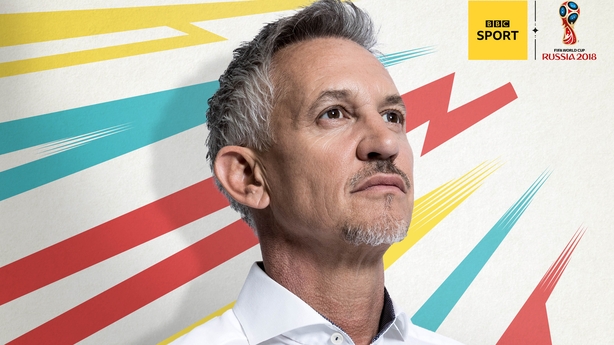 Reel Stories, 9.10pm Saturday, BBC Two
Rod Stewart fans are in for a treat on Saturday, starting with this look back at his career, as Dermot O'Leary sits down with the legendary singer, whose career has spanned six decades.
From recording at Abbey Road to performing at the Royal Albert Hall, Maggie May to The Motown Song, Rod journeys back to his childhood cinema in London's Muswell Hill to relive moments from a career spanning six decades.
That's followed by Imagine: Rod Stewart: Can't Stop Me Now (9.40pm), where Alan Yentob visits Rod Stewart in Beverly Hills. Then there's Rod Stewart Live at Hyde Park (11.05pm), with a concert that took place in London in 2015.
Here's Rod live with The Faces back in 1972:
Jamie's Easy Christmas Countdown, 8.00pm Sunday, Channel 4
Jamie Oliver offers his stress-free guide to enjoying the build-up to Christmas and the festive feast.
He demonstrates his foolproof master plan by showing exactly what to cook, and when, across Christmas Eve and Christmas Day - delivering impressive meals without the worry.
There is a luxurious smoked salmon pâté; pork stuffing crammed with silky leeks, sweet peaches and roasted chestnuts; and goose-fat roast potatoes that are fluffy on the inside and crisp on the outside.
And not forgetting a show-stopping turkey complete with herby butter and the crispiest skin.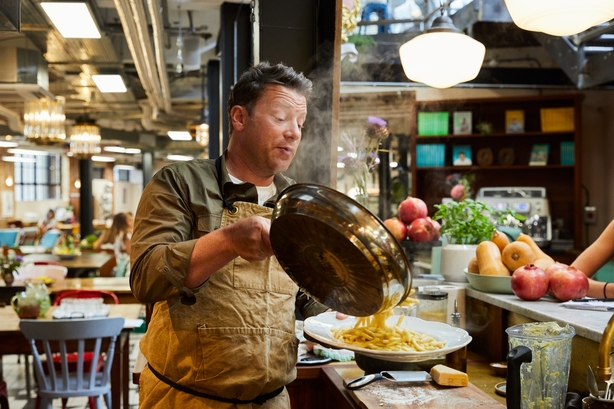 8 Out of 10 Cats Christmas Special, 9.00pm Sunday, E4
In this special festive edition of the show, host Jimmy Carr, team captain Rob Beckett and guest captain Sara Pascoe are joined by special guests Emily Atack, Jamie Laing, Natasia Demetriou and Ola the Comedian.
The Last Leg Election Special, 10.00pm Friday, Channel 4
Adam Hills, Josh Widdicombe and Alex Brooker are joined by a host of celebrity guests and politicians including Miriam Margolyes (below), Richard Osman and Rory Stewart.
Filmed live on the day after the British public have cast their votes in a third election in four years, the gang will analyse the results, look back at the highs and lows of the campaign and do their best to make sense of the chaos this ballot has left behind.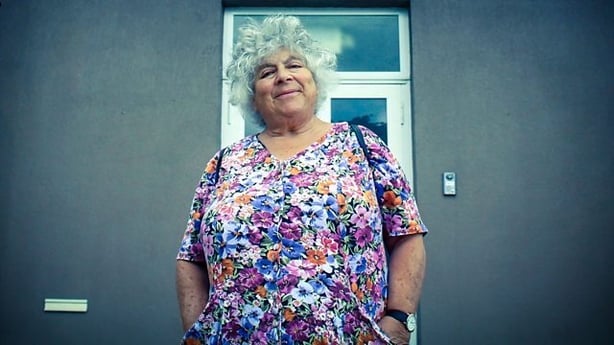 Adam Hills: Take His Legs, 11.30pm Friday, Channel 4
Comedian and host of the award-winning The Last Leg, Adam Hills is the driving force behind the UK's first Physical Disability Rugby League (PDRL) team, the Warrington Wolves, who went from open trial to world champions in just six months.
The documentary follows Hills as he and his Warrington Wolves team-mates prepare for the biggest game of their lives.
The Blood Pact, 11.30pm Sunday, Channel 4
Walter Presents continues with this crime drama from the Netherlands.
Hugo holds an important position in the Dutch IRS, but has a higher aim: he wants to become General Director.
H's shocked to discover that the father of his daughter's BFF is a mobster just released from prison, who is trying to go straight.
But on his first day out of prison, his ex-business associate gets killed, and the police are hassling him to find out what he knows.
New to Download
6 Underground, from Friday, Netflix
Six individuals from all around the globe, each the very best at what they do, have been chosen not only for their skill, but for a unique desire to delete their pasts to change the future.
The team is brought together by an enigmatic leader (Ryan Reynolds), whose sole mission in life is to ensure that while he and his fellow operatives will never be remembered, their actions damn sure will.
Glass, from Friday, Sky Movies Premiere & NOW TV
M Knight Shyamalan returns to the world he introduced in Unbreakable, as the hero, the mastermind and the villain collide.
Bruce Willis, Samuel L Jackson and James McAvoy reprise their roles, as Dunn pursues the man who used to be known as Crumb but has now devolved fully into his most feared personality: The Beast.
Meanwhile, the wheelchair-bound Mr Glass lurks in the shadows, pulling the strings of both men.
Ending this Weekend
Ireland's Fittest Family, 6.30pm Sunday, RTÉ One
For the first time in the series, all four coaches (below, with presenter Mairead Ronan) have a family in the final.
It's Anna Geary's Mahers from Laois, Davy Fitzgerald's Hogans from Wexford, Derval O'Rourke's Dinans from Cork and Donncha O'Callaghan's McSharrys from Sligo.
They'll take part in some of the show's most impressive challenges to date as all their months of hard work comes down to this day.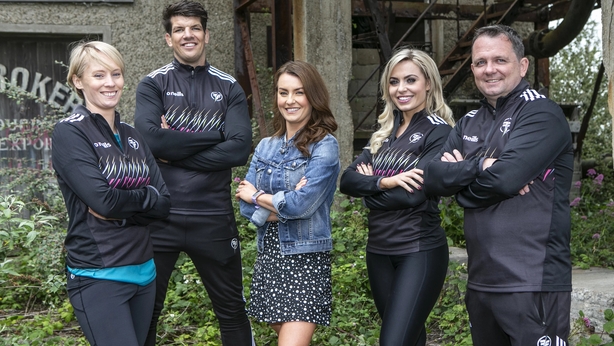 The X Factor: the Band - Live Final, 8.00pm Sunday, Virgin Media One & UTV
Dermot O'Leary (below) presents as the remaining hopefuls take to the stage in the hope of impressing the TV audience and the panel of judges one last time.
Simon Cowell's looking for undiscovered talent to form the next big pop group to sign to his record label and follow in the footsteps of One Direction, Fifth Harmony or Little. But only one group can ultimately be awarded this great opportunity.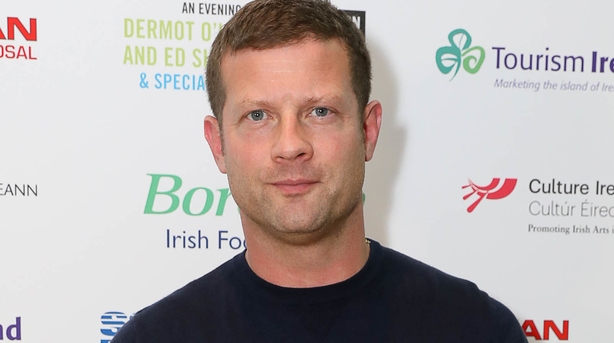 The Name of the Rose, 9.00pm Friday, BBC Two
As the monks crowd around the dead Malachia, William questions who killed this man since Bernardo had cleverly found and confined the murderer of the other monks.
Bernardo retorts that he had not claimed to have confined the law or the criminals at large in the abbey. All that remains for him to do is to burn the witch and warns that only the pope will decide the fate of the Franciscans.
Flirty Dancing, 8.00pm Friday, Channel 4
It's the season finale, and one of the couples features Dan and Anna. Dan's 24 and comes from Stratford upon Avon. He's a rugby fan and a country boy at heart. His sensitive side seeks the girl-next-door.
Anna, who's also 24 and from Poland, would swap London for village life in a heartbeat. Dan and Anna come together for an intimate and flirty routine in Williamson Park in Lancaster.
The Sinner, 9.10pm Saturday, BBC Four
Julian has gone missing from the foster home. Harry is convinced he has been abducted. When police search Mosswood, Vera is adamant that she is not responsible.
Later, Harry discovers that an eyewitness saw a man arguing with Marin outside the Five Nations motel room but also that Julian was not with her. Brick calls Harry with an important lead that was found during the raid on Mosswood.
Weekend Movies
Logan, 9.10pm Saturday, Channel 4
This is possibly the finest superhero movie ever made.
Hugh Jackman and Dafne Keen star in the final part of the Wolverine trilogy, directed by James Mangold.
It's 2029 and Logan (Jackman) is quietly working as a luxury limousine driver down by the Mexican border. He's in poor health and his abilities to recover from injury aren't what they were. But that's nothing compared to Charles Xavier (Patrick Stewart), who appears to have dementia.
While You Were Sleeping, 9.30pm Friday, RTÉ 2
This classic romantic comedy stars Sandra Bullock, Bill Pullman and Peter Gallagher.
A lonely train-station attendant saves the life of a man she has been in love with from a distance. He ends up comatose in hospital, where she is mistakenly introduced to his family as his fiancee.
For a while, she decides to keep up the pretence - but comes to regret the deceit when she begins to fall for her supposed partner's brother.
A Christmas Carol, 7.05pm Saturday, RTÉ One
Jim Carrey stars as the voice of a foul-tempered Victorian miser who hates the festive season is visited on Christmas Eve by a series of ghosts.
The spirits intend to make him mend his wicked ways by showing him visions of the past, the present and what the future will hold for him if he does not change for the better.
Scarface, 9.15pm Saturday, TG 4
Small-time crook Tony Montana (Al Pacino in fifth gear all the way) emigrates from Cuba to the US, determined to become rich and powerful.
Admitted into the inner circle of a Miami drug lord, he ultimately takes over his boss's empire. But his paranoia and cocaine addiction begin to spiral out of control, while his enemies circle.
Notting Hill, 9.30pm Sunday, RTÉ One
Another romcom classic. Recently divorced bookshop owner (Hugh Grant) finds love with a glamorous Hollywood film star (Julia Roberts), but ends up the focus of unwanted media interest - which makes maintaining a relationship a tricky proposition.
Don't Miss
I am Johnny Cash, 9.00pm Friday, Sky Arts
Here's a celebration of the larger-than-life Johnny Cash, from the unique perspective of the Man in Black's greatest songs.
Each song brings to life a chapter in the story of America from the 1950s to the modern day, accompanied by several original interviews.
The contributors include family members John Carter Cash, Rosanne Cash, and Carlene Carter, and also Cash pals and collaborators Merle Haggard, Kris Kristofferson, Willie Nelson, Rick Rubin, Sheryl Crow, Eric Church, Kid Rock, and John Mellencamp.
Here's Johnny Cash's stunning swansong:
Box Set Binge
Bojack Horseman, Netflix
This is easily the greatest animated TV show about a horse who's a Hollywood has-been.
The series takes place mostly in Hollywood (later known as 'Hollywoo' after the 'd' in the Hollywood Sign is destroyed in a romantic gesture), in an alternate world where humans and anthropomorphic animals live side by side.
BoJack Horseman (voiced by Will Arnett), the washed-up star of the 1990s sitcom Horsin' Around, plans his big return to celebrity relevance with a tell-all autobiography.
BoJack also has to contend with the demands of his agent and on-again-off-again girlfriend Princess Carolyn, the antics of his freeloading roommate Todd Chavez, and his friend and rival Mr Peanutbutter, the yellow Labrador Retriever.
Click here for full TV listings