Here's what's worth watching on the telly this weekend between now and Sunday night . . . and there's loads on offer!
Pick of the weekend
Elizabeth is Missing, 9.00pm Sunday, BBC One
Christmas telly starts here.
Two-time Academy Award winner Glenda Jackson makes a triumphant return to the small screen, in this psychological thriller based on the bestselling 2014 novel of the same name by Emma Healey.
When her best friend Elizabeth goes missing, Maud (Jackson) is convinced something terrible has happened.
But her search to find Elizabeth unearths an even darker unsolved mystery: her sister's disappearance, long buried in the recesses of her memory.
Can Maud discover the fate of both missing women before her dementia erases the clues and the answers are lost to her forever?
Elizabeth is Missing has been scripted by Andrea Gibb, whose previous work includes several episodes of Call the Midwife.
New or Returning Shows
From Elton John to Gary Barlow: Celebrating 100 Concerts Live at Eden, 10.25pm Saturday, BBC Four
If there's one thing BBC Four does remarkably well, it's music documentary. This should be no different.
It's a celebration of the Eden Sessions that looks back at the first 18 years of concerts at the Eden Project in Cornwall, which began in 2001. One hundred live concerts, from Elton John to Gary Barlow, set against the stunning backdrop of the Eden biomes.
They must be the greenest gigs on the planet.
Introduced by Nile Rodgers, who headlined the 100th show in June, the programme features performances by the likes of Pulp - who headlined the first ever Eden Session in July 2002 - Duran Duran, Bastille, Muse, Gary Barlow, Van Morrison, Madness, Primal Scream and Lionel Richie.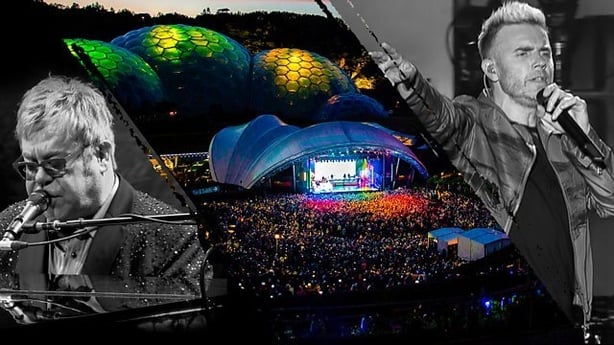 Almost Fashionable: a Film About Travis, 10.00pm Saturday, Sky Arts & NOW TV
This could be a good laugh.
It's a music documentary with a bit of a twist as it follows music critic Wyndham Wallace while he covers the shows of one of his least favourite bands – Scottish band Travis - and tries to understand the root of his resentment.
The director of the film is Travis front man Fran Healy.
Mr Pickles Special, 11.45pm Friday, E4
Here's a special one-off episode of the animated US comedy set in the traditional community of Old Town, home to innocent six-year-old Tommy Goodman and his family.
Tommy's best friend is Border collie Mr Pickles, who appears lovable but has a murderous and evil streak.
Mr Pickles framed Grandpa for murder at the end of the show's third season, but Sheriff learns of Grandpa's whereabouts and heads out of the country to track him down.
Meanwhile, Grandpa is determined to end things with Mr Pickles, once and for all.
Guy Martin's Great Escape, 9.00pm Sunday, Channel 4
Guy Martin attempts to recreate the most iconic motorcycle stunt in movie history - the climax of The Great Escape, where Steve McQueen's character Lieutenant Hilts steals a motorbike and attempts to clear two border fences into Switzerland.
Along the way, Guy meets actor John Leyton, one of the stars of the original movie, and visits Professor Hugh Hunt at Cambridge University, to learn about the physics behind jumping bikes.
He also flies to Poland to the site of the original Stalag Luft III to learn about the real great escape that inspired the movie.
Alex, midnight Sunday, Channel 4
Here's the second season of the intense and gritty crime thriller from Sweden.
After his conviction for killing a police officer, Alex Leko is in a maximum-security prison and has managed to fit in with the toughest inmates, led by Haze, who is the leader of a criminal network.
When Frida Kanto of the Organised Crime squad asks Alex to be an informant, he initially refuses. But Alex has a parole day due and Haze, who believes his brother Samson is out of control, wants Alex to accompany Samson to meet a cocaine distributor.
Simply Red: Live in Holland, 8.00pm Sunday, Sky Arts
On the go since the early 1980s, Simply Red have amassed an impressive back catalogue since their breakthrough with a cover of The Valentine Brothers' Money's Too Tight (To Mention).
This is concert by sole survivor, singer Mick Hucknall, and his band, featuring performances of hits including If You Don't Know Me By Now and Holding Back the Years.
Here's what the original band looked and sounded like:
The Killing of Jessica Chambers, 9.00pm Sky Crime & NOW TV
When Jessica Chambers is found outside her burning car on a rural Mississippi road in 2014, she is severely burned and would die hours later.
With no obvious suspect of this vicious crime, an onslaught of online sleuths - spurred on by an interest in true crime documentaries and podcasts - descend digitally on the grieving community.
New to Download
The Marvelous Mrs. Maisel, from Today, Amazon
We're up to season three of the period US comedy starring Rachel Brosnahan as the eponymous housewife-turned-comedian. The 1950s never looked better.
After an iffy second run, things are apparently back on track in this show, which is hugely popular among Stateside critics. With her new career up and running, Mrs Maisel is heading off on an eye-opening cross-country tour.
The Grinch, from Friday, Sky Cinema Premiere & NOW TV
Benedict Cumberbatch, Cameron Seely, Rashida Jones, Pharrell Williams, Angela Lansbury are among the voices featured in this latest version of the Zeuss Christmas story.
Cumberbatch takes on the role of the green grump who has time for Christmas or any other sign of good will in this timely tale of the tinsel-hating Grinch.
The Confession Killer, from Friday, Netflix
On trial for murder, drifter Henry Lee Lucas confesses to hundreds more killings. This docuseries examines the truth behind his admissions.
The Chosen One: Season 2, from Friday, Netflix
The world pours into the once-closed Aguazul as the doctors circle back to the village and a journalist promises to tell the Chosen One's story.
Fuller House: Season 5, from Friday, Netflix
Jimmy and Steph bring their new baby home and dive headfirst into the world of parenting. But no worries: They've got a houseful of hands to help.
Triad Princess, from Friday, Netflix
After growing up in the shadow of her mafia-affiliated father, Angie defies his wishes and takes a gig as an undercover bodyguard for a famous actress.
Three Days of Christmas, from Friday, Netflix
Four sisters deal with family drama and secrets throughout three different time periods, all occurring on Christmas Day.
Virgin River, from Friday, Netflix
Searching for a fresh start, a nurse practitioner moves from Los Angeles to a remote northern California town and is surprised by what - and who - she finds.
Ending this Weekend
I'm a Celebrity . . . Get Me Out of Here! 9.00pm Sunday, Virgin Media One
They've survived until the end after enduring Bushtucker Trials, camp life and each other. But which of the finalists will be crowned this year's King or Queen of the Jungle?
Tonight's the night as Ant and Dec reveal which of the campmates will follow in the footsteps of 2018 winner, former footballer and manager Harry Redknapp.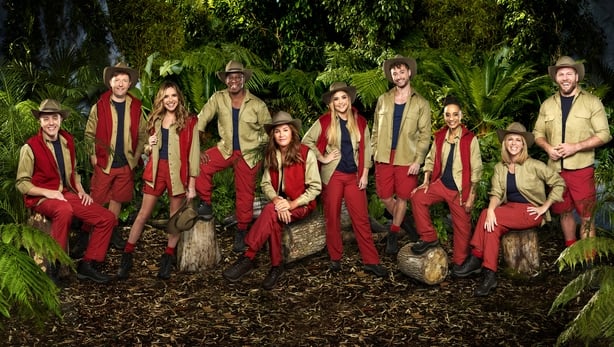 Mock the Week, 10.00pm Friday, BBC Two
For the final time in this run, Dara O Briain looks back on the latest events in news and politics, with the help of Tom Allen, Ed Gamble, Kerry Godliman, Rhys James and Rosie Jones and regular panellist Hugh Dennis.
Seven Worlds, One Plant, 6.20pm Sunday, BBC One
Africa - home to the greatest wildlife gatherings on Earth. But even in this land of plenty, wildlife faces huge challenges.
In the jungles, young chimps learn to use tools to find food. On the savannah, a group of cheetah brothers team up to hunt prey twice their size.
But for much of Africa's wildlife, the greatest threat comes from humans.
The Kids Are Alright, 7.30pm Friday, RTÉ One
It's the last ever episode of this family sitcom set in the 1970s, starring Mary McCormack and Michael Cudlitz.
First up, Peggy struggles with Lawrence's decision to move out of the house. Later, Timmy can't find his ventriloquist dummy, Knuckles, and learns that Joey took him without asking.
Weekend movies
Foxcatcher, 11.50pm Saturday, RTÉ 2
Steve Carell is great and goes against type by playing an unpleasant character in this fact-based drama that tells a remarkable tale.
Carell stars as John Eleuthère du Pont, a reclusive, eccentric millionaire who persuades an Olympic gold-medal-winning wrestler to join his personal team
Initially flattered his wealthy new friend, tension soon grows between them when the wrestler's brother is employed as a coach.
Marvel's Avengers Assemble, 8.00pm Sunday, RTÉ 2
Joss Whedon came on board to direct this first Avengers movie and it worked a treat.
A mystical artefact is stolen from a top-secret military base by Thor's brother Loki, who plans to use it to bring about an alien invasion.
Spymaster Nick Fury then brings together a team of Marvel superheroes, including Iron Man, Thor, Captain America and the Hulk, to defend Earth from the impending attack.
Cast Away, 8.00pm Sunday, Sky Cinema Greats
Robert Zemeckis directs this story - inspired by Robinson Crusoe – about a man struggling to survive on an otherwise uninhabited island in the Pacific Ocean.
Tom Hanks plays Chuck Noland, a time-obsessed systems engineer who travels worldwide resolving productivity problems at FedEx depots.
During a flight to Malaysia, his plane crashes into the Pacific, and he ends up in a life raft and floating on to an island, with no means of contacting the outside world.
Don't Miss
Marriage Story, from Friday, Netflix
This looks the business. Academy Award-nominated filmmaker Noah Baumbach (The Squid and the Whale, Frances Ha, Mistress America) explores the complexities of a marriage breaking up and a family staying together.
The cast is outrageously good and includes Scarlett Johansson and Adam Driver in the lead roles, while the likes of Laura Dern, Alan Alda, Ray Liotta and Merritt Wever co-star.
Box Set Binge
Community, All4
When lawyer and schemer Jeff Winger (Joel McHale) returns to school, he reluctantly becomes the leader of a misfit collection of fellow 'mature' students, including businessman Pierce Hawthorne (Chevy Chase).
The cast is superb, and includes the likes of Gillian Jacobs as Britta Perry, Alison Brie as Annie Edison, and Donald Glover as Troy Barnes. It's deservedly regarded as a cult comedy classic.
Click here for full TV listings