Stars of the new Charlie's Angels movie told RTÉ Entertainment how "it was really nice" to be able to have fun on set and admit that they "were all there for the right reasons".
Elizabeth Banks directed and stars in the reboot of the classic 1970s TV show, which sees Kristen Stewart, Naomi Scott and newcomer Ella Balinska play the next generation of angels.
Speaking to RTÉ Entertainment, Stewart admits a massive weight was lifted off her shoulders when she instantly clicked with her co-stars.
"Any type of manufactured, inauthentic feeling that sometimes you might have to put into a job that would have never been enough.
"The whole reason to make this movie is because those girls in the last one seemed like friends forever, and friends that would have your back no matter what, and that's sort of the enviable experience.
"When you watch those movies it's like 'I want to jump in there, get me in there!'"
"It was really nice that we could actually have fun."
Scott, who recently starred as Princess Jasmine in Disney's live-action adaptation of the musical fantasy film Aladdin, admits the cast "were all there for the right reasons".
"You always talk about good intentions," she said looking at Stewart, and that is why all of us were so excited to be part of the project, and the reason why Liz wanted to make the movie, so we were all there for the right reasons."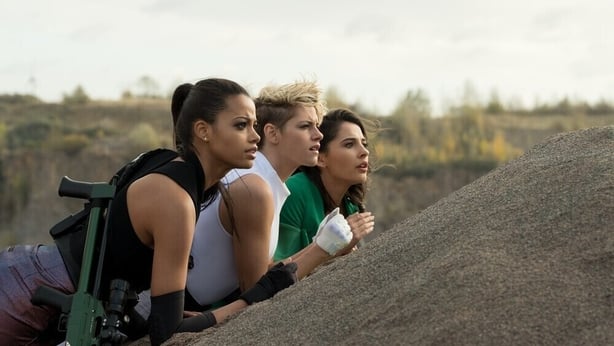 Stewart added:  "Before you might actually think that because we were encouraged by the movie, it was like we wanted to really like each other, and we did.
"We were like 'hey, what's up, are you going to be my friend?'"
The movie makes reference to ways women can be overlooked and underestimated and Scott reckons comedy was a "really good way to call people out".
"I think comedy is a really good way to call people out. That is what Liz is really good at, and that's what this movie does.
"It's like observational humour because it's truthful and I think that's what you see in a lot of the scenes. It's funny because you're like that's true, I go through that," she explained.
Balinska also agreed with her co-stars that a lot of fun was had on set and admits the trio "hung out so much".
"We hung out so much.  A lot of the film we're not actually working together on set because we're kind of helping each other from afar.
"We'll be in the same building for example for the heist sequence but we're very far apart. When there were times when we would be together that was when we had the best time. That scene in the bathroom was particularly fun," she said.
Charlie's Angels is released in cinemas nationwide on November 29.