The Young Offenders, extreme global weather, and a drama about woman who can communicate with the dead are among the telly highs tonight . . .
Pick of the Day
Will Ireland Survive 2050? 9.35pm, RTÉ One
Meteorologist Gerald Fleming and climate activist Dr Cara Augustenborg examine the disturbing consequences of extreme global weather, with the programme featuring representations of what the country will look like without action.
New or Returning Shows
10 Things to Know About, 8.30pm, RTÉ One
Aoibhinn Ní Shúilleabháin, Kathriona Devereux and Jonathan McCrea examine the science behind a variety of topics, beginning with offshore wind energy.
In Cork, they investigate the latest Irish research into floating platform technologies, while in Portugal they meet the engineers working on the WindFloat Atlantic project, a major milestone in the renewable energy sector.
The Inbetween, 9.00pm, Sky Witness
This supernatural drama features Cassie Bishop (Harriet Dyer), a woman who can communicate with the dead. She reluctantly agrees to help her detective father solve dark and puzzling cases.
The show has already been cancelled by NBC, so don't say you haven't been warned.
The show has already been cancelled by NBC, so don't say you haven't been warned.
Ant Middleton and Liam Payne: Straight Talking, 9.00pm, Sky One & NOW TV
Former Special Forces soldier and star of SAS: Who Dares Wins Ant Middleton takes a road trip through Namibia with former One Direction star Liam Payne.
The E! People's Choice Awards 2019, 10.00pm, Sky One
The 45th edition of the annual event, toasting the world's favourite pop culture icons, with a bevy of awards being doled out for the year's biggest movies, TV shows, music acts and personalities.
Gary Lineker: My Granddad's War, 10.35pm, BBC One
Presenter and former England football captain Gary Lineker follows in the footsteps of his grandfather, Stanley Abbs, to explore a brutal but often overlooked chapter of World War Two: the Italian campaign.
New to Download
My Best Sustainable Life, RTÉ Player
A number of well-known faces will take on sustainability challenges. They include drag queen Bonnie Ann Clyde, comedy act The 2 Johnnies and physio Lauren Guilfoyle (below), model and actor Nadia Forde, and Dublin band Thumper.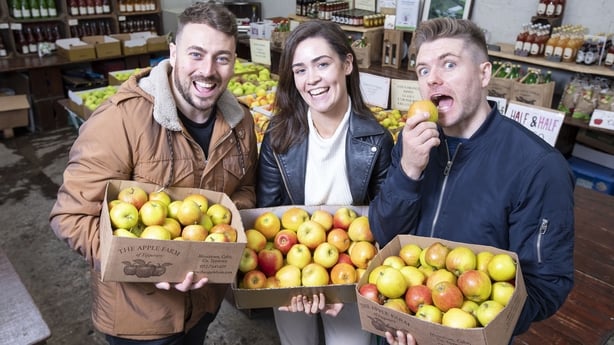 Ending Tonight
Darklands, 9.00pm, Virgin Media One
In the sixth and final episode of the gangster drama, Damien vows revenge after finally discovering the fate of his brother, while the Keegans face annihilation as Bernie puts her plan into action.
Motherland, 10.00pm, BBC Two
The great second season of this comedy sees Julia struggles to abide by the rules at sports day, Kevin devastated that a work presentation means he will miss the dads' race, while Liz worries about her new boyfriend.
Spencer, Vogue and Wedding Two, 10.00pm, E4
The wedding day is fast approaching but there's still a lot to organise. For example, Spencer enlists the help of Strictly Come Dancing's Giovanni Pernice to help with the dreaded first dance.
Travel Man, 8.30pm, Channel 4
Richard Ayoade and comedian Ellie Taylor team up for a two-day meander around Madrid, following an itinerary rich in art, history, histrionics - and ham.
Don't Miss
The Young Offenders, 9.30pm, RTÉ 2/12.05am, BBC One
With a new arrival on the way everyone is getting anxious, particularly Jock (Chris Walley). A challenge from Principal Walsh (PJ Gallagher) puts not only Jock, but everyone involved under even more pressure.
Meanwhile, Mairéad (Hilary Rose) has been at her wits end with Sergeant Healy (Dominic MacHale), whose day-to-day presence in the house is driving her insane and leading to serious tension.

Click here for full TV listings