Activist Sinéad Burke has been praised for her "inspirational" and "awe inspiring" appearance on Friday night's Late Late Show where she spoke about how we need to "educate ourselves on what it is we don't know".
The writer, academic and broadcaster has had a remarkable year. In May, she became the first little person to attend the Met Gala, one of the world's biggest fashion events. Months later, she was chosen by the Duchess of Sussex Meghan Markle to appear on the cover of British Vogue's September issue as one of 15 "forces for change".
Burke told host Ryan Tubridy about first meeting Markle in Dublin, and how she was instantly struck by her kindness.
"I met her when Prince Harry and herself came to Ireland on a state visit, I met her at a garden party and the first thing that she did was come down to my level to speak with me, there was no instruction to do that action, but she did it almost immediately", she said.
"Then it turns out she was curating the September issue of British Vogue and when she was picking 15 forces for change all over the world, somehow she remembered me and picked me and put me in that category."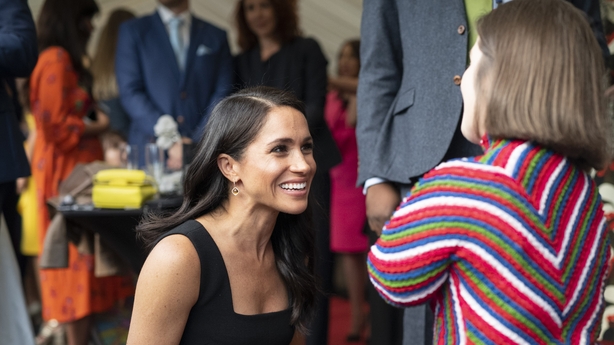 Burke continued: "Along with Laverne Cox, who was the first trans person to be on the cover of Vogue, I was the first little person to be on the cover of Vogue. For me that's important, not actually for me personally, but I would have done anything for that when I was 15, walking into a newsagent and seeing somebody that looked like me in a space that I could do nothing but dream to be part of.
"My big interest now is, what do the 15-year-olds in Ireland now give themselves permission to dream, because if one person has done it, that means they can do it."
We need your consent to load this Instagram contentWe use Instagram to manage extra content that can set cookies on your device and collect data about your activity. Please review their details and accept them to load the content.Manage Preferences
Speaking about advocating for change for those with disabilities, she said: "The statement I hear most is 'we haven't thought about this before' and that's because we have lived in a world that was designed for many people like you who've never had to think about how they jaunt through the world differently, whether that's a public bathroom or reaching for something on a supermarket shelf, or the ATM.
"The more and more we re-design our world and make it safer for lots of people, the more people can just be themselves."
"I don't look like most people, and with that comes a real strength. It can be a challenge. But I was told when I was very young, I had no hand, act or part in choosing to live in this body, but how others choose to act towards me, either kindly or negatively, is a decision.
"And if they choose to go about their lives and try to make me feel small to make themselves feel big or to cause a joke, that says everything about them, and not me."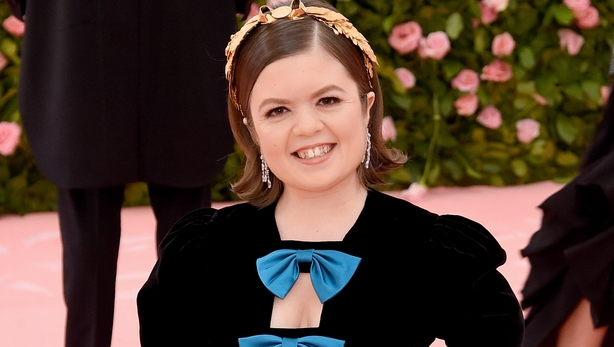 Burke recalled an incident when a young boy leapfrogged over her on the street while his friend recorded on his phone. She believes education is key to counteract such behaviour.
"I think when you talk to me about my advocacy, deliberately positioning myself in rooms where there is influence and power is important, but I actually think it's fundamentally important to position yourself in classrooms too", she said.
"I was upset not that the action had happened, but that he didn't consider me a person, because there was no cognizance of the fact that he could have missed. And then what would have been the result.
"So often ignorance isn't malicious, we just don't know what we haven't been exposed to, and there is no point within our society, or within our education system, in which we teach people what it's like to live differently. So much about the bullying that you've just spoken about is because we feel alone."
When asked what her message to bullies or victims of bullying is, she responded: "I think it goes wider than that. I think it's not just about marginalising those who are already othered or those who perhaps are experiencing pain and are representing that in a way and causing trauma to others.
"I think it's a lesson that we all need to learn. We need to educate ourselves on what it is we don't know, and we need to facilitate the curiosity within us.
"An example I give is that I'm in the aisle of a supermarket and a child will see me and the first thing they will do is point me out and say 'look, there's a little woman'. And in that instance, the adult will ignore them, dismiss them, try to distract them, remove them from the place where they are. Only because they're embarrassed, they're embarrassed that this has happened, and they feel that it's a negative impact on their parenting and how could it be so.
"Instead of realising that's a child's natural curiosity, and why don't they say to the child 'yes that is a little woman, say hello.'
"But I say this with the premise with the framework and understanding that it's also not my job to educate the world that I should get to exist. But it's a balance of the two, and it's something that I choose to do."
Viewers took to Twitter to commend Burke for her "intelligent", "articulate" and "inspirational" interview.
Wow - what a truly inspirational person Sinead Burke is. I could listen to her speak for hours. #LateLateShow

— Laura Byrne® (@laurabyrne2008) November 8, 2019
The #LateLateShow
#sineadburke
Brilliant such an inspiration and lots for us to think about

— Kathryn burrough (@Kateburpower) November 8, 2019
Sinead Burke is a tonic, an antidote to lots of the toxic values that plague the society we live in. It's so heartening to hear someone so authentic and passionate with valuable messages to share. #LateLateShow

— Gary Finnerty (@Garyfinnerty) November 8, 2019
@RTELateLateShow - Sinead Burke!! What an intelligent, articulate young woman and brilliant advocate, talking sense this evening.

— Órla Fagan (@OrlaBFagan) November 8, 2019
Sinéad Burke on the Late Late take a bow ???? a pleasure to watch and listen to ???? #LateLateShow

— Sinead Hogg (@SineadHogg) November 8, 2019
Sinead Burke, the inspirational we all need. Such an amazing way of thinking #LateLateShow

— Michelle (@whatashame_xo) November 8, 2019
Wow,just wow!!! Sinéad Burke on @RTELateLateShow just now is awe inspiring.Incredible woman? #latelate

— Mags Murphy (@margaretb2010) November 8, 2019
What an inspirational woman Sinead Burke is. Absolutely love her. #LateLate

— Alex Doyle (@imalexdoyle) November 8, 2019
What a beautiful interview with the incredible Sinead Burke on Late Late Tonight!A force of change indeed!Gorgeous gúna too!@TheSineadBurke @RTELateLateShow

— Aideen Flood (@FloodAideen) November 8, 2019
The Late Late Show airs on Friday nights on RTÉ One at 9.35pm.