Bono has recalled the night that U2 gave Gay Byrne a Harley Davidson on the veteran broadcaster's final night as host of the Late Late Show, joking that "it was a nice thing to have Gay join the Hell's Angels".
Speaking on the phone from Australia, where U2 are currently on tour, Bono paid tribute to Gay on Tuesday night's Late Late Show Gay Byrne tribute special.
Bono paid tribute to Gay Byrne and spoke about his legacy and the Harley Davidson that U2 gifted him for his retirement #LateLate pic.twitter.com/BO3SieJ5P4

— Entertainment on RTÉ (@RTE_Ents) November 5, 2019
Asked by Ryan Tubridy if he stayed in contact with Gay to see how he was getting on with the bike, Bono said, "It seems like the wrong show to talk about the bike because I think Kathleen thought we were trying to kill him.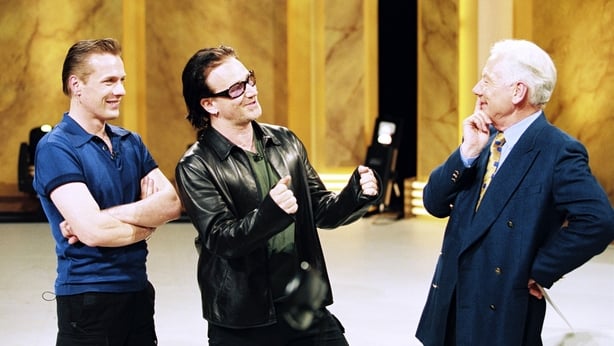 "The band talked Gay down eventually from riding the Harley Davidson because he really loved the bike and he wouldn't get it off it there for a while.
"He was a real enthusiast for his Harley," Bono continued. "And eventually when I met him again, I said are you still on the Harley and he said, `No. Kathleen's talked me down from that. She thinks I'm a danger to myself and others' but it was a nice thing to have Gay join the Hell's Angels, don't you think?"
U2 were regulars on the Late Late Show during Gay Byrne's years as host, with the band making some very early appearances and going on to drop by at various stages of their career.