John Byrne travelled to Birmingham to see Circus 1903 ahead of its run at the Bord Gais Energy Theatre and talk to the show's ringmaster and resident magician, David Williamson.
Birmingham on a wet and miserable Saturday isn't the kind of setting that inspires. If anything, it conspires to draw you indoors with the notion of forgetting about the weather and finding something to put a smile on your face.
That's when I discovered the pure joy that is Circus 1903.
We need your consent to load this YouTube contentWe use YouTube to manage extra content that can set cookies on your device and collect data about your activity. Please review their details and accept them to load the content.Manage Preferences
If anything, its billing as 'The Greatest Showman meets Warhorse' does this fantastic show an injustice, although it is a pretty accurate description. Featuring a variety of circus acts from around the globe, Circus 1903 does exactly that, recreating for the stage a night in a Big Top over a century ago, when the circus came to town and everything just stopped as everyone went to see the show.
A crack team of puppeteers work with two of the show's biggest stars, Queenie and Peanut, the circus elephants created by the award-winning team behind War Horse. They'll steal your heart away and wrap it in a bow.
But the real magic of Circus 1903 comes from Ringmaster Willy Whipsnade, who is played by American magician David Williamson. As well as providing the human glue that keeps the fast-paced show together, he performs several magic tricks, speckled with a lot of humour, and a big top-sized amount of kid-friendly charisma. He's a true entertainer. And he knows how tell a tale or twelve . . .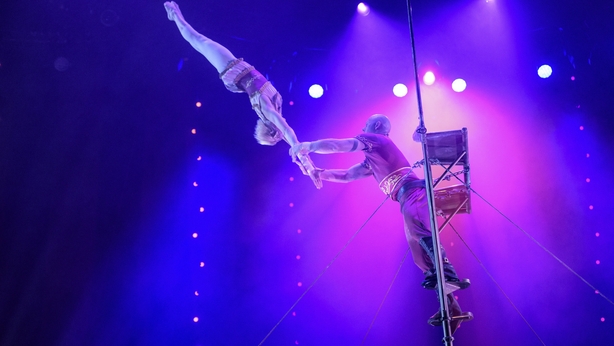 His background
"I'm from a small place called Xenia, Ohio. It's a very rural existence there. Just like everyone else, I got a magic set when I was a kid. And you know how some kids get into something like magic and then they'll discover football or girls or something later in life? Well, the bug bit me so hard that I ignored everything else. And it was the trajectory of my life from an early age.
"I do a lot of magic on the Disney Cruise Line, I teach a class for kids, and I always tell them the secret to magic is 793.8 - and that is the Dewey Decimal System, the library code for magic books because that's where I grew up, in the library reading the magic books, because the best secrets are in books. Magicians know that nobody reads books so they put all the good stuff in there.
"Anyway, I turned my mother when I was 10 years old. I said, 'I'm going to be a professional magician, leave me alone'. And she put me on a greyhound buses and I traveled all over the United States meeting magicians from the teenage years on and it's been my complete life.
"I tour around in a show called The illusionists, which is produced by the same company that produces our show, Circus 1903, and I was in that show touring through Australia and South Africa, United States and the UK, and the producer said you'll make a good ringmaster - you're tall and you're loud. So they selected me for this role, and I absolutely love it but I'm proud to do it.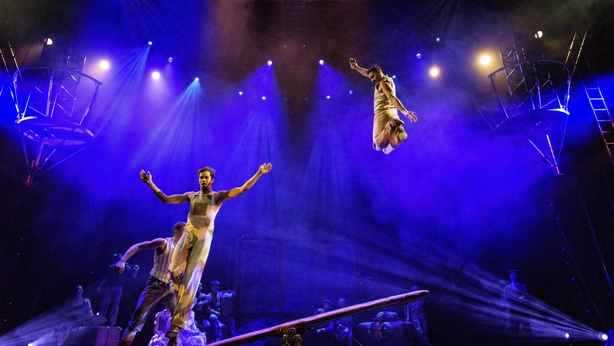 Circus 1903
He continues: "Here's the thing about our circus. 30 years ago Cirque de Soleil took away the animals, subjugated the circus artists to the production, to serve the larger production, whatever the theme was, dream of a clown or something. And it was wonderful and it was artistic and it was driving music, and the theatre arts, the settings, the costumes came forward.
"The circus arts went to the back to support them, to support the larger show. Simon Painter, our producer said, 'Let's flip the script. Let's go old school. We'll keep the theatre arts to enhance the circus arts'.
"So our production, our costumes, our lighting and our sets are just the setting to celebrate each artist in a row, just like old variety shows. Rather than make it ethereal and blending and so forth, we go 'And now - watch this guy'. This amazing juggler. People who do juggling are amazing.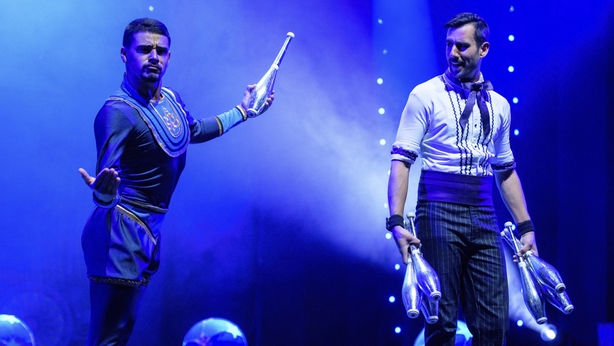 "They've worked for their entire lives since childhood. Let's not just put them in a silly costume or put them in the background. Let's put a big beautiful spotlight build a beautiful frame around them have wonderful music, and a grand over the top introduction and watch this person for five minutes, or seven minutes, whatever it is be it the rollerball, the balance artists, or the contortionist.
"So that's what the show does. It celebrates each circus artists old school, you know the way it used to be. It's a very old-fashioned type of entertainment.
"But there's no sawdust, there's no elephant dung, and peanuts on the ground, which is all charming. But it's in a theatre setting where we can actually use all these theatre arts and create this atmosphere and create this time and it's, it all comes together conspires to really transport people. It really does. That's the magic of theatre.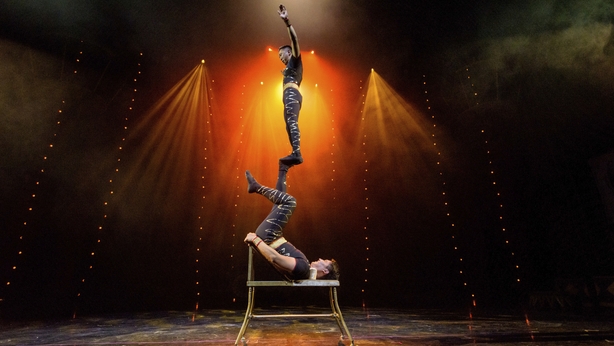 The thrill of the big top
"When we opened in Sydney at the Opera House, I looked through the curtains through there at the show and there was a family in front of the children, the parents and the grandparents and that just filled my heart.
"You know, these days everyone's on a separate screen in a different part of the house being entertained by different things. Nobody's on the same page. So to see this family together, and on top of that the boys were literally drop-jaw. They've never seen anything like this.
"No Marvel movie will compete with an actual human being flying through the air, you know, in front of you, at those heights in a theatre, with the driving music and the mist and the costumes and the introduction. It's irresistible, isn't it?
"But also just that sense of community and family. That's what's, you know, in the speech at the top of the show I talk about when the circus came to town. You know, the whole family, the whole town closed down, everybody would rush down to the rail yard and set up lunch and watch them set up the tent.
"It was a holiday, it was the day the whole community came together and they saw their neighbours at the show and, you know, harking back to that."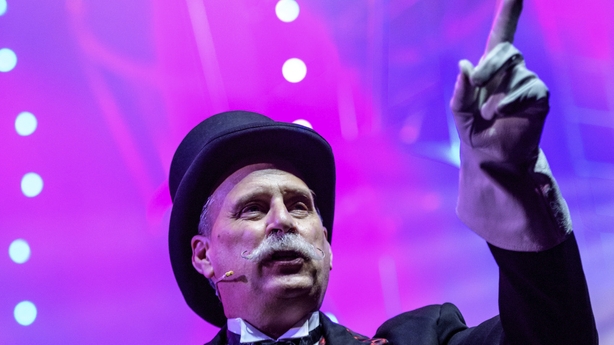 Happy families
"For the last eight years I've done quite a number of Disney Cruise ships and I absolutely love it. Because before that I did 30 years of corporate entertaining, which was soul-sucking.
"It's a good payday, but when I finally got on the Disney Cruise Line there were just families together. It wasn't entertaining children - it's entertaining families, and I was hooked on that. I said: 'I've finally found my home'. That's my sweet spot, my specialty, you know, because I love doing magic for kids.
"But I also love entertaining the adults through interacting with the children. That's kind of my specialty. So Disney Cruise Line was a very special home for me and this circus reminds me of that because of wonderful family audiences."
John Byrne
Circus 1903 plays at Dublin's Bord Gais Energy Theatre Nov 27 to December 1 and tickets are on sale now.