Here's what's worth watching on the telly this weekend between now and Sunday night . . . and there's loads on offer!
Pick of the weekend
His Dark Materials, 8.00pm Sunday, BBC One
Based on the novel series of the same name by Philip Pullman, this adaptation stars Dafne Keen as the young protagonist Lyra, who lives in Jordan College, Oxford.
Placed there by her uncle, Lord Asriel (James McAvoy) she lives a sheltered life amongst the scholars and college staff under the watchful protection of The Master (Clarke Peters) and Librarian Charles (Ian Gelder).
But when the glamorous and mesmeric Mrs Coulter (Ruth Wilson) enters Lyra's life she embarks upon a dangerous journey of discovery as she travels from Oxford to London.
New or Returning Shows
Get Rich or Try Dying: Music's Mega Legacies, 9.30pm Friday, BBC Four
Last year, the top five estates of the most cherished deceased music stars earned half a billion dollars.
In this documentary, Scissor Sisters star Ana Matronic journeys through pop's pearly gates and looks at the many ways dead pop stars earn a living when they're gone.
Once the mansions, yachts, luxury cars, private jets and entourages are dispensed with, death ushers in a new cast of characters - not all of whom were party to creating the wealth in the first place - but all of whom are interested in profiting from it.
Dead stars featured include Elvis Presley, Prince and David Bowie (below).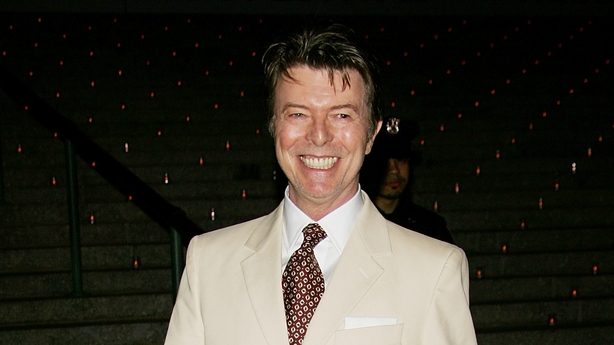 The Team, 9.00pm Friday, More4
Here's the second season of the tense European crime thriller about an international team of detectives.
Seven people are murdered during a brutal shoot-out at a Danish B&B. Inspector Nelly Winther from Denmark, Hamburg investigator Gregor Weiss and Belgian secret service officer Paula Liekens all spring into action after the killings.
The Disappearance of Susan Cox Powell, 9.00pm Sunday, Sky Crime & NOW TV
Susan was 28 years old when she disappeared from her Utah home in 2009 and her husband Josh Powell was named as a suspect.
Little more than two years later, and after an unsuccessful police investigation, Josh took his own life along with the lives of his two sons.
This two-part documentary attempts to uncover new details of the final years of Susan's life.
Escape to the Chateau, 8.00pm Sunday, Channel 4
It's winter at the chateau and the start of the Strawbridge family's fifth year living in France.
With more weddings and events booked in than ever, Dick and Angel prepare for their busiest year yet.
The Blame Game, 10.35pm Friday, BBC One
In the first of a new season of the long-running panel show, Marcus Brigstocke joins Colin Murphy, Jake O' Kane, Neil Delamere and Tim McGarry to give their comedy take on Brexit and the week's news.
New to Download
American Son, from Friday, Netflix
Based on the acclaimed Broadway play, this tells the story of Kendra Ellis-Connor (Kerry Washington from Scandal), the mother of a missing teenage boy, as she struggles to put the pieces together in a South Florida police station.
Atypical: Season 3, from Friday, Netflix
As Sam heads into his first year of college, he grapples with new challenges, from making friends to managing his schedule.
Hache, from Friday, Netflix
This is a tale inspired by true events and tells the story of Helena (Adriana Ugarte), a prostitute who starts as a simple pawn in the hands of Malpica (Javier Rey), the head of a gangster band that operates in Barcelona in the 1960s.
Queer Eye: We're in Japan! From Friday, Netflix
The Fab Five - Antoni Porowski (Food & Wine), Bobby Berk (Interior Design), Jonathan Van Ness (Grooming), Karamo Brown (Culture), and Tan France (Fashion) - will bring their expertise to Tokyo, working to make-better four heroes while experiencing Japanese cuisine, fashion, design, grooming and culture first-hand.
We Are the Wave, from Friday, Netflix
A mysterious classmate leads four idealistic teens in a revolt against a rising tide of nationalistic fervour, but their movement takes a dark turn.
Drive, from Friday, Netflix
A notorious thief allies with a street racer for a grand heist involving an elaborate game of deceit with authorities, who have their own dirty secrets.
Holiday in the Wild, from Friday, Netflix
To keep her spirits high when their son leaves for college, Manhattanite Kate Conrad (Kristin Davis) has booked a 'second honeymoon' with her husband.
Instead of thanking her, he brings their relationship to a sudden end and jilted Kate proceeds to Africa for a solo safari. Where she meets Rob Lowe.
Anna and the Apocalypse, from Friday, Sky Cinema Premiere & NOW TV
It's Christmas in the sleepy town of Little Haven - but a far from festive zombie apocalypse has broken out.
Schoolgirl Anna Shepherd and her friends are here to fight, slash and, seeing as it's Christmas, sing their way to survival.
The Star, from Saturday, Sky Cinema Premiere & NOW TV
Here's a family-friendly animation giving an animal spin on the Nativity story.
The hero is a donkey named Bo. When fate gives him a chance to break free, he begins an adventure that brings him in contact with some wisecracking camels, a sheep without a flock, and a host of other cheerful animals.
Ending this Weekend
Francis Brennan – All Hands on Deck, 9.30pm Sunday, RTÉ One
With 3500 guests to feed for ten days, running the ships restaurants is one of the toughest jobs onboard.
As Francis becomes Maitre'D, he will be silver-servicing, making pizzas and put in charge of room service. After taking some guests on a bespoke tour of Helsinki can he get the champagne fountain ready in time?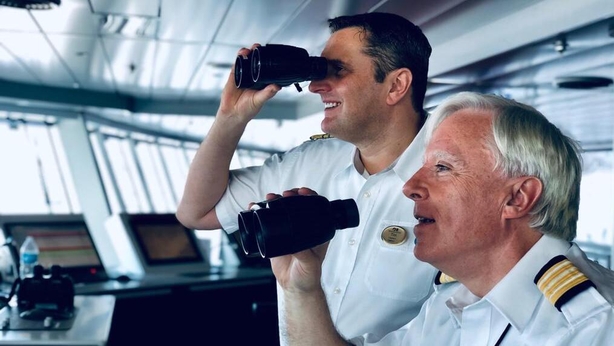 Temple, 9.00pm Friday, Sky One
Despite their personal relationships being in tatters, Daniel, Lee and Anna have to join forces when Mercy and Keith track them down.
It's Grime Up North, 10.00pm Sunday, Channel 4
After 12 months off the scene, Blackpool grime crew L.O.E. are hoping to relaunch their music careers by headlining their very own event - The Seaside Shutdown.
The Great British Bake Off: an Extra Slice, 8.00pm Friday, Channel 4
Jo Brand (below) is joined by celebrity guests Harry Hill, Prue Leith and Rylan Clark-Neal to look back over the dramatic Bake Off final.
She's also joined by both runners-up and, of course, the winner, and the rest of this year's bakers make a welcome return to the Extra Slice studio.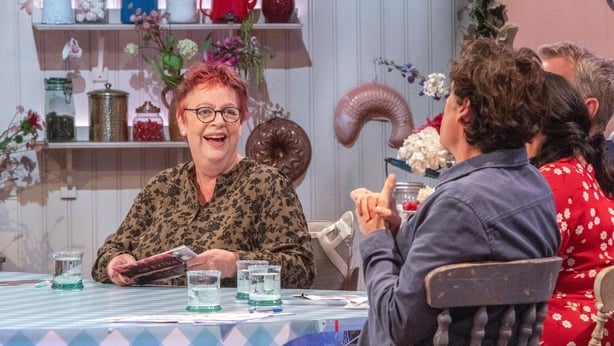 Weekend movies
Rush, 1.00am Sunday/Monday, Channel 4
Chris Hemsworth and Daniel Brühl star in Ron Howard's fact-based drama about the intense rivalry between 1970s racing drivers James Hunt and Niki Lauda.
It's an exhilarating film that centres on the now legendary 1976 Formula 1 championship that became a contest between the hedonistic Hunt and the rather practical Lauda.
Frozen, 6.35pm Saturday, RTÉ One
A true Disney classic where a princess with the power to freeze anything she touches loses control of her abilities and plunges the kingdom into a perpetual winter.
She goes into hiding, but her sister remains determined that she can be saved from her own magic and sets off on a quest to find her, aided by a mountain man and a living snowman.
The Graduate, 11.50pm Friday, RTÉ One
The film that launched Dustin Hoffmann, a film that helped define the 1960s, and a film that featured fantastic songs from Simon and Garfunkel - but Anne Bancroft stole the show as Mrs Robinson.
Hoffman stars as Benjamin Braddock, a naive college graduate, hailed as a genius by his overbearing parents, who's seduced by the middle-aged wife of his father's business partner, played by Bancroft.
Hot Fuzz, 9.00pm Friday, Sky One
Simon Pegg plays an overly zealous, by-the-book London policeman reassigned to a sleepy country village where the crime rate is virtually zero, and teamed up with an eager but dim-witted partner.
But just as the officer's boredom level is breached, a grisly series of so-called accidents gives him reason to suspect that a strange conspiracy is in progress.
Don't Miss
In the Executioner's Shadow, 9.00pm Friday, PBS America
This promises to be a penetrating look at the consequences of the USA's death penalty through three powerful stories.
There's a former state executioner who comes within days of executing an innocent person; a Boston Marathon bombing victim who struggles to decide what justice really means; and the parents of a murder victim who choose to fight for the life of their daughter's killer.
Box Set Binge
It's the End of the F***ing World, All4 and Netflix
With season two arriving on Monday, there's every reason to either refreshen your memory or catch up with this quirky dramedy, based on a graphic novel of the same name by Charles Forsman.
It's all about James (Alex Lawther), a 17-year-old who believes that he's a psychopath, and Alyssa (Jessica Barden), a rebellious classmate who sees going on a road trip with James as an escape from her home life.
Click here for full TV listings