PJ Gallagher shared the incredible true story behind his play Madhouse on The Ray D'Arcy Show on Saturday night, telling the host how his mother looked after six people "with severe mental illness" in the family home for 20 years.
Co-written by Gallagher and the play's director Úna McKevitt, and starring Katherine Lynch and Shane O'Reilly, Madhouse is going on tour around Ireland after receiving great reviews at its Dublin Fringe Festival premiere in 2018.
"I tried doing this story in stand-up and I couldn't do it, because it's a hard story to tell," Gallagher told the host.
"When I was young our house was me and my family on one side of the house essentially, and my mother and six people with severe mental illnesses on the other side of the house - schizophrenia being one of the predominant illnesses. And no dividing wall, so we all just lived together in this house."
Gallagher recounted that his mother, who trained as a nurse, had decided to take part in an initiative "to get people back into the community".
"I didn't even hear the word 'schizophrenia' until this was over," Gallagher continued. "It was just like 'very bad with his nerves'. It's more than that - these are very sick people, very vulnerable people.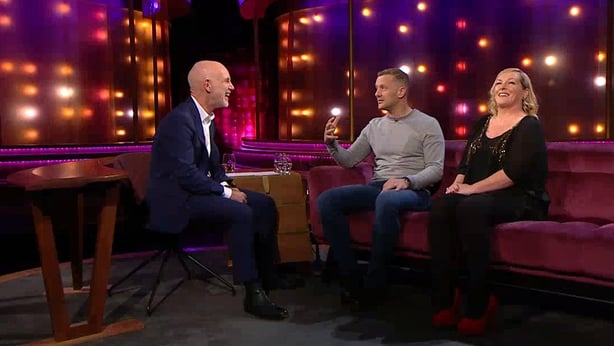 "But this experiment happened, and there were only four houses in Ireland that this experiment happened in! And my mother was one of the people that did this; she cared for these men and one woman at one point. And it was six of them in the house at the same time.
Hello Cork!! Madhouse is on it's way! Based on the unbelievable true life story of PJ Gallagher and starring Katherine Lynch and Shane O'Reilly. Everyman Theatre Saturday October Get IN!!!!! @EverymanCork @pjgallagher @katherinelyncho https://t.co/i1Ky78AlRU pic.twitter.com/zurw4IgepF

— Una McKevitt (@UnaMcKevitt) October 17, 2019
"I thought this happened all over Ireland. I thought it was a full-Ireland thing! And then we started researching the play and it was only then I went, 'There was only four of us! Even for me this is becoming a mad story now!'
"It was 20 years me ma did this, it went on for 20 years. During this 20 years she washed them, fed them, cleaned them. She gave them their pills, she cut their hair, she cut their toenails, she did the whole lot. And then at the same time trying to raise us..."
"For us it was normal. That was our normal growing up," Gallagher explained. "I'd go to other people's houses and think, 'They must be bored out of their minds in this place!'"
Gallagher said in his opinion "there was no understanding of mental illness then at all".
"But it's brilliant we live in more enlightened times now," offered the host.
"We do and we don't," Gallagher replied. "We do when it comes to depression and anxiety and stuff. When it comes to very severe mental illness like schizophrenia and stuff I think we probably haven't moved on that much. There's still, I think, a big stigma around those.
"People still say and ask me, 'Were you ever afraid in the house?'. Of course I wasn't: they're the most vulnerable people I've ever been around in my life. They're the people that needed care more than anyone. Like, of course I wasn't! If anything, they were afraid of me! A teenager coming in, drunk, out drinking in a field!"
Madhouse is on tour around Ireland until November. For more, see: madhouseontour.com.